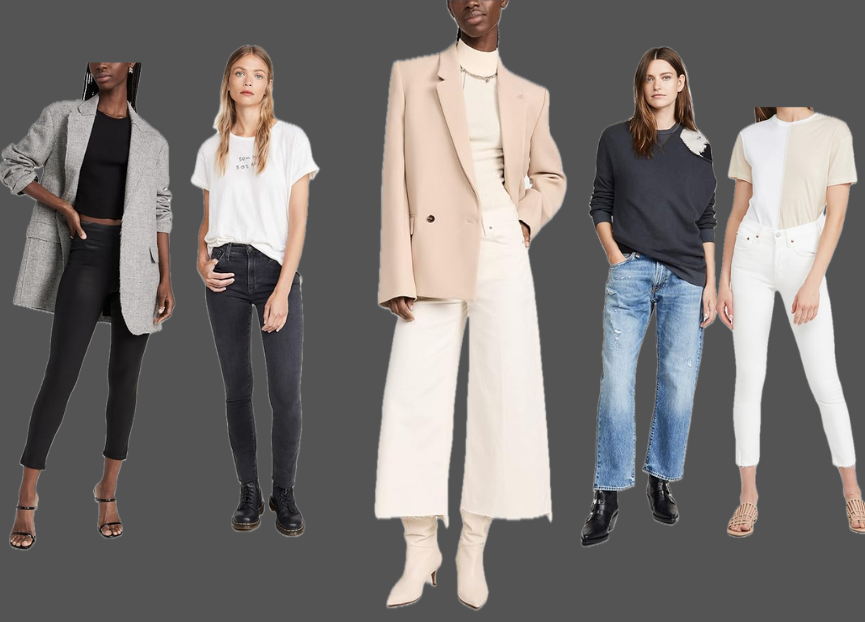 Jeans are the foundation of any chic ensemble, offering a canvas for individual style. As versatile as they are timeless, here are the top 6 must-have jeans that deserve a prime spot in every fashion aficionado's closet.
The history of denim is a rich tapestry woven into the fabric of time, tracing its origins back to the 17th century. Its story begins in the French town of Nîmes, renowned for its production of a sturdy fabric called "serge de Nîmes," later shortened to "denim." This cotton twill material, dyed in indigo, gained popularity due to its durability and versatility.
However, the modern-day denim that we recognize was first produced in the Italian city of Genoa. The cloth was referred to as "jean," named after the French phrase "bleu de Gênes," which translates to "blue of Genoa." It was a durable fabric used by sailors and workers due to its strength and resistance to wear and tear.
As the fabric traveled to the United States, Levi Strauss, a Bavarian immigrant, played a crucial role in transforming denim into the iconic material it is today.
Levi Strauss, along with his partner Jacob Davis, patented the first denim work pants reinforced with metal rivets in 1873, giving birth to the blue jeans we recognize today. These sturdy pants were designed to endure the rigors of manual labor, particularly catering to the needs of miners and laborers during the Gold Rush in California.
The durable, riveted denim jeans rapidly gained popularity due to their resilience and functionality. During the mid-20th century, denim surged in cultural significance, becoming a symbol of rebellion and youth counterculture. Films like "Rebel Without a Cause" featuring James Dean and the rise of rock 'n' roll icons like Elvis Presley further propelled denim into a fashion statement, transforming it from a utilitarian workwear item to a symbol of freedom and self-expression.
The evolution of denim continued through various subcultures and fashion eras. The 1960s and '70s witnessed the emergence of bell-bottoms and denim as a form of self-expression. The '80s and '90s saw the rise of designer jeans, transforming denim into a high-fashion item.
From its humble origins as durable workwear to its status as a fashion statement and cultural icon, denim has become a global phenomenon. Today, it's an integral part of wardrobes worldwide, continually reinventing itself with various cuts, styles, and washes while remaining deeply rooted in its historical legacy of durability, practicality, and style.
1. Off-White Wide Leg Jeans:
Description: Elevating the denim game, off-white wide leg jeans boast a breezy, relaxed fit that exudes effortless elegance in a soft, creamy hue.
Editorial Tone: These are the best women's jeans out there and are a breath of fresh air for any fashion-forward individual, delivering an easy sophistication that pairs flawlessly with a myriad of tops and accessories.
Recommended Style: PAIGE High-Rise Wide-Leg Jeans - an epitome of luxury with a graceful drape and a fashion-forward silhouette.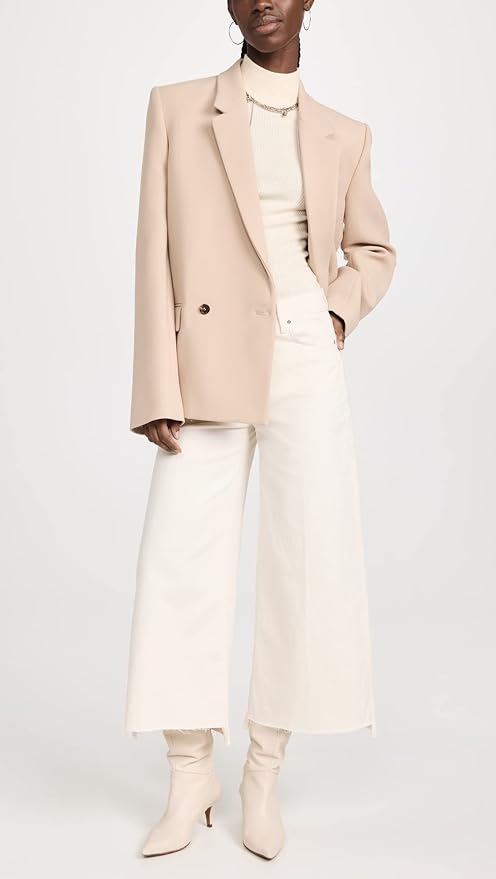 High Waisted Wide Leg Denim Twill
SHOP
2. Charcoal Straight Leg Jeans:
Description: Charcoal straight-leg jeans offer a sleek, tailored look in a rich, dark grey shade, providing a chic alternative to classic denim.
Editorial Tone: These jeans exude sophistication and versatility, effortlessly transitioning from day to night, granting a touch of understated elegance to any outfit.
Recommended Style: AG Jeans The Legging Ankle Jeans - boasting a modern, tailored fit and the perfect amount of stretch for all-day comfort.
SHOP
3. Distressed Jeans:
Description: Distressed jeans feature intentional tears, rips, and fraying, offering an urban-cool, lived-in aesthetic for an edgy yet laid-back vibe.
Editorial Tone: These jeans are the epitome of casual chic, effortlessly adding a touch of rebellion and character to any outfit.
Recommended Style: R13's Distressed Boyfriend Jeans - a perfect blend of relaxed fit and carefully crafted distressing for an edgy yet chic appearance.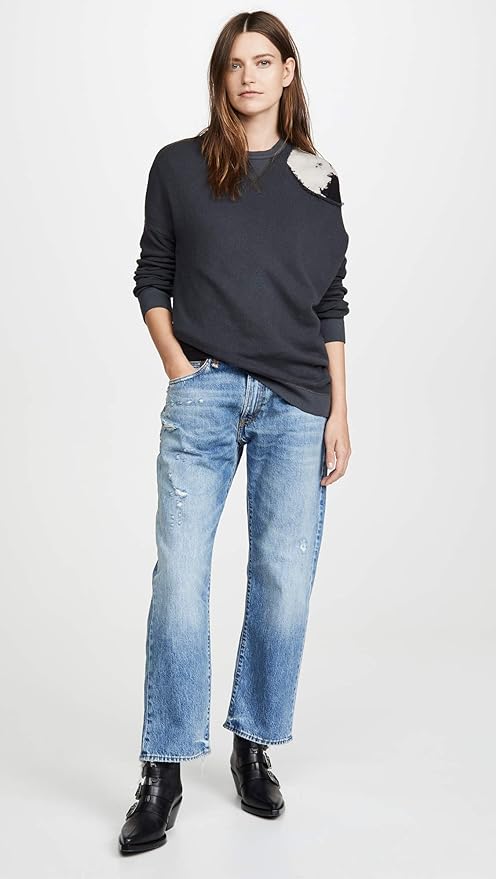 SHOP
4. Skinny Jeans:
Description: Skinny jeans snugly hug the legs from waist to ankle, providing a sleek, tailored silhouette suitable for various occasions.
Editorial Tone: A timeless wardrobe staple, these jeans are a go-to choice for their versatility, easily pairing with anything in your closet.
Recommended Style: FRAME's Jet Set Crop Skinny Jeans - designed with superior stretch for a comfortable yet figure-flattering fit.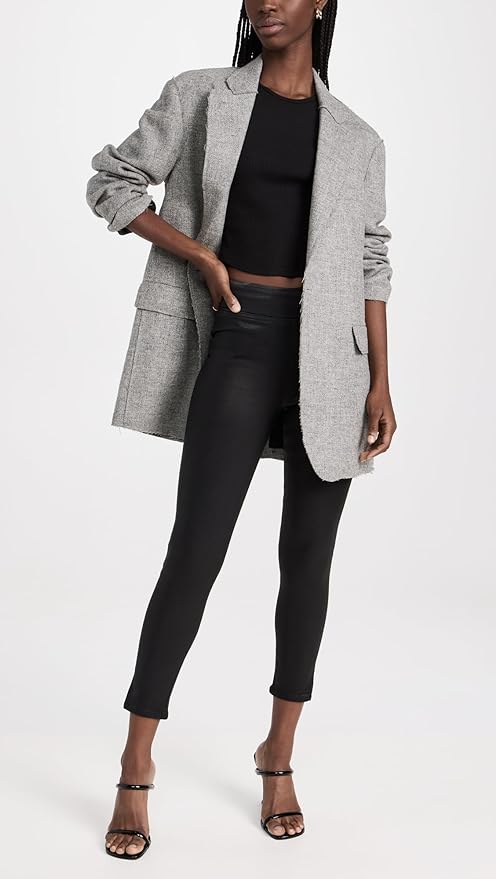 SHOP
5. Boyfriend Jeans:
Description: Boyfriend jeans feature a relaxed, slouchy fit, reminiscent of men's denim, offering a casual, laid-back aesthetic.
Editorial Tone: These jeans embody an effortless coolness, adding an easygoing yet chic element to any ensemble.
Recommended Style: Levi's 501 Original Fit Jeans - the quintessential choice for an authentic, vintage-inspired look.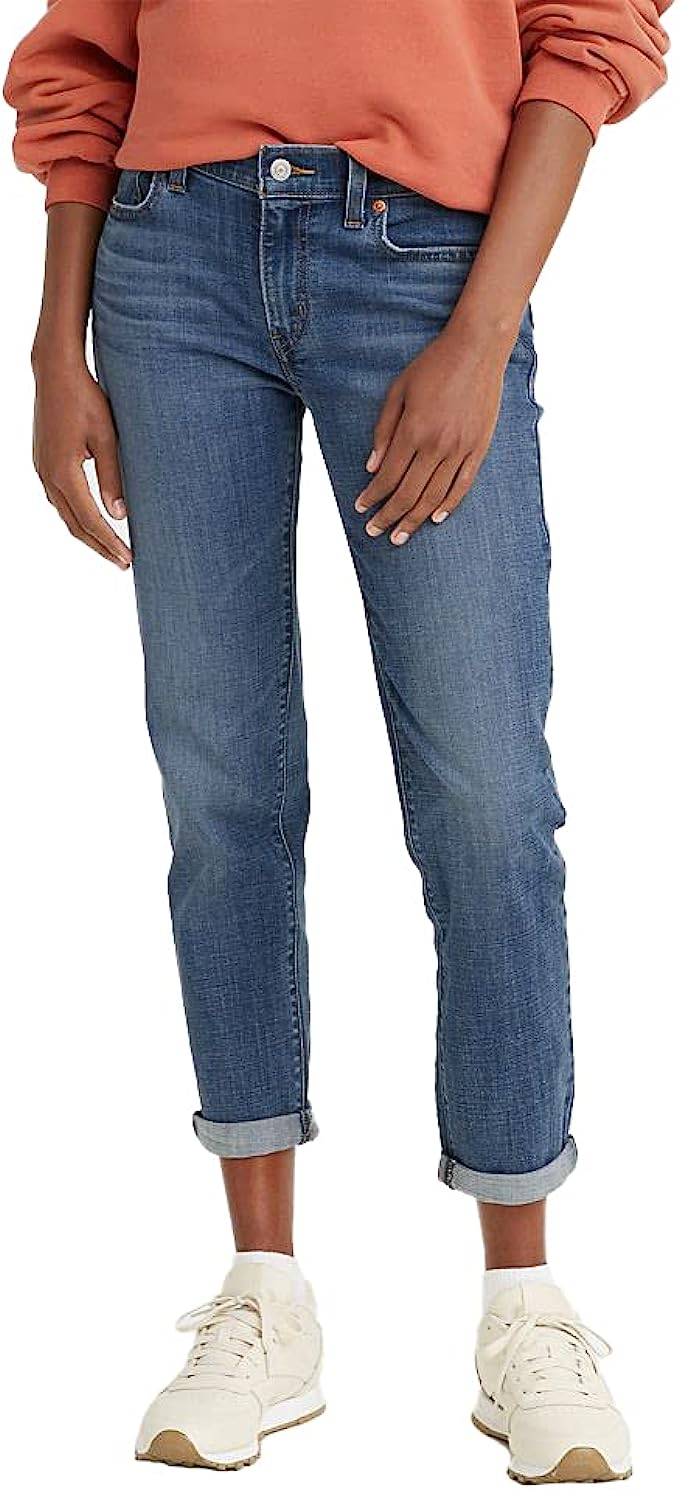 SHOP
6. High-Waisted Mom Jeans:
Description: High-waisted mom jeans have a retro-inspired, fitted waist and a relaxed leg, celebrating a timeless, vintage aesthetic.
Editorial Tone: The epitome of retro-chic, these jeans offer a flattering fit and a nostalgic nod to classic fashion eras.
Recommended Style: Hudsons Momjean - featuring a comfortable, high-rise fit and a slightly tapered leg for a touch of vintage charm.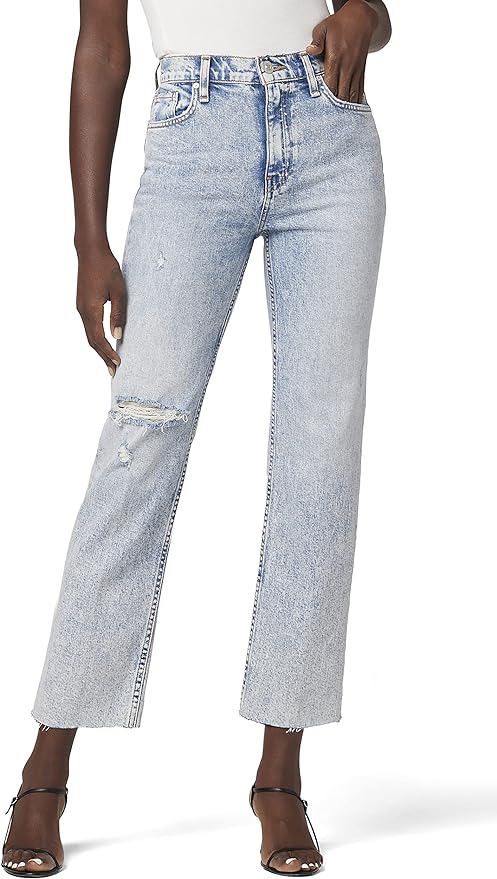 SHOP
FAQs:
Q:
How do I find the right size of jeans?
A: Refer to the size guides provided by each brand and consider your measurements to find the perfect fit.
Q:
Can I wear distressed jeans for formal occasions?
A: Depending on the dress code, dark-colored and well-fitted distressed jeans can be acceptable for certain semi-formal events.
Q:
Are high-waisted mom jeans suitable for all body types?
A: Yes, high-waisted mom jeans are known for their ability to flatter most body shapes, emphasizing the waist and offering a relaxed, comfortable fit.
Q:
What's the best way to style skinny jeans?
A: Skinny jeans pair well with both fitted and loose tops, making them incredibly versatile. Add heels for a dressed-up look or sneakers for a casual vibe.
Q:
Can I cuff wide-leg jeans for a different look?
A: Yes, cuffing wide-leg jeans can add a stylish twist to your ensemble, providing a more defined shape and showcasing your footwear.
#DenimEssentials #FashionMustHaves #WardrobeStaples #JeansObsessed #StyleInspiration #FashionForward