Hello, fellow maximalists! Are you tired of blending into the background with subtle shades and modest designs? Do you yearn for a coat that screams, "Here I am, world, ready to conquer the day in style?"
Well, you're in luck! It's time to embrace the audacious realm of statement coats. Let's not just dress for the weather; let's dress to impress, to make a splash, and maybe even cause a double take from fashion enthusiasts.
The Statement Coat: Your Bold Fashion Canvas
Statement coats are more than just garments; they're a declaration of your bold personality and refusal to be a fashion wallflower.
So, let's dive into the world of vibrant hues, playful patterns, and extravagant silhouettes.
We'll kick off this fabulous fashion fiesta by picturing this: You strut into the crisp autumn breeze, and suddenly, it's not just the leaves doing their "oohs" and "aahs." Heads turn, jaws drop, and you can almost hear someone whispering, "Is that a fashion goddess or just someone in an incredibly stunning coat?"
Oh, it's definitely the coat. It's not just a coat; it's a canvas of imagination, a statement louder than a catwalk model's stomp. These coats aren't just about warmth; they're about setting the world on fire with your unmatched style. It's like wearing a dare, challenging the world to keep up with your fashion audacity!
Now, let's talk about these coats; they're like superheroes in the fashion world. Superman had his cape, but you have your statement coat. It's not just a piece of fabric; it's a proclamation, a manifesto of your vivaciousness.
It's like wearing your personality on the outside, shouting to the world, "Hello, here I am, and my coat is here to conquer hearts and turn heads!" These coats aren't for the faint of heart; they're for the fierce fashion warriors, the trendsetters, the "hear me roar" enthusiasts.
So, brace yourself, maximalist: we're about to paint the town red, blue, green, and every vibrant color in between!
The Electric Color Burst
Behold, the leader of the coat crusaders: the Electric Color Burst!
Imagine swathing yourself in a coat so vividly vibrant that even a rainbow would exchange its pot of gold in envy. When the sky throws a grey party and the world drowns in muted tones, here comes your coat, the life of the fashion fiesta! Go on, choose neon greens that could guide lost aliens, blazing reds that might stop traffic, or dazzling blues that could outshine the ocean.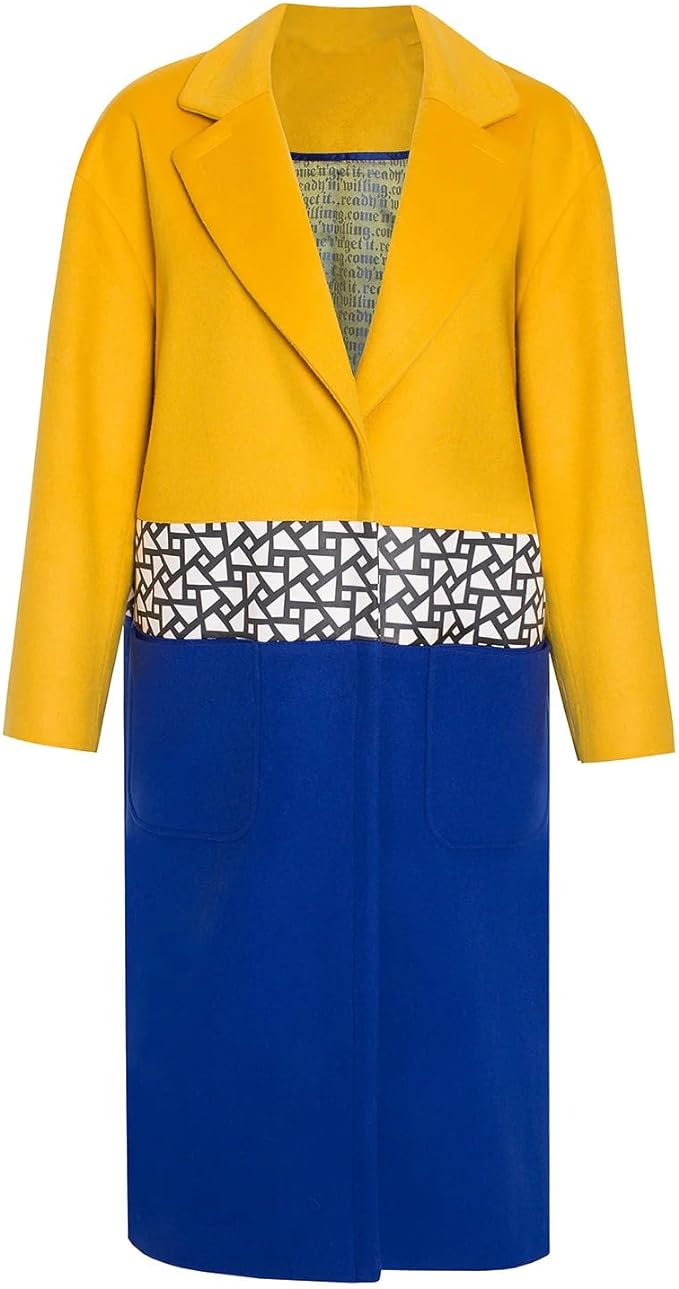 SHOP
This isn't just a coat; it's a portable carnival. Get ready to be the talk of the town, or should we say, the "talk of the technicolor dream coat town"?
The Grandiose Animal Print Adventure
Ah the Grandiose Animal Print Adventure! It's like a fashion safari but without the binoculars (unless they match your coat, of course). Channel your inner feline with leopard spots that say, "I'm the cat's meow, and I know it!"
Or unleash your zebra vibes with stripes that announce, "I've got the eye of the zebra, and you're gonna hear me roar...in style!" And let's not forget the peacock feathers—because who needs subtlety when you can flaunt the entire avian majesty?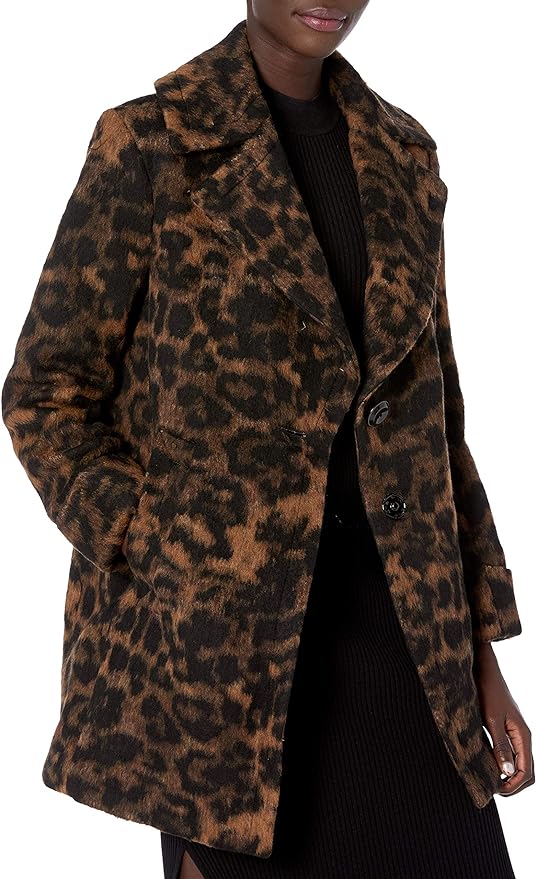 SHOP
Picture this: you, on the sidewalk, strutting like you're the queen of the urban jungle. Every step is a roar, every twirl a statement. Bonus points if you toss in a dramatic catwalk twirl that says, "Oh, excuse me, let me grace you with another angle of this wild style."
It's not just a coat; it's your ticket to fashion's untamed side. So, brace yourself, fashion adventurer; you're about to turn the concrete jungle into your very own runway!
The Cosmic Metallic Extravaganza
Ever yearned to look like you just stepped off a spaceship from the fashion-forward future? Buckle up, intrepid trendsetter, because the Cosmic Metallic Extravaganza coat is here to zap you into the stratosphere of style! Picture a coat that's not just an outfit but a dazzling portal to another dimension.
It shimmers and gleams like the stars, reflecting the mysteries of the universe in every glint. Whether you choose the sleek silver, the golden sheen, or iridescent shades that shift like a supernova, this coat isn't just a fashion statement—it's a stardust-infused proclamation.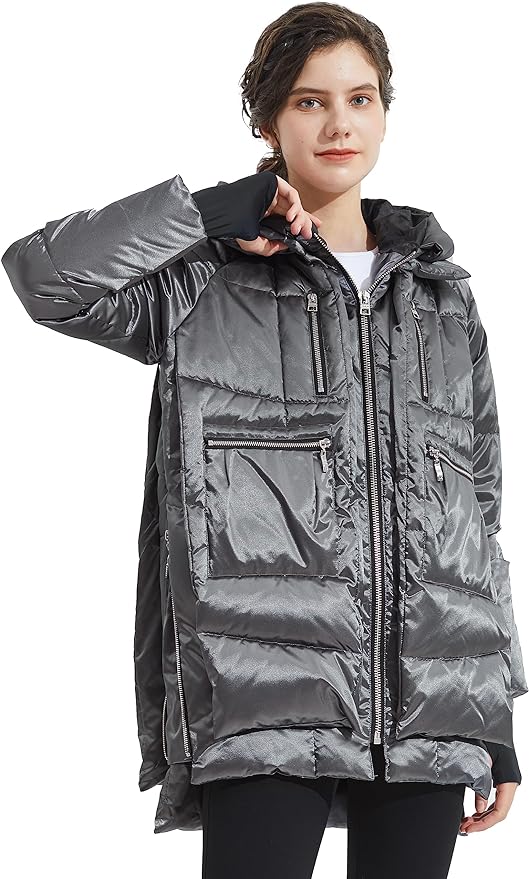 SHOP
Not only will you be cozy and snug against the cosmic chill, but you'll also be a beacon of celestial fashion in a galaxy of bland attire. Who knew that the Milky Way could be so en vogue? Strap on your rocket boots, fashion explorer; it's time to boldly go where no style has gone before
The Playful Polka Dot Party
Who can resist the allure of a polka dot party? It's the confetti of the fashion world, a celebration on fabric! The Playful Polka Dot Party coat is like stepping into a time machine that takes you to the era of poodle skirts and jukeboxes. Choose your canvas, pick a base color, and let those dots groove across your coat like they're at a retro dance party.
Whether you opt for big, bold dots demanding attention or tiny, dainty ones adding a subtle wink, they all sing the same tune: fun and cheerfulness. Don this coat, and you're not just joining a fashion party; you're becoming the life of the fiesta!

SHOP
In a world where fashion often takes itself too seriously, polka dots bring a refreshing dose of playfulness. They're the fashion equivalent of a good joke—unexpected, delightful, and they make everyone smile. So, twirl into the polka dot soiree, and let the dots do the talking. After all, in a sea of seriousness, a little dot of humor is just what we need. Let's polka and roll!
The Feathers and Fringe Fiesta
Dive headfirst into a realm of glamour and motion with the Feathers and Fringe Fiesta coat! It's not just a coat; it's a performance waiting to happen. Picture yourself wearing cascading fringe that moves and sways in perfect harmony with every step you take, or feathers that flutter like a million tiny wings orchestrating their own ballet.
This style coat isn't just an ensemble; it's a statement, a bold proclamation of maximalist fashion. Slip into it, and suddenly, you're not just walking; you're making an entrance, setting the stage for a fashion fiesta wherever you go.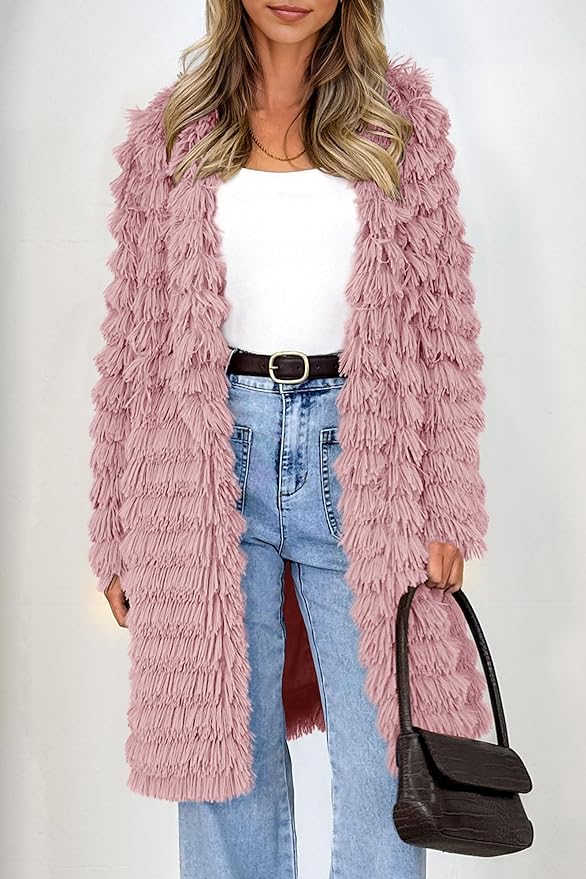 SHOP
If ever there was a coat that embodied the spirit of a bohemian queen, this is it! It's a maximalist masterpiece, a tapestry of texture and drama woven together in a symphony of movement and style.
With every wear, you're not just donning a coat; you're embracing a lifestyle, an attitude that says, "I'm here, I'm fabulous, and I'm ready to conquer the day with flair!" So, let the feathers flutter, and let the fringe sway—after all, you're the maestro of this extravagant fiesta of fashion! Show them how it's done!
The Grand Finale: How to Rock Your Statement Coat
Now that we've explored the dazzling world of statement coats, let's talk about the art of flaunting them. After all, wearing a statement coat is like being the star of your own fashion show.
Accessorize with Confidence:
Pair your statement coat with accessories that complement but don't overshadow. A chunky statement necklace or bold earrings can add a touch of glam without stealing the limelight from your fabulous coat.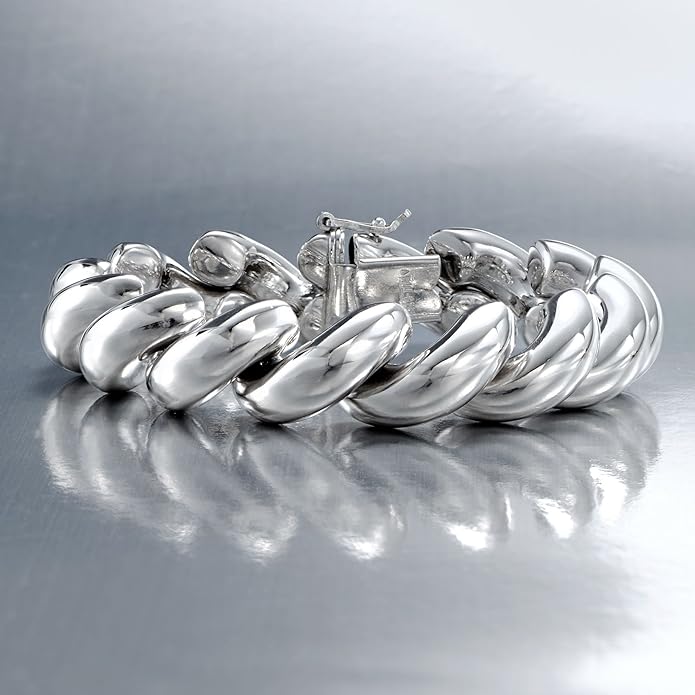 SHOP
Own Your Strut:

When you're wearing a statement coat, it's all about the strut. Channel your inner runway model and flaunt your coat with confidence. After all, a great coat deserves an equally great walk.
Mix and Match Fearlessly:
Don't be afraid to mix your statement coat with other bold pieces. Experiment with patterns, textures, and colors. The beauty of maximalism is the freedom to break fashion rules and create your own.
Confidence is Key:
Above all, wear your statement coat with confidence and panache. Remember, fashion is about expressing yourself, and there's no better canvas than a statement coat to showcase your style and personality.
So, fellow maximalists, it's time to embrace the extraordinary, the audacious, and the fabulous. Let your coat be a statement, a declaration of your fashion philosophy. Get out there and conquer the world, one bold coat at a time! Happy strutting!
What defines a maximalist statement coat?
A maximalist statement coat is a bold and extravagant outerwear piece characterized by vibrant colors, intricate patterns, unique textures, and exaggerated designs. It's all about pushing fashion boundaries and making a statement, often featuring elements like bold prints, oversized silhouettes, lavish embellishments, and playful textures.
How can I style a maximalist statement coat without overwhelming my outfit?
To balance a maximalist statement coat, opt for simple and neutral pieces in your outfit. Pair it with a monochromatic ensemble or subdued shades that allow the coat to be the focal point. Keep accessories minimal and let the coat shine. Remember, the key is to let the coat be the star while creating a cohesive and visually appealing look.
Can I wear a maximalist statement coat for everyday occasions?
Absolutely! Maximalist statement coats can elevate your everyday style. Choose a coat with a design that resonates with your personality and style. Pair it with jeans, a solid top, and boots for a chic casual look. The versatility of these coats allows you to dress them up or down for various occasions, making a statement wherever you go.
Are maximalist statement coats suitable for all body types?
Yes, maximalist statement coats can flatter all body types. It's essential to choose a coat that complements your body shape and proportions. For example, if you're petite, opt for a coat that doesn't overwhelm your frame, like a cropped style. If you're taller, you can experiment with longer, flowing coats. The key is to find a balance that enhances your features.
Where can I find a wide selection of maximalist statement coats?
Many high-end and boutique fashion stores, as well as online platforms, offer a diverse range of maximalist statement coats. Popular fashion retailers, specialty boutiques, and designer stores often showcase these statement pieces. Additionally, you can explore online fashion marketplaces and platforms that curate unique and avant-garde designs, giving you a wide array of options to choose from.
As Amazon Ambassadors and Affiliates we may earn a commission on qualifying purchases made through our site and links, at no cost to you. We hope you will find your next favorite thing here on Fashion Ratings