As Amazon Ambassadors we may earn a commission on qualifying purchases made through our site and links, at no cost to you. Happy Shopping 🛍
Did you know Dark ,Denim is one of the biggest fashion trends for women this summer and forever ?

Well, Now You Do ...We have compiled complete black denim outfits for you ...You're Welcome ❤️
We'll also explore some tips on how to style a black jeans outfit not just for summer 2022 but all year round!

You don't want to miss out on this trend - so make sure to read our blog post and get inspired by the looks we've put together.
This unexpected fashion item can be dressed up or down, making it a versatile choice for any occasion.
What we have done is basically shop complete looks for you and found some of the best dark denim outfits available right now.
1) The Black Denim Hoodie Jacket
We love this BLANKNYC denim trucker jacket! The luxe fabric and removable hood make it perfect for colder days.
We can't wait to wear ours with everything from skirts to jeans.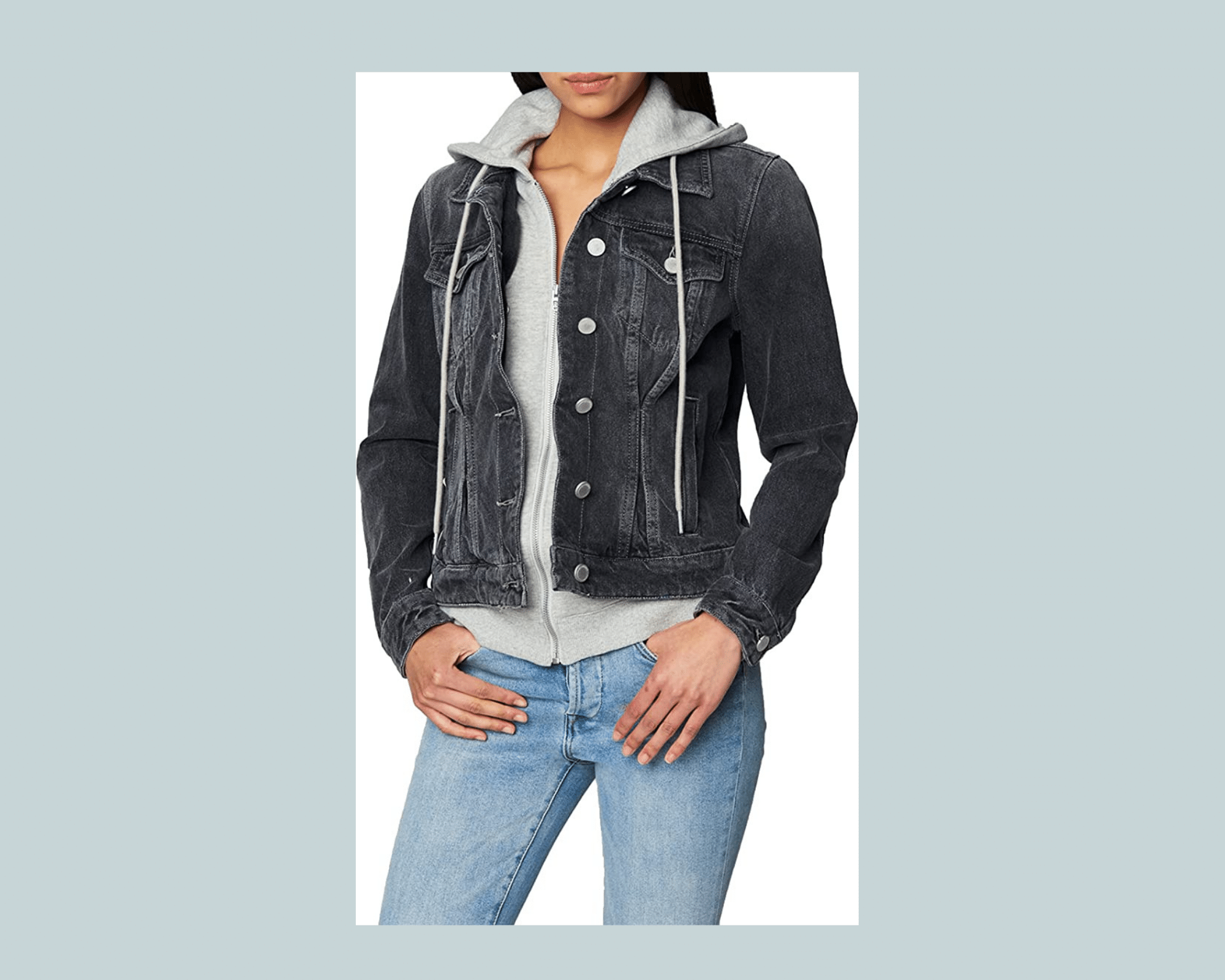 2)The Jumpsuit
You want to flash something chic and stylish at lunch with the girls, but don't know what.
Who has time to waste going through racks of clothes that you might not even like?
And then dealing with the hassle of returning them if you decide you don't like them? Here is a gorgeous, trendy black denim straight leg jumpsuit. Oozes chic.
PAIGE Women's Mayslie Jumpsuit is a must have - Pair with these sexy af Schutz Altina Platina Stiletto 🔥

This black twill styled jumpsuit is versatile and can be dressed up or down for any occasion.

The collared neck and button placket give it a dressy flare, while the cropped profile keeps it easy breezy.

With elbow-length puff sleeves and elastic cuffs with exposed zips, this jumpsuit will keep you looking chic and stylish all day long.
2)The Boyfriend Jeans
You have an amazing leather jacket you want to wear with black jeans, but you don't want to feel constricted or like you're wearing mom pants.
It's hard to find a good pair of black jeans that fit well and make you feel amazing.
Jeans are either too tight or too baggy, and they never seem to last very long.
Sidefeel women's black denim boyfriend jeans are the on trend solution of the season.
They're made with a stretchy fabric that makes them super comfortable , and the ripped and distressed details add a bit of edge.
Finish this distressed jeans look off with a Good American Crew Neck Bodysuit and just add a cool drink and some good music and a strappy Schutz silver lizard embossed stiletto ...Bella 😘
It won't be just you who loves this look!
3)The Slouchy Boyfriend Jeans
You want to look stylish and put together, but don't want to spend a fortune on name brands jeans. Slouchy high rise jeans have been in for a while, now it's time for a black pair.
Most jeans are so expensive you have to take out a loan to buy one pair.
They're often made from low-quality materials that wear out quickly.
Not these .
SheIn's slouchy boyfriend jeans are an affordable option

They're basically stylish and feel good on, and made from high-quality materials that will be a part of your closet for years.
Top off with an Amelia crop tank, under a Dokootoo Black Denim Shacket Jacket.
Finish your Urban Cinderella look with some gold Nike Air force kicks and heads will turn and turn again.
4)The Dress
You want to wear a dress, but don't want to feel too styled up.
A black jeans dress is the perfect solution!
It's a casual enough outfit to be seen in anywhere, but still looks put together.
Allegra K's Women's Button Up Collared Short Sleeve Washed Jean Denim Dress is cute and simple.

With an ultra flattering fit, you'll love this dress and get looks everywhere you go.
Pairs perfectly with Dr Martens White Devon Heart Bootie -you are good to go.
5)The Long Button Up Skirt
You want to look stylish and feel confident, but don't know how to sport a black denim skirts.
A lot of women avoid buying denim skirts because they don't know how to style them in a way that makes them feel confident.
ELSTAROA Women's Casual High Waisted Solid Button Up Denim Jean Skirt is a high waisted and full length, making you look long and lean.

The button up detail also adds a touch of interest. Styling this with a Genhoo white oversized boyfriend shirt tied up at the waist and a strappy heels will add a touch of elegance.
You could also style with a graphic tee or the wardrobe staple black turtleneck and some chunky sole black boots. This look will never go out of style.

6)The Short Button Up Skirt

The Tulucky Women's Casual High Waisted Solid Button Up short denim skirt is j'adorable.

This skirt is high waisted and short, making your legs look curvier.
The button up detail on this cropped hem adds a little mystery. Leave the bottom button open 😘

You can pair this skirt with an Allegra K crop jacket for a cute matching set.
7)The Patent Leggings

You want a good pair of leggings but you don't want to feel like you're trapped in a sausage casing.
That's just wrong!
Traditional women's leggings and skinny jeans can be really tight and constricting, making you feel like you're stuffed into a pair of tubes.
Commando's Faux Patent Leather Perfect Control Leggings are deliciously wearable.

They have a faux patent leather finish that makes them look dressy.
They have a control top that gives you the perfect level of compression.
Finish the look with a Champion cropped hoodie in any color and some bright white Nike Airforce Tennies to be on point with your look.
8)The Asymmetrical Skirt
VIPONES offers a stylish and sexy denim skirt that doesn't break the bank.
With the unique bevel hem detailing, ripped holes, and frayed hems, this skirt will show everyone you know what is the current vibe.
Put this together with a white t shirt and the Eliacher Women's oversize boyfriend denim long sleeve loose jean jacket ...
...and a chunky pair of baby Pink Dr Martens Dr. Martens Women's 1460 Pascal Mono 8 Eye Boots and you could jet off with the Rock and Roll pack today.
9)Plus Black Denim Jeans

Good American Wax Coated Black Skinny Jeans Plus
A lot of women struggle with finding straight leg jeans that fit well and make them feel confident.
You've probably been there before, trying on pair after pair of jeans, only to leave the store feeling frustrated and disappointed.
Luckily Good American believes that all women are beautiful, no matter their shape or size, and we agree!

We want every woman to feel confident in her own skin. These jeans will make you feel good from the inside out.
Style these wax coated black jeans with a Good American Crew Neck Black Bodysuit and these sexy block heel leopard sandals with a comfortable wide width to blow everyone away wherever you go.

10) Plus Black Dress
You want to buy a new dress this summer, but don't know what style to go for. You also don't have time to go shopping.

Dresses are the perfect way to feel confident and look your best, but it can be hard to know which style is right for you.

With so many different options available, it's tough to know where to start.
Sunyastor Women Plus Size Black Denim Dress is here to help!

This bodycon dress is great for a party or the beach.
These dresses are made from high quality materials, so they'll last long and keep you looking great.
Throw on these IDIFU Women's Chunky High Heel Sandal Strappy Open Toe Ankle Strap Dress and dance all night long.
11) Plus Denim Jacket
You want to add a stylish street outfit inspiration jacket to your wardrobe.
With all of the different styles and washes of denim out there, it can be hard to decide which one is right for you.
Do you want a distressed or vintage look? A light wash or dark denim wash?
uxcell's Women's Plus Size Stitching Button Front Washed Denim Jacket is the perfect addition to any wardrobe.
This one has a relaxed fit with a comfortable feel, making it perfect for everyday wear.
The light wash gives this piece a casual and laid-back vibe, while the stitching details add a touch of style. Pair with a light blue denim trouser drop in some Black Air Force 1 Nikes for the finish.
Because We Always Strive to Overdeliver ...

BONUS SHOPPING GUIDE
Let's Talk Beanies

XYIYI Womens Baggy Soft Slouchy Beanie Hat Stretch Infinity Scarf Head Wrap Cap.
Let's Talk Bucket Hats

XYIYI Cute Bucket Hat Beach Fisherman Hats for Women, Reversible Double-Side-Wear great in spring, summer or fall.
Let's Talk Chunky Buckle Belts
Blaze Belts Silicone Belts 2022 Updated Version for Men and Women - Adjustable Belt for Casual and Fashion Wear
We try and find great alt content for you from the pricier sites like net a porter, anthropologie, revolve and shopbop.
That's it for the night Beloveds.
We have shown you the top black denim mix pieces for the season.
Click on any link to check prices and please, please come back soon for more reviews.
We have SO much to share with you ❤️
Get ready to soak up the sun! Shopping Summer sales doesn't have to be a dreaded task, it actually can be sort of fun!
We've done the search and shared some of our favorite affordable offers that will make you look and feel your best this summer.
So please click through to check the prices on Amazon's site and pick up your favorite today.
Thanks for visiting our site . We hope you found some inspiration.
Happy shopping! Have a great summer and come back for more of the best FashionRatings.com
If you do purchase one of our suggestions, make sure to take a selfie.
Post your pic on the Gram and tag us on our page so we can feature you on our Social Media.
If you like our content please subscribe by giving us your email for early access delivered to your inbox. We promise not to send you spam.
As an Amazon Ambassador we may earn a commission on qualifying purchases made through our links, at no cost to you . Happy Shopping 🛍
Ciao Beloveds 😘
Remember ....You are beautiful exactly the way you are...right this second!
XO