We all know the feeling of wanting to curl up in a comfy pair of pajamas at the end of a long day. But what if your loungewear could also make you look and feel glamorous?
That's where luxury loungewear comes in. From silk robes to cashmere sweaters, there's no shortage of options when it comes to finding the perfect luxury loungewear for women.
So let's talk about Lounging Around in Luxury. Luxurious loungewear is the perfect way to indulge in a little self-care.

Stylish Comfort

When it comes to loungewear, comfort is key. But that doesn't mean you have to sacrifice style. Luxurious loungewear provides the perfect blend of style and comfort, so you can lounge around in the utmost of comfort without sacrificing your sense of fashion.
Barefoot Dreams CozyChic Ultra Lite Barefoot in The Wild Track Suit
This luxury loungewear set is the perfect addition to any wardrobe. Made from a soft, lightweight CozyChic fabric. They feature an elastic waistband with drawstring tie for optimal fit and are cut for a relaxed fit through the hip and thigh. The track bottoms have two side pockets as well as knee-length leg zippers that provide extra ventilation when needed.
One of the best features of these bottoms is how incredibly lightweight they are – they feel almost weightless on your body! Despite this, they still provide warmth and coziness due to the special CozyChic fabric that also ensures maximum breathability all day long. This makes them ideal for gym workouts or just wearing around town when it gets chilly outside. The fit is super flattering too – they're roomy enough to move around in but not so baggy that you look sloppy.
The stylish design of these pants also makes them perfect for dressing up or down. Wear them with sneakers and a tee-shirt during the day or dress them up with high heels and an elegant top for a night out on the town.
Either way, you'll look effortlessly chic! ThIS track set are machine washable and dryer safe so you can keep wearing them over and over again without losing their shape or quality.
Overall, Barefoot Dreams CozyChic Ultra Lite Barefoot wild track suit is an excellent investment that will last you season after season while still looking great!
Not only does it  provide ultimate comfort while keeping up with your active lifestyle but they also come in a sleek design that allows you to transition easily from day-to-night wear without having to change clothes.
So if you're looking for a luxurious lounge wear option that won't break the bank but will make sure you look fabulous wherever you go – then this is definitely it!
Softies Women's Ultra Soft Marshmallow Hooded Lounger with Plush Melange Fabric & Kangaroo Pocket
When you want to relax in the utmost comfort, the Softies Women's Ultra Soft Marshmallow Hooded Lounger with Plush Melange Fabric & Kangaroo Pocket is the perfect choice. The soft marshmallow fleece fabric is incredibly cozy and plush, making it perfect for those cozy nights spent at home. I love how easy it is to slide into and the kangaroo pocket allows me to keep my hands warm while lounging. There are also two side pockets which provide added storage for small items.
The generous hood helps to insulate my head and keep me comfortable all night long. The best part of this lounger is that it's machine washable, so it's easy to maintain.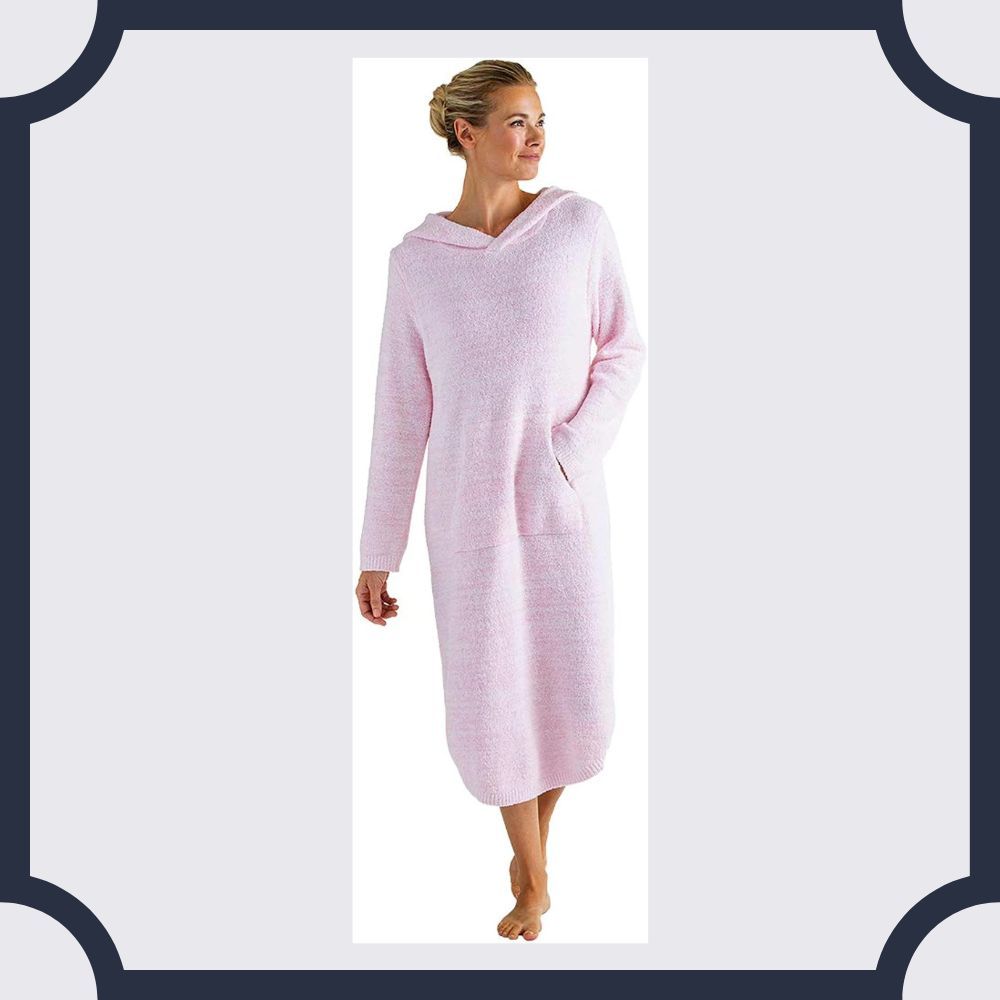 Jijamas Incredibly Soft Pima Cotton Women's Pajamas Set - "The Soul Mate"
If you're looking for a luxurious pajama set, the Jijamas Incredibly Soft Pima Cotton Women's Pajamas Set - "The Soul Mate" is an excellent option. This set includes a top with a relaxed fit featuring a v-neckline, as well as elastic cuffs on the sleeves for added style.
There are also full-length bottoms included in the set that feature an adjustable drawstring waistband and side pockets. The 100% pima cotton fabric used in this set feels like pure luxury against your skin and can be washed in your machine without any worries of shrinking or fading colors over time.
We love that these pajamas are lightweight yet still offer plenty of warmth when you are all snuggled up in bed during colder months.
Luxurious Options

If you're looking for luxurious loungewear, then look no further! There are plenty of options available that won't break the bank, but still provide a touch of luxury.
You can find everything from cashmere sweaters to velvet robes and even silk pajamas. And if you want some extra bling, there are plenty of stylish accessories like beaded headbands or personalized jewelry that will add a little sparkle to your look.
WDIRARA Women's 3 pcs Sleepwear Leaf Print Cami and Pants Pajama Set with Robe:
This stylish and comfortable sleepwear set is perfect for enjoying a good night's rest. Featuring a cami top and matching pants, the set is accented with a coordinating robe that adds to its beauty and elegance. Its leaf print gives it an eye-catching look, while its lightweight fabric keeps you cozy all night long.
The adjustable drawstring at the waist of the pants offers a snug fit for extra comfort. The delicate lace detailing on the edges of the robe gives it an extra touch of sophistication.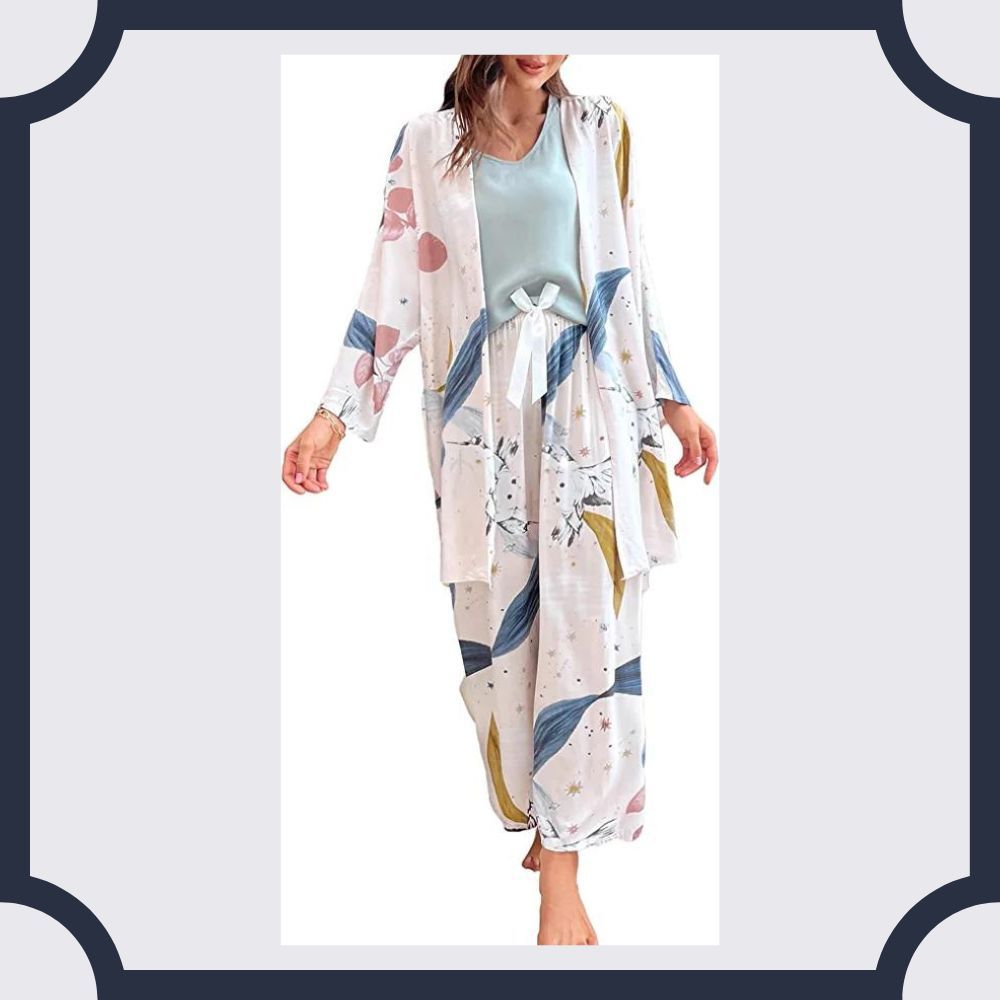 Flygo Women's Batwing Plaid Floral Printed Long Short Sleeves Oversized Maxi Dress Sleep Loungewear
This sleep loungewear dress from Flygo is perfect for those who want to look stylish while getting their eight hours of beauty rest. Crafted from soft fabric, this oversized maxi has batwing sleeves and plaid floral prints that offer a timeless yet trendy look. The drawstring at the hip allows you to adjust according to your body shape and size, so you can be sure you'll be comfortable all night long. And if that wasn't enough, the fabric also has moisture-wicking properties so you'll stay dry throughout your slumber as well!
BathGown Sexy Illusion Long Lingerie Tulle Robe Nightgown
When it comes to unwinding after a long day or spending quality time in bed with your significant other, this sensual lingerie robe from BathGown is just what you need.
The sheer tulle fabric makes it transparent enough to show off your curves without feeling too exposed - making it both sexy and classy at the same time! It has adjustable spaghetti straps for your comfort and convenience, while its illusion design adds an extra element of mystique to your evening. It's definitely one piece that will help set up any romantic mood!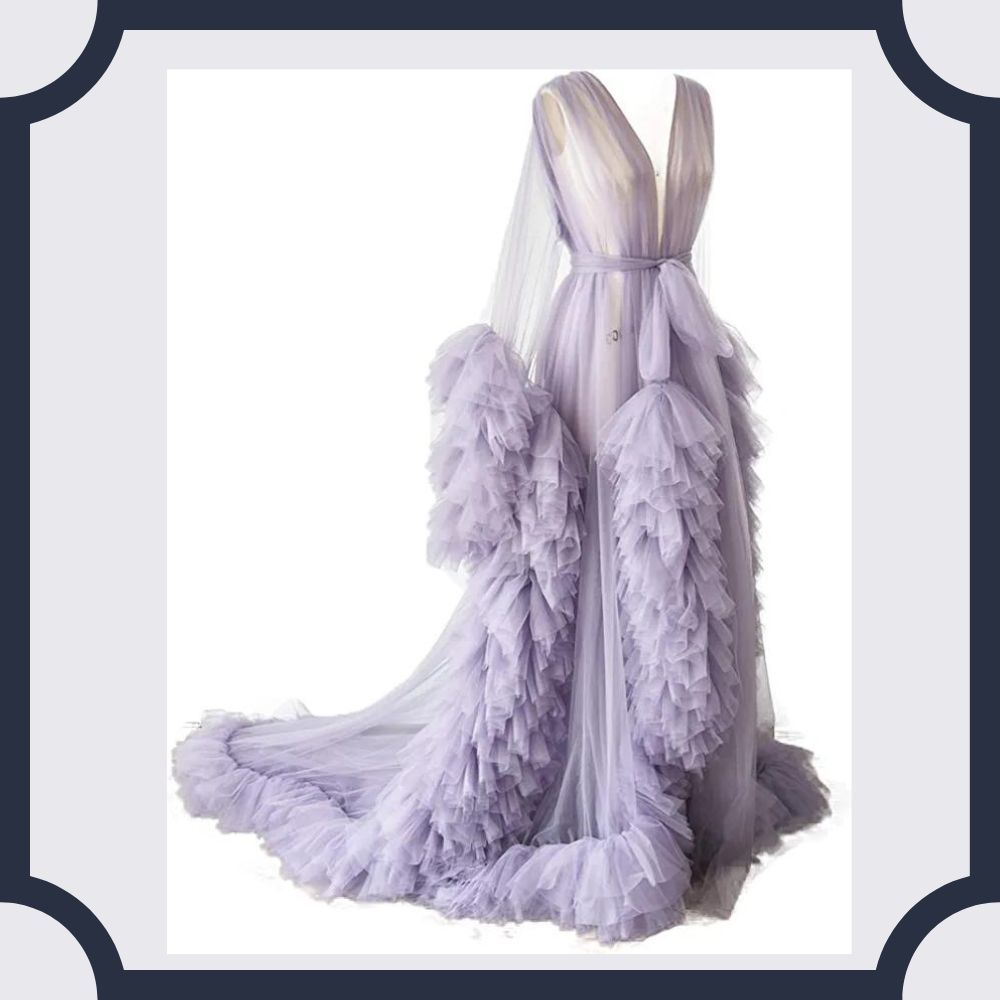 BABEYOND Kimono Robe Long Floral
Get ready for some relaxation in style with this kimono robe from BABEYOND! Its lightweight silk satin material not only breathes easily but also feels incredibly soft against your skin - making it ideal for lounging around on laidback days or simply chillaxing in front of the TV after work.
What's more? Its vibrant floral print brings together classic Japanese elements with modern fashion aesthetics - making this piece truly unique and chic! With two side pockets for carrying small items like your phone or lip balm, this kimono robe will surely become one of your favorite wardrobe staples!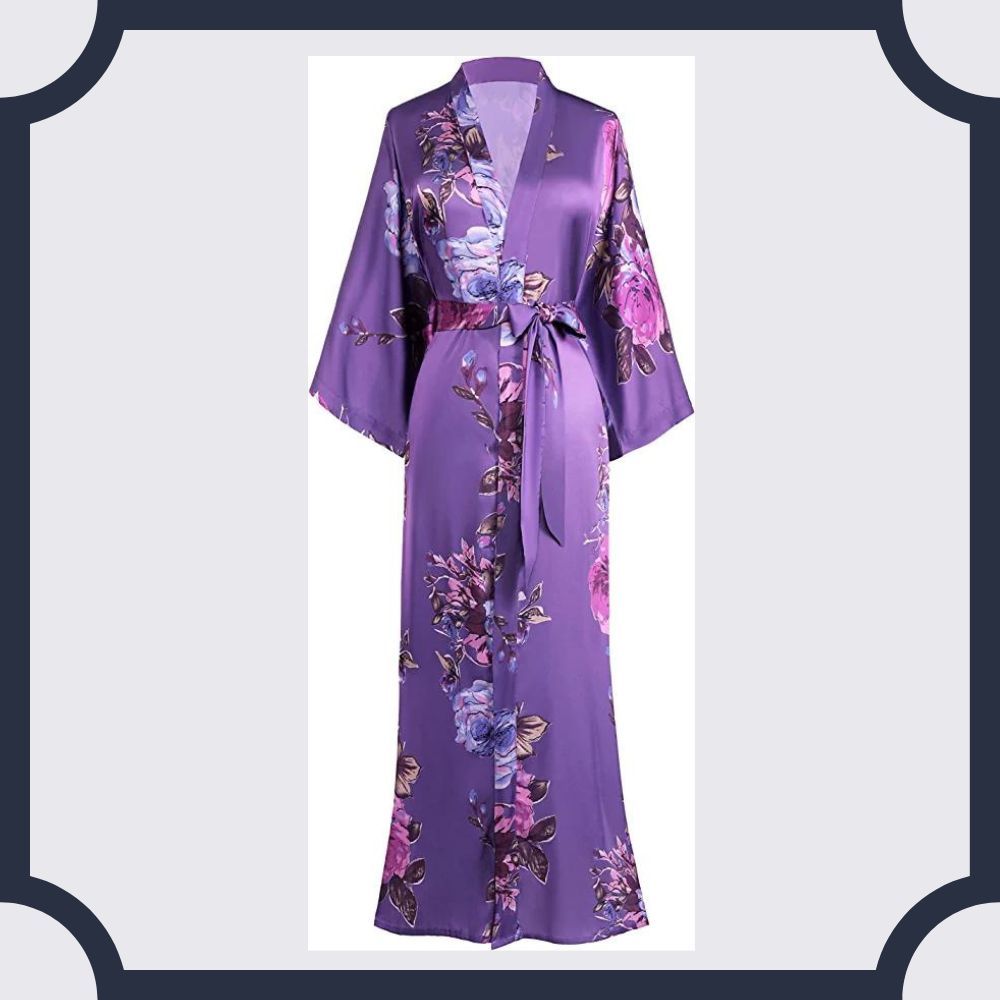 Investment Pieces
       
Investing in high-quality pieces is a great way to ensure that your loungewear will last through years of use—and still look great! Quality fabrics like silk or cashmere are timelessly elegant and will last through many washes without losing their shape or color. Plus, investing in quality pieces now can save money on replacements down the line.
And let's not forget about versatility; with luxurious options, you can wear them for more than just lounging around—you can dress them up for special occasions too!
Armani International Store Kimono Linen Robe  
Crafted in Europe and comes with a hand towel and slippers. Steeped in luxurious comfort and high-quality craftsmanship, is a great choice. The robe is made of 100% European linen, ensuring a soft and comfortable feel that's perfect for lounging around the house.
The lightweight fabric allows you to move freely while also providing plenty of warmth and insulation. The hand towel is absorbent and plush, making it ideal for drying off after a shower or bath. It's crafted with extra attention to detail, ensuring that it will last through multiple uses.
The slippers are designed with comfort in mind; they feature memory foam soles that provide cushioning so your feet stay supported without feeling fatigued. Plus, the adjustable straps ensure that you can find the perfect fit every time.
Overall, this set from Armani International Store is an excellent option if you want quality and comfort at the same time. The materials used to craft these pieces are top-notch and stand up well to repeated wear and tear with minimal signs of wear and tear over time. And because each piece is crafted in Europe with care, you can count on them being held to high standards when it comes to design and construction.
All together, this set from Armani International Store provides unbeatable value for money and will make an elegant addition to any home.
Zimmerli Luxury Loungewear Chocolate Belted Robe
This is an incredibly luxurious and comfortable item of loungewear with the length of the robe reaching to just above the ankles. The belt allows you to cinch the waist for a more flattering silhouette. The fabric is top-notch; it's extremely soft and lightweight, but still sturdy enough to keep out drafts or cold air from outside. It also has great breathability, keeping you from getting too hot while wearing it.
The color of the robe—chocolate—is absolutely stunning! It's a rich, warm brown that will go with almost any other item in your wardrobe.
The Zimmerli Robe is a great investment piece for anyone who wants to add some extra indulgence and glamour into their daily lives. Not only is it incredibly comfortable, but its beautiful color and timeless design make it an excellent addition to any lounge wear wardrobe. Plus, the quality craftsmanship ensures that this robe will last you for years— you'll probably never need to buy another one!
Cashmere Boutique: 100% Pure Cashmere Lounge and Pajama Set for Women
The Cashmere Boutique 100% Pure Cashmere Lounge and Pajama Set for Women  is incredibly soft and luxurious, and testers say the fabric feels wonderful against the skin. The craftsmanship is exceptional – each piece was clearly made with great attention to detail. And the design is simply beautiful; it's modern yet timeless, making it a perfect addition to any wardrobe.
The comfort level provided by this lounge and pajama set is remarkable and feels so light and airy it felt on the body. It dioesn't feel too bulky or heavy like some other loungewear sets.  Despite its lightness, however, it still feels warm and cozy  – perfect for cold winter days spent indoors!
It is 100% pure cashmere. You can immediately feel the difference between this fabric and synthetic materials; there's nothing quite like genuine cashmere! As such, this lounge set isn't just luxuriously soft; it also has incredible durability as well as being highly breathable – all without sacrificing warmth or comfort.
We highly recommend the Cashmere Boutique 100% Pure Cashmere Lounge and Pajama Set for Women to anyone looking for high-quality loungewear that isn't only comfortable but also ultra-stylish too. It's an investment piece that is sure to last many years of cuddle sessions at home!

Robe Season is Here

Fall is the perfect time to invest in a luxurious robe. Not only will it keep you warm on chilly mornings, but it'll also make you feel like you're being hugged by a cloud, a very stylish cloud, that is.
UGG Women's Duffield II Robe:

This luxurious robe from UGG is an absolute must-have for any woman looking to treat herself to ultimate comfort and warmth. It features a longline design with an adjustable tie waist for ultimate coziness, plus cozy sherpa lining that's sure to keep you warm during those cold winter months.
The hood adds another layer of warmth and the kangaroo pockets offer plenty of room for your phone or other items. Whether you're lounging around the house or just want something comfortable to slip into after a shower, this is the perfect choice. The plush feel and range of sizes make it ideal for all body shapes and sizes.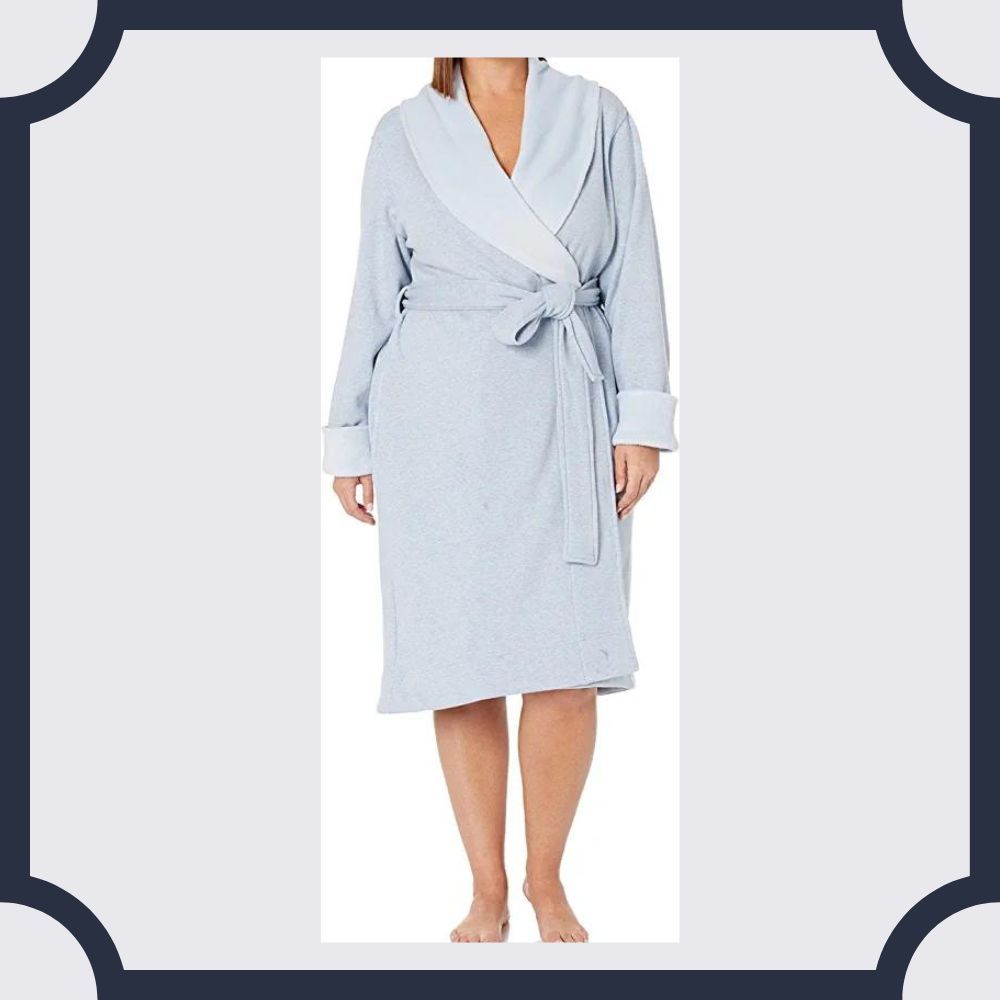 Vera Bradley Lightweight Fleece Robe
Stay warm in style this winter with the Vera Bradley Lightweight Fleece Robe! Featuring long sleeves, an adjustable self-tie closure, and shawl collar, this soft and cozy fleece robe offers maximum comfort that's perfect for snuggling up on chilly days indoors or out.
What's more, this robe comes in a wide range of sizes from petite to plus size so everyone can find their perfect fit no matter their shape or size! This 100% polyester fleece robe is lightweight yet provides abundant warmth so you'll stay cosy even on the coldest evenings, with inclusive and extended size ranges. And because it's machine washable, you can easily keep it clean without any hassle!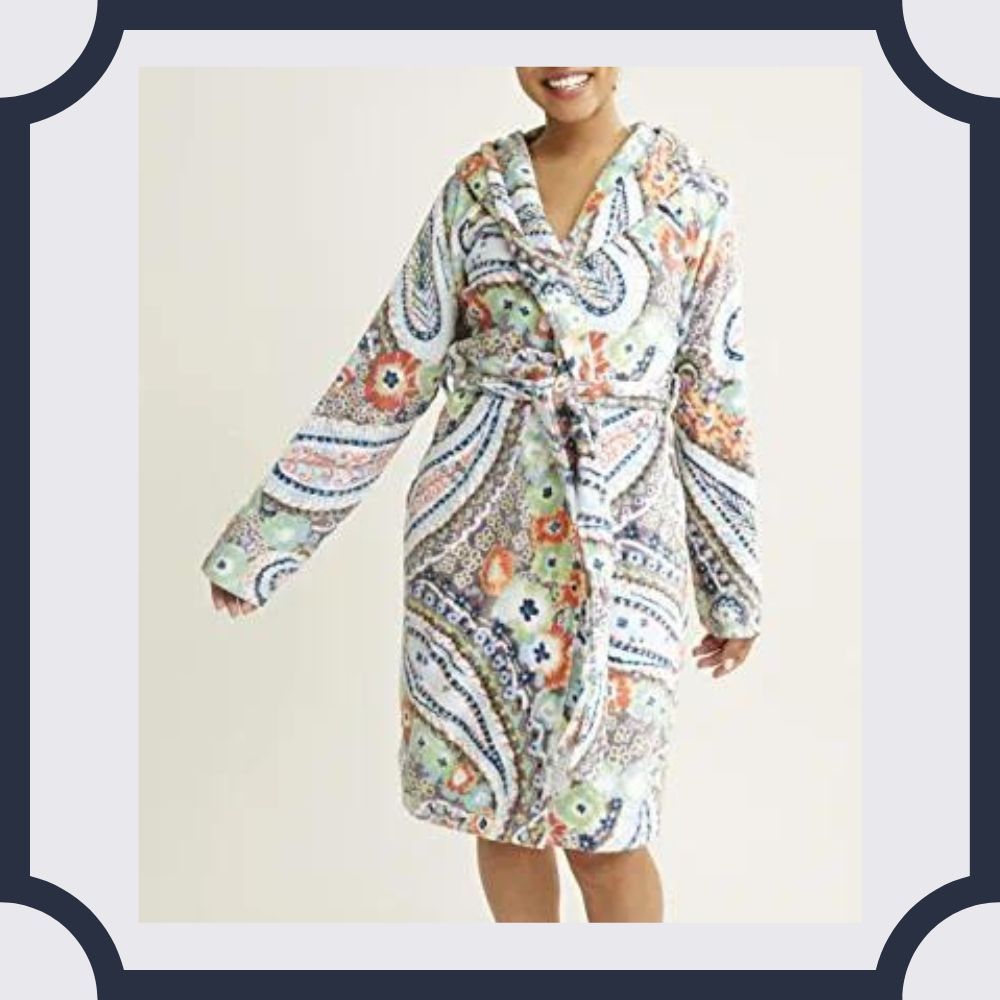 Alexander Del Rossa Women's Warm Fleece , Long Plush Hooded Bathrobe with Hood

Experience total comfort in Alexander Del Rossa's Warm Fleece Winter Robe with Hood! Crafted with ultra-soft polar fleece fabric, this long plush hooded bathrobe steps up your loungewear game while keeping you warm on colder days. Its self-tie closure ensures a snug fit while the two large front patch pockets provide extra storage space for small items like keys or phones.
Plus, the attached oversized hood helps protect your head from wind chill or light rain showers when stepping outside your door. Available in sizes from petite to plus sized as well as fun colors like pink and purple; everyone is sure to find their own personal favorite!
Not only does this robe look great but its high quality fabric makes it durable enough for long time wear; guaranteeing years of warmth and coziness!
Not Your Ordinary Sweatshirt

For those days when you want the comfort of your favorite sweatshirt but also need to look presentable, reach for a cashmere sweater instead.
Cashmere is one of the most luxurious fabrics available, and it's surprisingly versatile. Dress up a cashmere sweater with jeans and heels for a casual yet chic look, or wear it with leggings and sneakers for a comfortable outfit that you can wear anywhere.  
It's sure to become one of your wardrobe staples this fall and winter.
Theory Women's Cashmere Hoodie
This piece is a luxurious and versatile piece of apparel that can be worn over any outfit. This hoodie is made from 100% cashmere which makes it extremely soft and comfortable to wear. It features a drawstring adjuster at the neck and a kangaroo pocket on the front, both of which add to its functionality and elegance.
The ribbed cuffs and hem ensure that the garment keeps its shape even after many wears. The incredibly stylish design and luxurious feel of this hoodie make it perfect for any occasion, ranging from weekend brunches to an evening out on the town with friends.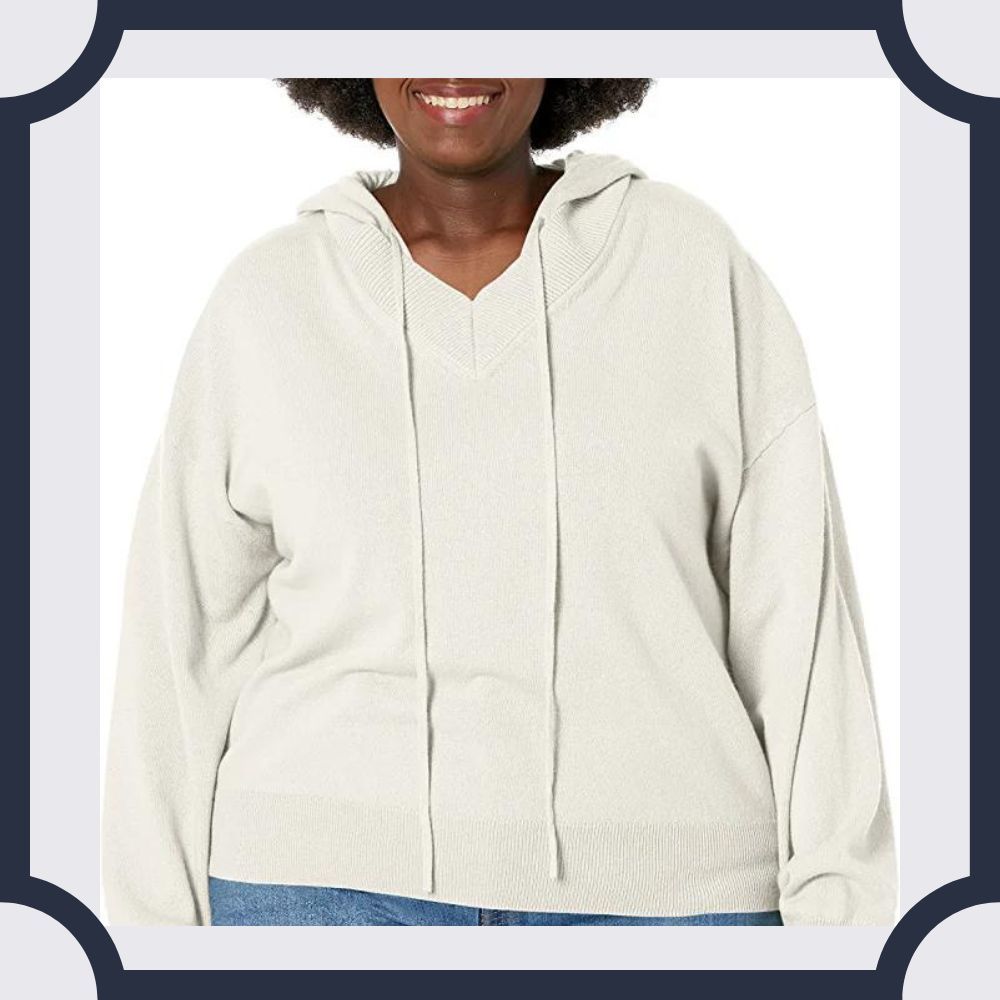 The Splendid Women's Long Sleeve Cashmere Blend Pullover Popstitch Sweater
Now this is another great addition to your wardrobe. This elegant pullover has all the features you want in a fashionable top: it is made from a blend of cotton, modal, and cashmere fabrics; it comes with four different color options; and it has unique seam detailing along the sides for added texture.
The long sleeves provide warmth without bulkiness and the V-neckline adds an extra touch of classiness. Whether you need something for casual daywear or more formal occasions, this pullover will keep you warm while still looking chic.
Both Theory's Cashmere Hoodie and Splendid's Cashmere Blend Pullover are must-haves for anyone who wants to feel luxury even while they are realzing at home. If you're looking for something luxurious yet practical, then these two garments will certainly fit the bill beautifully.
Their quality materials, stylish designs, adjustable features, timeless appeal make them perfect choices no matter what your style preference may be. These pieces offer comfort as well as sophistication - making them truly indispensable additions to any wardrobe!
The Perfect Pair of PJs

There's nothing better than slipping into a cozy pair of pajamas at the end of a long day. But why settle for ordinary when you can have extraordinary? With luxury loungewear, you can have both comfort and style in one package. 100% silk charmeuse and 100% cotton jersey knit fabric are just two choices for the most luxurious fabrics.
Cosabella Women's Bella Curvy Racerback Cami Robe & Pant Pajama Set:
The Cosabella Women's Bella Curvy Racerback Cami Robe & Pant Pajama Set is an incredibly comfortable and stylish set perfect for any night of the week. Made from a lightweight and breathable fabric, this set provides ample coverage and support while looking chic. The racerback cami top has adjustable straps, allowing you to customize your fit for maximum comfort.
The pants come with an elastic waistband for added convenience, and are designed to flatter the figure with its tapered ankles. The best part? This set is available in sizes from S-3XL, making it the ideal pajama set for everyone.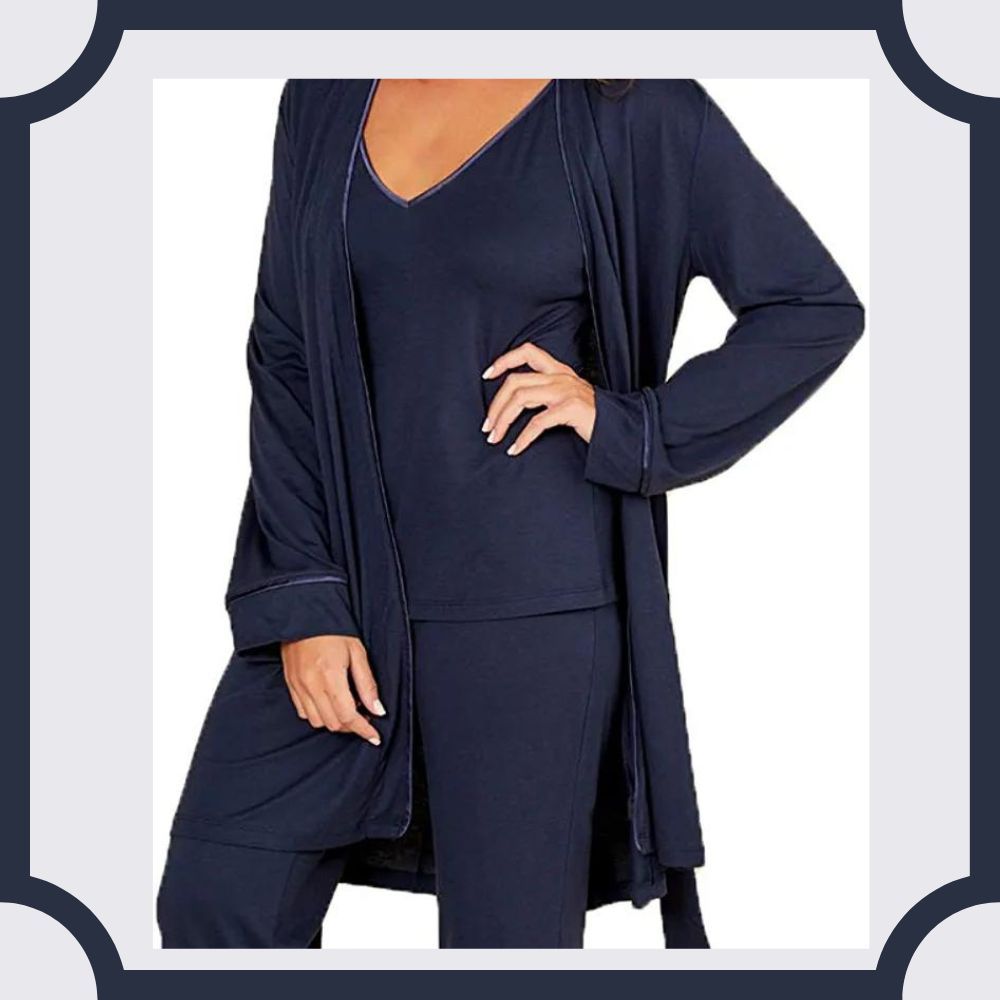 PJ Harlow Women's Frankie
If you're all about high-quality loungewear that looks as good as it feels, you can't go wrong with PJ Harlow's 3-piece sets. Their sets include a soft tank top, drawstring shorts and a long sleeve button up cardigan made from a silky modal blend - perfect for getting cozy after a busy day! Not just limited to bedtime wear either, these sets are versatile enough to lounge around in at home or out running errands without compromising on style. And when it comes to size options? They offer sizes XS-XXL so everyone can find their perfect fit.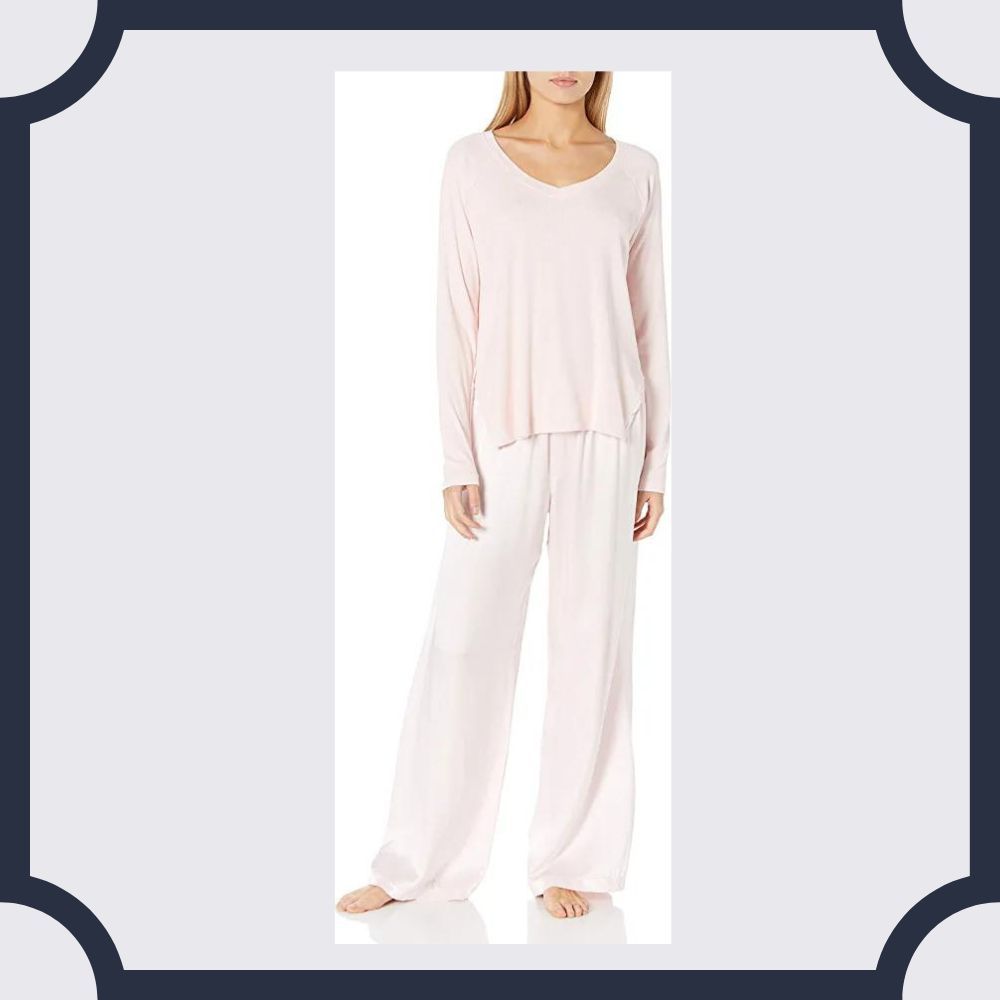 Tommy John Women's Pajama Pants:
Lounge around in absolute comfort and style with Tommy John's Second Skin Fabric women's pajama pants! These luxurious bottoms are crafted from ultra-soft fabric that will make you feel like you're wearing nothing at all - making them the ultimate sleepwear or loungewear choice.
Their mid-rise design comes complete with an elastic waistband and drawstring closure for added convenience — plus they come in sizes XXS - XXXL!
Whether you prefer solids or prints, these pants will have you feeling cozy all night long without sacrificing fashion credentials.
Whichever you choose it should be super soft and cozy—perfect for snuggling up on chilly nights.
Who says loungewear has to be boring? With luxurious options available, you can show off your personal style while indulging in some much needed self-care.
If  you're looking for a cozy robe to keep you warm on cold mornings or the perfect pair of pajamas to curl up in at night, luxury loungewear is sure to give you both comfort and style all season long.
So go ahead – treat yourself! You deserve it!