Orange is undoubtedly having a moment right now, ranking among the hottest hues of 2022 thus far.
Ready to rock the next party or event in style? Look no further than the classic orange dress – an eye-catching and fashionable option for any occasion! With so many different styles, cuts, and designs, it's easy to find a look you love.
Whether you're looking to make a bold statement or just want something subtle that will still wow your friends, there are plenty of options. We'll explore all the exciting possibilities in this blog.
So keep reading to find out what's trending in the world of orange dresses! #OrangeDresses #Fashion
How we do it:
Our mission at  Fashion Ratings  is to find the best orange fashion items for any occasion. We tirelessly scour reviews of clothing, shoes, and accessories to ensure that you feel confident that your purchase is the right one.
We rate only reputable brands, so you can trust that our picks are of the highest quality. When selecting pieces for our blog, we consider a combination of factors including current trends, customer feedback, and price points.
This careful process allows us to bring together an assortment of fashionable and affordable orange items that you won't find anywhere else!
Orange is undoubtedly having a moment right now, ranking among the hottest hues of 2022 thus far.
The brilliant shade not only adds a welcome punch of color to any ensemble, but it also seamlessly changes with the seasons, making it more of a mainstay than you may imagine.
So should you keep it safe.....maybe!
Neutral color combinations like white, cream, and beige or black, navy, or gray are always the safest choices to pair with orange and it's a keeper if it makes your face glow and your eyes pop.
Put it back, though, if it makes you appear drab or washed out.
Make a bold orange color choice if you have olive or dark complexion. Choose softer hues like coral or peach tones if you're more fair.
Use neon orange as a highlight or as the star; it's so popular right now. Perhaps use a pop of orange as a belt, backpack, or shoe or go for the full monty and wear orange head to toe.
Orange looks fantastic when mixed with other bold and daring colors, despite being a difficult shade to wear for some.
Keep in mind that the trick is to match all shades to similar tones, such as oranges with yellow hues or oranges with blue undertones.
Orange and red or orange and blue and red are popular hue combos.
If you want to be daring, consider combining orange with cobalt blue.
Heat it up with orange and pink.
Consider using orange with yellow, or white, to balance it out for a striking appearance
When combining orange with black and brown, be careful. We don't want to imply that you shouldn't wear orange with black or brown because that combination can look lovely.  But take care; you don't want to resemble a tree in the fall or a Halloween display.
Additionally, these dark neutrals might detract from the shades even more, turning it into something dull and conventional rather than striking and unusual.
Choose lighter-toned neutrals if you must use them in your design.
Monochromatic is always a safe but statement making choice. A constant lengthening silhouette is produced by donning one tone from head to toe. It's also a fantastic way to say something outspoken.
It can be a vibrant and fresh experience when worn tone on tone, especially in more subdued, gentler tones.
If you are nervous about head to toe orange you can embellish with accessories. Accessories are the key to finishing any look and a great way to incorporate orange into your wardrobe.
Sometimes, it's easier to add a new color to your wardrobe by wearing accessory pieces like a bag, shoes, scarf, or statement necklace.
You can slowly progress to more as you gain confidence. When tan or beige seems too safe, orange accessories step in.
Orange looks divine when paired with a golden tan. If you're hesitant to try it, start with orange nail strips.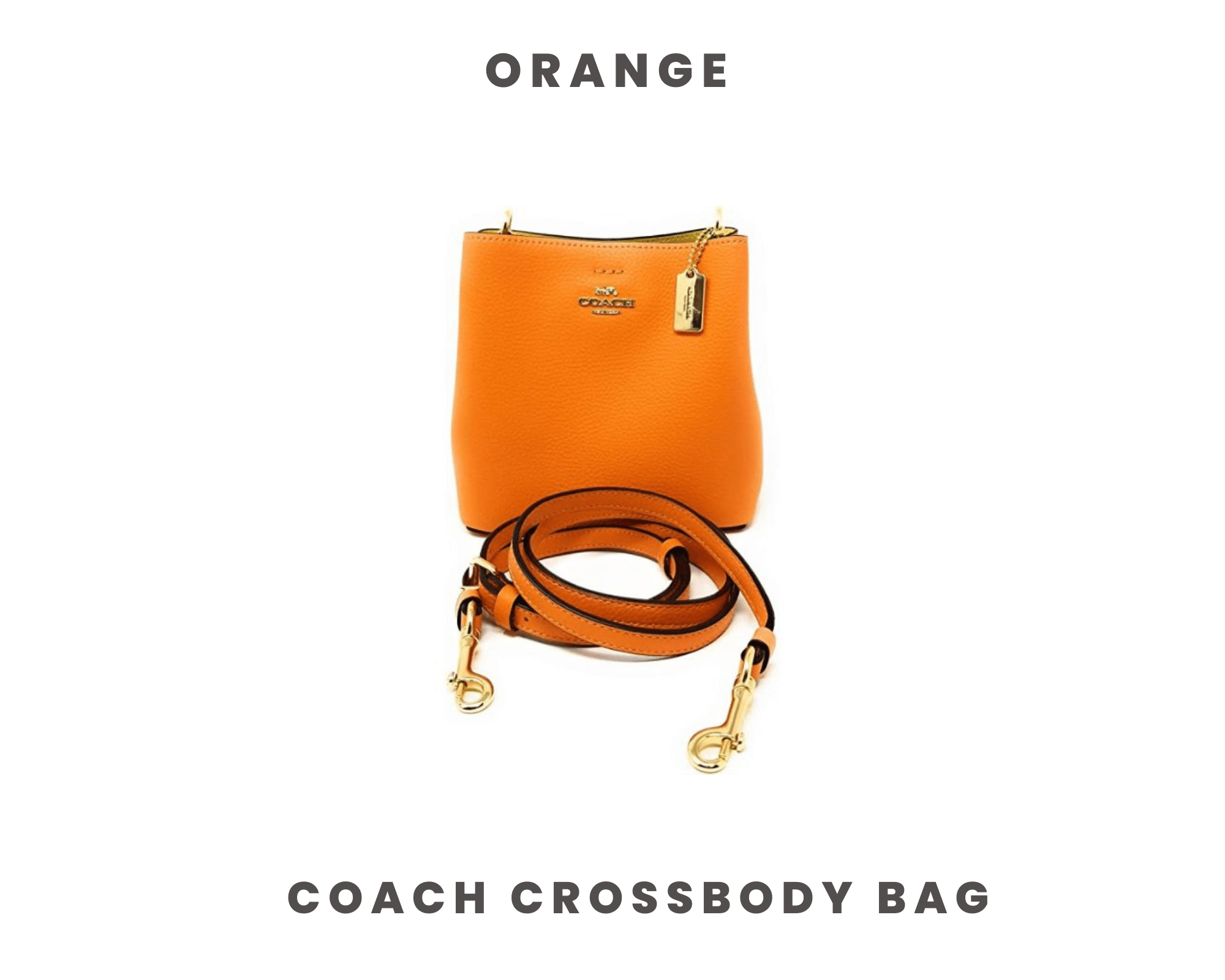 Pair with Denim
The colors orange and navy go well together. So it makes sense that orange and denim is a favorite choice for a combination.
An orange dress with a denim jacket or an orange silk blouse and jeans with a bag, or shoes.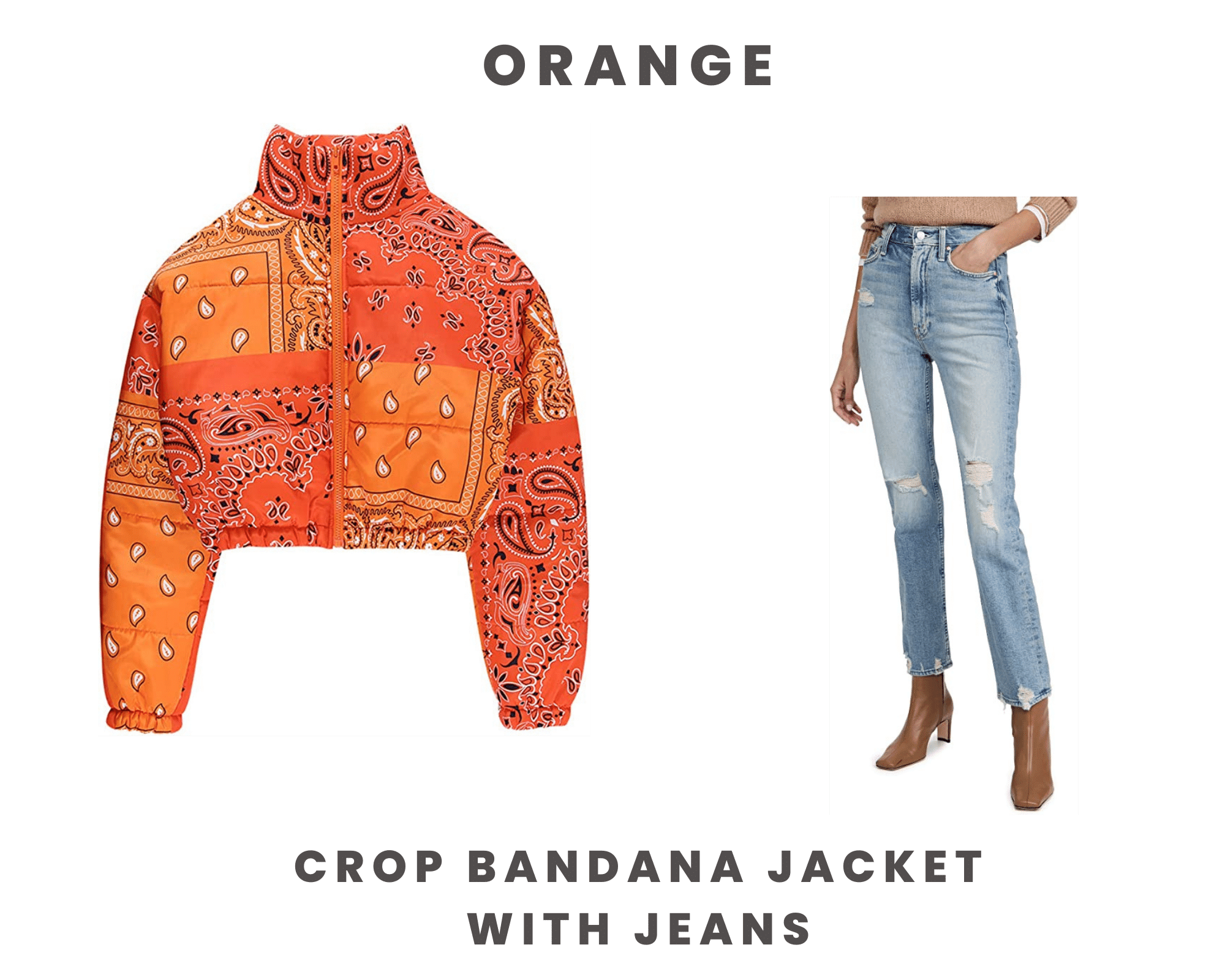 Having trouble donning orange? Should you choose a design or print! Why not wear a pattern or design with an accent color instead. There are lots of gorgeous patterned and printed products on the market.
Tops with eye-catching neon colors, vivid designs, brilliant solid colors, flattering cuts, and covered with noticeable elements like ruffles will pull attention up and away from your lower body.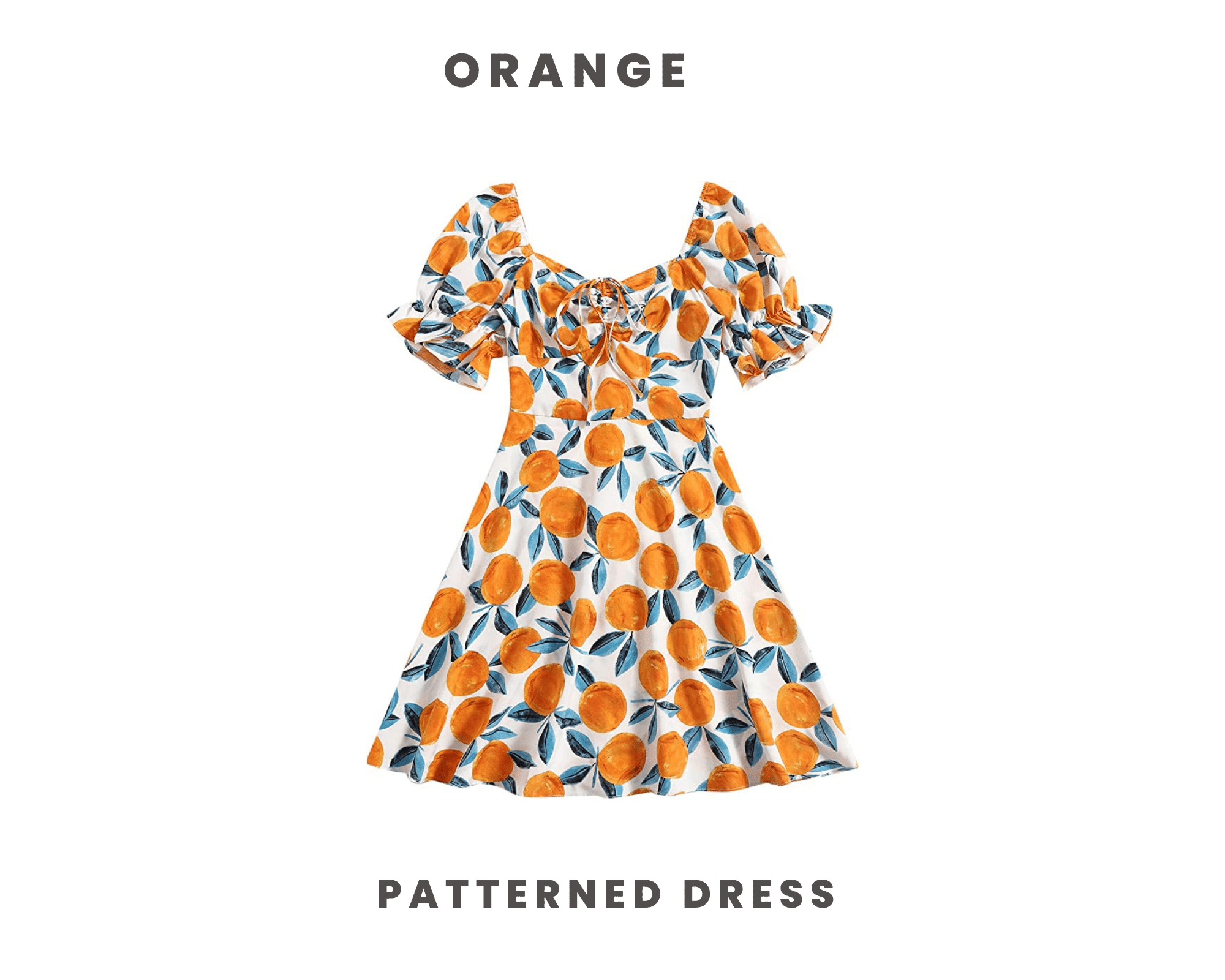 We looked far and wide to uncover the greatest orange dresses that will boost your wardrobe right now, ranging from classy scorched orange midi dresses to vibrant maxis.
With our selection of must-have orange dresses, you can stand out among a sea of fashionistas this season and give your wardrobe an appealing fruity flavor.
Shopping Guide:
The Drop Women's Ana Silky V-Neck Midi Slip outfit
Be effortlessly chic with a timeless silky v-neck midi slip dress.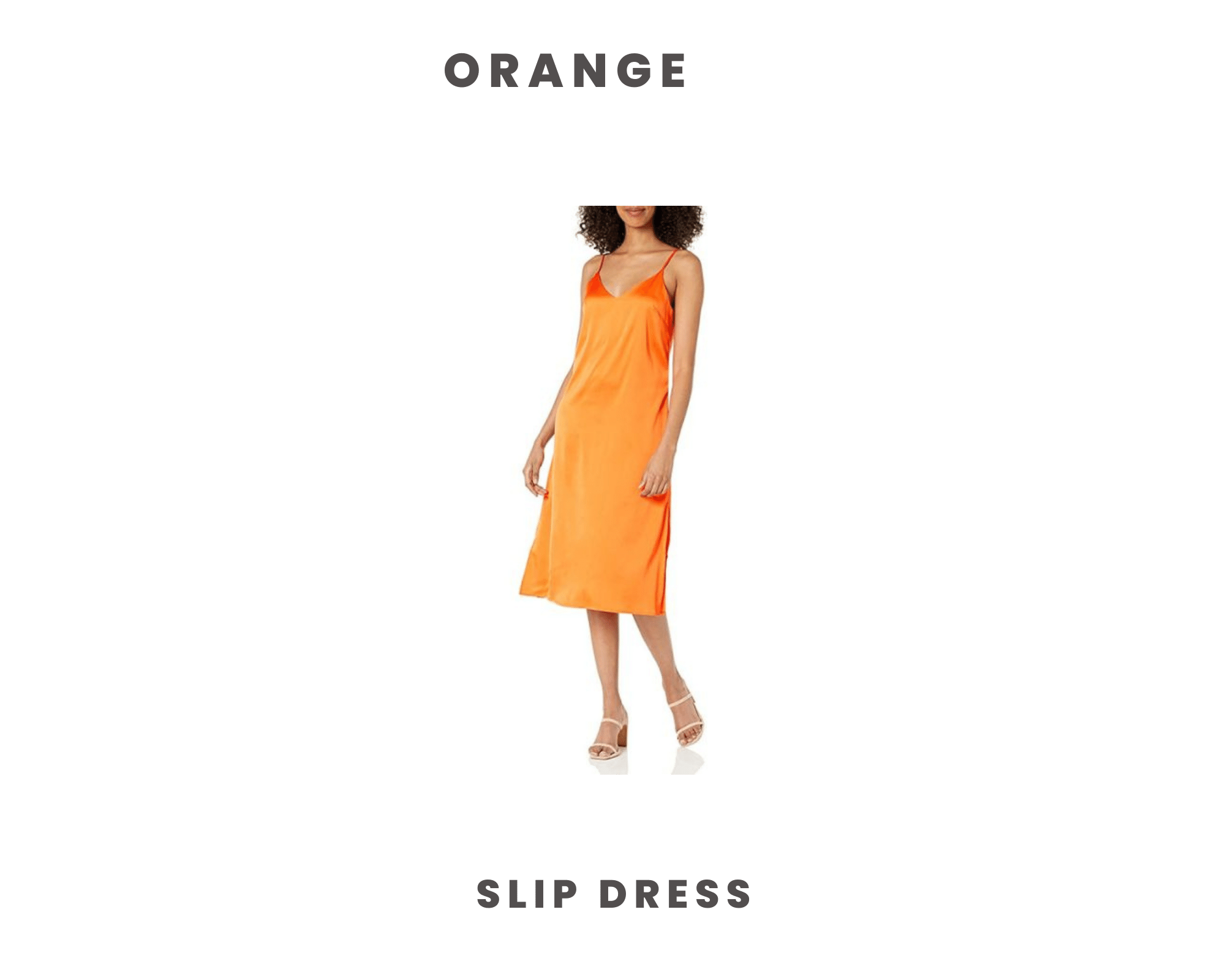 Why we love it:
Made with 95% polyester and 5% Elastane
Machine washable
Staples by the Drop
Perfect for occasions such as a date night, family dinner, or friends meetups.

Looking for a unique gown to wear to your next formal event? Look no further than this asymmetric tucked drape stretch crepe bodice gown with overlay from HALSTON.
This gown features a flattering drape neckline and a beautiful asymmetric overlay that will make you stand out from the crowd. The stretch crepe fabric ensures a comfortable fit, while the side slit provides a touch of sexy sophistication.
Why we love it:
100% polyester-made. Soft and comfortable fabric.
Unique and trendy design with a sexy v neck line.
This summer little dress in swiss dot chiffon is smooth, light, and skin-friendly. Chiffon dress that is fully lined underneath so there are no see-through issues. It has a comfortable fit thanks to the loose, roomy cut.
Perfect for pregnant ladies with its relaxed fitting. For a relaxed daytime look, great with high heels or low shoes with this adorable summer dress. Your appearance is enhanced by stylish details in any situation.
The Audrey Sleeveless Orange Midi Dress from Ramy Brook is a must-have for your summer wardrobe.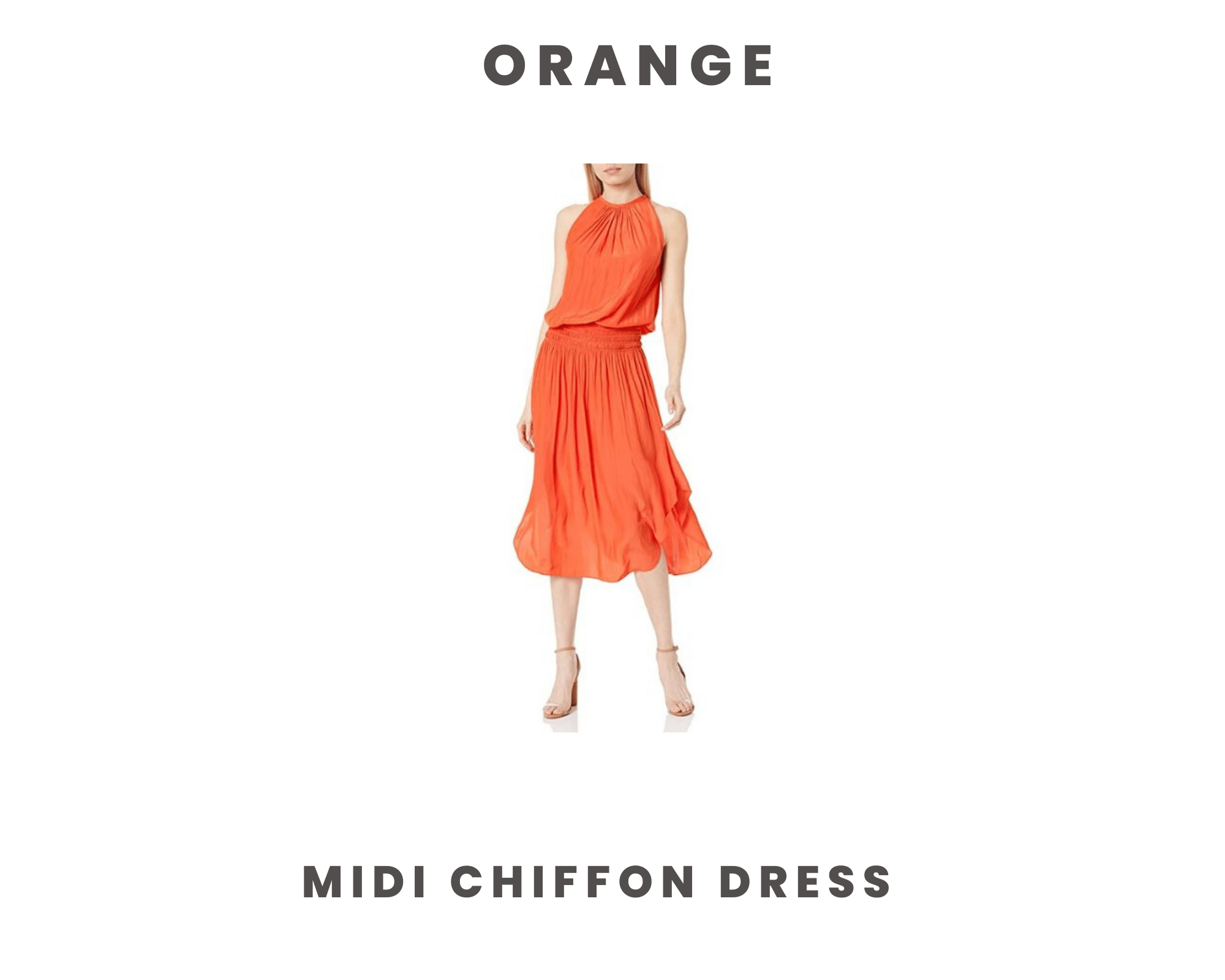 With its sleeveless design and comfortable fit, this dress is perfect for hot summer days. The orange color is bright and cheerful, perfect for adding a pop of color to your look.
Why we love it:
Cant help to stare at its Adorable and cute design
A perfect pick for any occasion like dating, beach parties, night club.
One of the top affordable options.
How to Wear Orange Dresses FAQS:
FAQs About Orange Dresses, Jackets and Tops
What is the most popular style of orange dresses?
The most popular style of orange dresses are maxi dresses. They look elegant and can be dressed up or down depending on the occasion.
Are orange jackets fashionable?
Yes, orange jackets are very fashionable! They're a great way to add a statement piece to any outfit, and can be combined with other pieces for an interesting look.
What type of tops go well with an orange dress?
Tops that go well with an orange dress include white blouses, lace camisoles, linen shirts, cropped sweaters and tank tops. Any top in neutral colours will help bring out the vibrant hues of your dress.
Is it ok to mix shades ?
Combining multiple shades of orange is a great way to create a unique and eye-catching look. Try pairing lighter shades like coral or peach with brighter oranges for a bold effect.
What kind of accessories should I wear ?
Accessories are key when it comes to styling an orange outfit – they can make all the difference! Consider adding some jewellery or metallic shoes in silver or gold to complete your look.
Orange is undoubtedly having a moment right now, ranking among the hottest hues of 2022 thus far.
The brilliant shade not only adds a welcome punch of color to any ensemble, but it also seamlessly changes with the seasons, making it more of a mainstay than you may imagine.
Thank you for taking the time to visit today. We hope you have found your next favorite thing here on FashionRatings.com and we look forward to you visiting again.
As Amazon Ambassadors we may earn a commission on qualifying purchases made through our site and links, at no cost to you. Happy Shopping 🛍