Remember when you first saw that white off the shoulder top and thought to yourself, "that's a trend that's not going to last"?
Well, We're here to tell you that you were wrong. The white off the  shoulder tops are not only still in style, but it's also one of the most versatile pieces you can have in your wardrobe.
Here's a look at why the off-the-shoulder blouse is a fashion trend that's here to stay.
One of the reasons the off-the-shoulder blouse is so popular is because the cut out details looks good on everyone.
Whether you're petite or plus size, the off-the shoulder silhouette is incredibly flattering. It shows off just enough skin to be sexy without being over-the-top.
Another reason the off-the shoulder blouse is so popular is because it can be dressed up or down.
Whether you're wearing it with jeans and sandals for a casual look or with a skirt and heels for a night out, the off-the shoulder blouse always looks fabulous.

While some fashion trends are only appropriate for certain seasons, the off-the shoulder blouse can be worn year-round. In the summer, pair it with trousers or a skirt and in the winter, layer it under a sweater or jacket. The versatility of the off-the shoulder blouse makes it a wardrobe essential.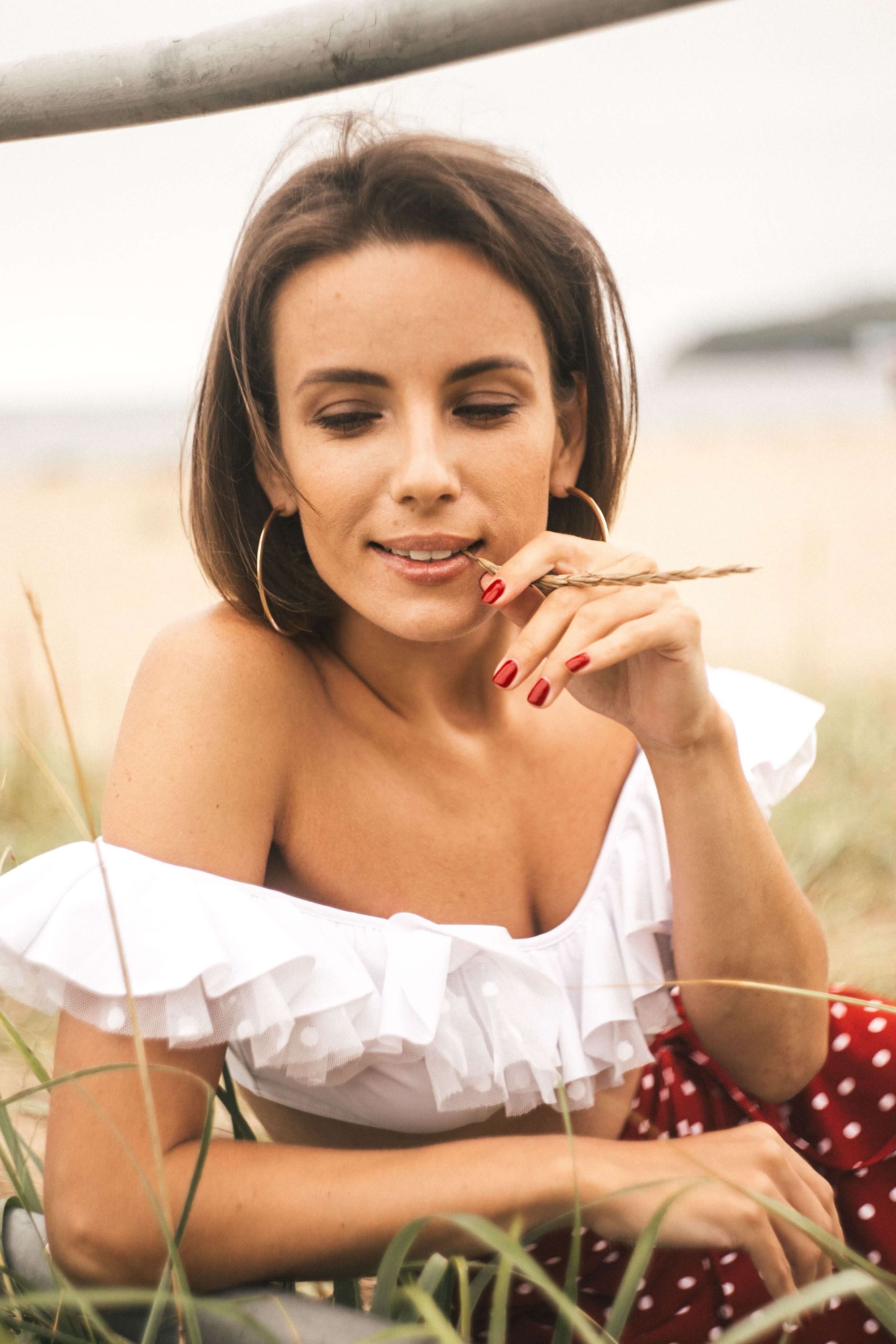 If you're looking for a fashionable and versatile top that flatters your figure, then look no further than the off the shoulder blouse!
This trend is here to stay and there's no better time than now to join in and put one in your bag , or two...or three!
Now let's look and see what we've found for you. Trust us, you'll thank us later!
1/7
The Norma Kamali women's shirt is a versatile piece that can be worn in a variety of ways. The shirt is made of a lightweight fabric that is perfect for layering, and the streamlined silhouette looks great on any body type.
The AG Adriano Goldschmied  The legging ankle Jean is a slim-fitting jean that is designed to flatter your figure.
The Nine West women's Juna 3 combat boot is a stylish and practical boot that can be worn with jeans or skirts. The boot features a lace-up closure and a chunky heel that provides both comfort and style.
Whether you're dressing for work or play, these three pieces will help you create a stylish and coordinated look.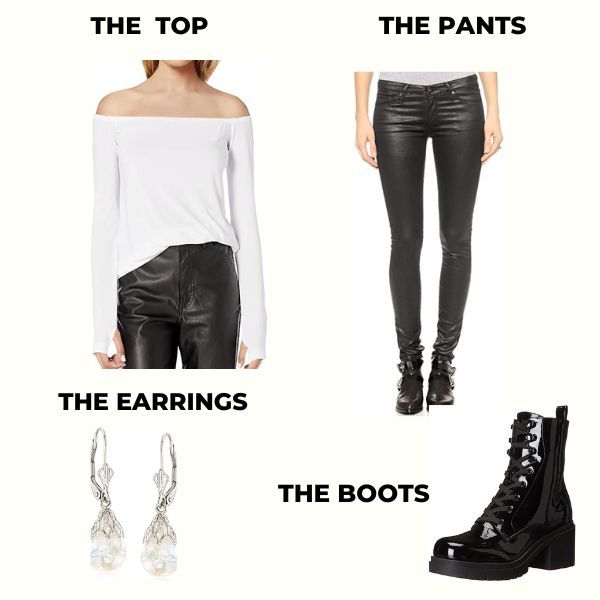 2/7
At first glance, the Simon Miller women's NAI TOP, Rag & Bone high waist wide leg Logan jeans rinse wash, and Veja women's Esplar logo sneakers may seem like an unlikely trio.
However, these three items share a common thread: they are all designed with comfort and style in mind. The Simon Miller top is made from a lightweight cotton blend that is perfect for warm weather days.
The Rag & Bone jeans are made from a stretch denim that is both comfortable and flattering.
And the Veja sneakers are both stylish and supportive, thanks to their cushioned soles and breathable mesh uppers
Whether you're dressing for a casual day or a night out on the town, these three items will have you looking and feeling your best.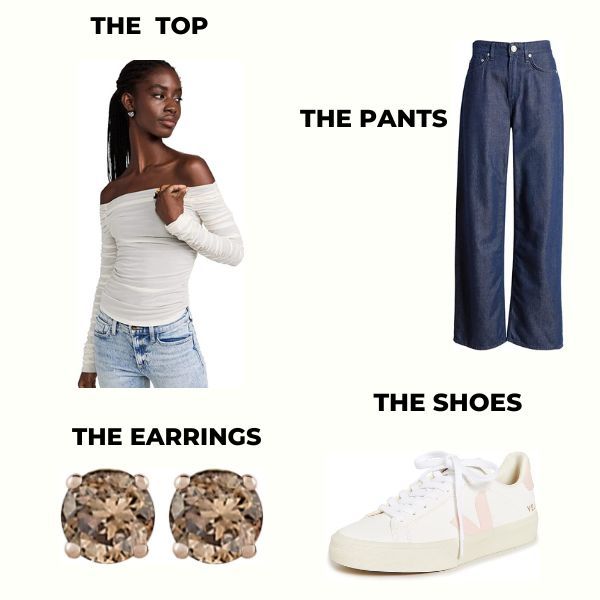 3/7
Asvivid, Crocs, and Simons: three brands that have nothing in common...except for the fact that apparently they all go together beautifully.
Asvivid, run by a bunch of style-savvy Gen Z-ers, is where we found the perfect off-the-shoulder top for the next Zoom call, or happy hour with friends. This white off the shoulder top also comes in a variety of colors and patterns.
As for Crocs, We'll admit that initially we were hesitant to jump on the comfort-over-fashion bandwagon. But after a long day of being on your feet, there's nothing better than sliding into a pair of wedges made out of Croslite material.
Plus, they come in so many different colors and styles now - We loved the platforms in beige.
Last but not least is Ross-Simons, a Canadian retailer known for its trendy yet affordable fashion finds.
These beaded and polished hoop earrings from their 14kt yellow gold line caught our eye - they're the perfect statement piece to dress up any outfit. So there you have it: three brands that definitely don't suck.
4/7
Pair this Byinns ruffled off-shoulder top with some high-waisted leggings and some sexy stiletto heels.
The off-shoulder top is perfect for showing off your sun-kissed shoulders, and the layered ruffles add a touch of femininity.
These Sweaty Rocks leggings are just stunning and the suede fabric adds a luxe touch.
The GENSHUO stiletto heels are the perfect finishing touch to this outfit, and they'll make your legs look miles long.
So whether you're headed to the club or date night make sure you pick this outfit.
5/7
Check out this women's off the shoulder blouse by Vemvan. These tops are sexy and chic, and has an elegant tie neck. Made from lightweight chiffon, they're a perfect feminine wardrobe staple.
You'll need  a new pair of jeans to go with your new top? We've got you covered there, too.
The Hudson Beth mid-rise jean is the perfect choice. They have a slim fit and a flared leg, and they're made from stretch denim for a comfortable feel. Plus, they have back flap pockets for a touch of style.
Complete your look with the perfect pair of shoes. The Stassey heel sandals are just what you need. They have a lower heel for comfort and a slip-on design for easy on and off.
Accessorize with the perfect piece from the collection of Kendra Scott jewelry. The Candice cuff bracelet is a beautiful addition to any outfit. It features an open design with intricate detailing, and it has an adjustable closure for a custom fit.
Choose from every color to find the perfect one for you.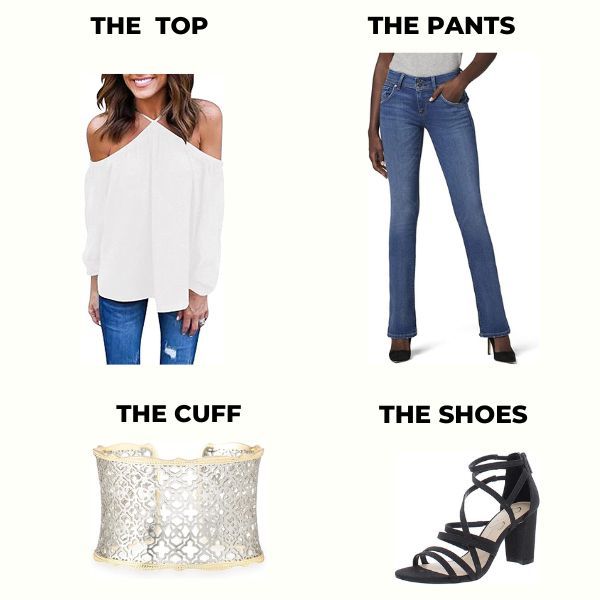 6/7
Looking for the perfect outfit to show off your shoulders and put your best foot forward? Check out this top picks from American Apparel, MOTHER, and Free People.
The American Apparel women's cotton spandex off-shoulder top is a great way to show some skin in a playful and comfortable way. The MOTHER women's high waisted hiker Hover jeans are the perfect mix of edgy and chic, and they'll pair perfectly with the Free People Elle Block Heel Boot.
And no outfit is complete without some sparkle, so add a little something extra with one of SWAROVSKI's Infinity crystal jewelry collections in rhodium or rose gold tone finish. With these pieces, you'll be turning heads all day long!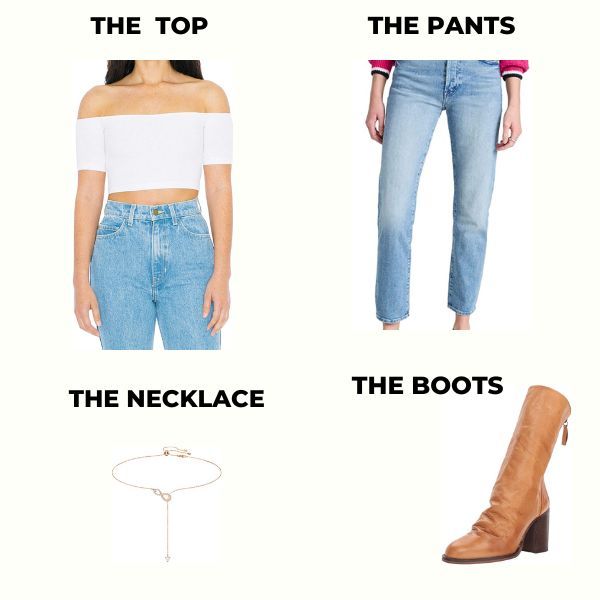 7/7
Is it just us, or are women's clothes getting more and more complicated? And for a Plus Beauty it can be even harder everything on the rack seems to be an xs.
It seems like every day there's a new style of top to choose from, and don't even get us started on pants.
Jeans used to be simple: you had your jeans, your khakis, and your dress pants. But now there are boyfriend jeans, mom jeans, ripped jeans, jeggings... the list goes on.
And then there's shoes. It used to be that you had your sneakers, your dress shoes, and your sandals.
But now there are platforms, stilettos, mules, kitten heels... again, the list goes on.
Remember when the only accessory you needed was a pair of earrings. But now there are statement earrings, chandelier earrings, hoop earrings... you get the idea.
It seems like every day there's a new style of clothing or accessory to keep up with.
Well, we have found the perfect outfit for you, all you have to do is click through, check price and put it in you basket - you'll have it in a day .
And that's the allure of the white off shoulder blouse: it shows just enough skin to be alluring, while still maintaining an air of innocence and purity.
Whether you're going for a boho vibe or something more elegant, there's an off shoulder blouse out there for you.
So click through to see the fan favorites, at every price point and remember on Amazon shipping is always free.
Thank you for taking the time to visit today. We hope you have found your next favorite thing here on FashionRatings.com we hope you will subscribe and we look forward to you visiting again.
Make sure to confirm your email to ensure you have successfully signed up.
As Amazon Ambassadors we may earn a commission on qualifying purchases made through our site and links, at no cost to you. Happy Shopping 🛍