Denim shorts will be forever popular because of their comfort and laid back style. The best denim shorts surely make a cool outfit in the summer but there is no rule book to say that they can't be worn all year round. You can style many looks with jean shorts and wear them even when it's snowing outside and we will show you how.
Denim shorts work for everyone, young and old. You can wear them for a casual outfit or dress up with a leather jacket and some Italian sandals and be voted  best dressed of the night.
A Mom chasing after little ones or a Grandma playing pickle ball ...jean shorts are the universal wardrobe staple. Our job is to help you find the best pair for you.
Over the years, denim shorts have become one of the most popular wardrobe staples for everyone from toddlers to grandpa's, everyone lives in them. We have found what we think are the best denim shorts for men and women.
Denim shorts were originally only the blue most of us are familiar with,  that color came from indigo dye, that was originally used to color the cotton twill. Thankfully they are almost all now stretchable, some have elastic waist bands, and many are made from buttery soft fabric.
Online shopping has become very popular in the last two decades. Gone are the days when everything had to be bought in person. Modern shopping has tilted towards browsing your favorite products on your mobile and ordering them on your phone. The times when you had to stand in long lines waiting to make your purchase. Now, you can easily click and buy online. Everything reaches your doorstep practically the next day and returns are a breeze !
How can you figure out which denim shorts match your shape and your lifestyle? That is what we are here for. We've researched and read almost all of the 5 star reviews and sorted out the best denim products for you.
Customer reviews are the most reliable way to check the product's quality and fit and decide if you want to spend your hard earned money on that item. Get ahead of the curve and learn about the best denim shorts to shop without having to read thousands of reviews!
How We Choose the Best Denim Shorts?
The smartest way to choose the best jean shorts, or any product, is to look at what people say that have actually used the product. A person who has had actual experience can give clear and concise answers to the questions asked. That takes time though, and that's where we come in.
Reviews and customer experience paint the picture for what is the closest truth. After analyzing the reviews for different products, we have listed what we have found to be the best denim shorts. Let us look at the best denim shorts for you to light up your summer!
Why They Made To Our List
Mom and Dad jeans are super on trend today! The high waisted denim shorts are right up there too! Sweaty Rocks has tailored a pair that are sure to please even the fussiest fashionista. Rock these with an oversized boyfriend shirt and a crop top and a designer mini hand bag and you can head to the club on point.
Sweaty Rocks Mom high waist denim shorts are made from a light tencel cotton fabric for a comfortable fit that holds their shape no matter how long you wear them.
High waist jean shorts are the perfect item to to add to your wardrobe rotation this season! So easy to style with an Oversized Blazer and a crop top and so easy to care for, just machine wash in cold.
We've reviewed a lot of products, and these shorts are a great quality for the price. On a limited budget, these are the ideal light wash jean shorts.
SweatyRocks Women's High Waist Denim Shorts
Something Else To Consider
What make the best denim shorts so popular is that they can be easily matched with different any style tops, tanks and t shirts, etc... anything goes to make a great, casual outfit.
These shorts have a raw hem, zipper, single button and traditional 5 pockets.
There are now multiple colors and washes to choose from too so you can buy more than one and create a whole new wardrobe with just a few new pieces.
Best Denim Short for Women
Why They Made To Our List
The reason is quite obvious, we present to you the Amazon and global best-seller! The Levi's women's 501 original fashion shorts are definitely one of the best denim shorts on Amazon. Having the classic, relaxed denim fit, these jean shorts gained the immediate popularity as soon as it launched.
These are a reproduction of what they did in the 1970s' when women took a pair of 501 jeans and actually cut them off and the distress came from years of wear. How cool that Levi's accelerated that process.
People have never stopped loving cut off, distressed jean shorts. These jean shorts are amazingly comfortable to wear, they are not too tight or clingy and are specifically made for relaxing situations. How you relax is up to you.
Something Else To Consider
There are multiple color wash options available in these shorts. These shorts are essential to have on a road trip or hiking journey. The more you wash these the softer they get.
These denim shorts will not shrink or wear out quickly. Levi denim is famous for it's long wear.
Levi's Women's 501 Original Shorts
Best Frayed Denim Shorts
Why They Made To Our List
Men and denim jean short are synonymous.The top vote seems to be Levi's. The great thing about these shorts is that they are backed by thousands of positive reviews and ratings and a being a brand that has probably hung almost every closet. These shorts are the signature fit denim shorts.
The color options available for these shorts is amazing.  Men today want more wardrobe choices, just like women  have, other than the traditional blue indigo. These denim shorts are comfortable and durable.
Made of quality material and the signature blue denim color can be matched with any T-shirt. Levi's now has many new styles and fits for men and women if these are not what you are looking for.
Something Else To Consider
These Levis's denim jean shorts are available in many different styles. If you are young and like to keep up with the fashion trends, you can opt for frayed denim shorts. However, if you are a mature adult who prefers an understated, traditional style, there is a slim version available: the signature denim jean shorts for men.
An ideal choice to add versatility to your warm weather wardrobe asap as the material never fades or loses its quality. You can easily match these shorts with almost any top, tank or t shirt. Even a button up over a tank would look great too.
Best Cut Off Shorts
Why They Made To Our List
Everyone has their own preference. Some like the simple signature denim shorts while others prefer something funky such as ripped jeans. For those who like stylish denim shorts, the Enrica Denim shorts are ideal.
Enrica Men's Ripped Distressed Slim Fit Holes Denim Shorts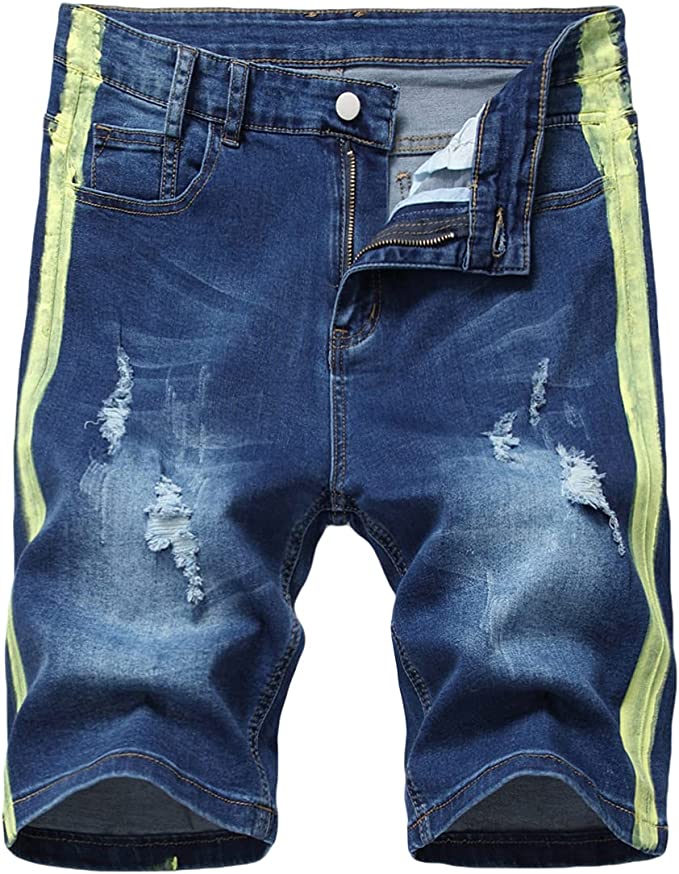 The Enrica shorts are ripped to look edgy and chic. The distressed design, unique pockets, and quality fabric made us include this product in our list. This pair of denim shorts is the favorite of many. People who are bikers, casual travelers, soccer moms and construction love to wear these shorts.
They are different from the usual signature denim shorts and have just the right amount of style.
Something Else To Consider
These shorts are slightly more elevated in style than the standard Levi 501's. These are a slim fit, street wear looking item.
Different than the usual signature denim shorts, black shorts look more appealing and unique when you wear them. They also don't lose their color after washing. Every detail on these shorts, from the buttons on the pockets to the different pocket styles, and the unique ripped style, is quite attractive and appealing. Machine washable.
Best Casual Jean Shorts
Why They Made To Our List
Black and blue are the most common denim colors. It feels wrong to associate denim jeans with another color. However, today denim comes in every color imaginable. This is truly great for people who love to stand out, there is a special product with a unique color.
These LATUD  grey denim shorts are for those who want that look different and unique. The grey shorts feature a ripped design that further edge to the garment.
The cotton blend stretch fabric make these shorts very comfortable to wear. The denim shorts are casual and made for outings and trips. Planning a summer vacation? Get your hands on these different-than-usual pair of denim shorts that add to your outfit's grace. The color selections available are versatile, and you can choose from the available colors.
The shorts are comfortable and breathable. They are designed for your perfect summer evenings.
LATUD Men's Casual Denim Shorts
Something Else To Consider
LATUD has come up one of the best pairs of denim shorts. The standout reasons include the quality of the material, the relaxed fit, and the casual ripped design. These shorts were made keeping in mind the casual needs, so you don't need to worry about wear and tear. No effect on the quality after washing multiple times. Machine wash is recommended.
Best  Denim Cargo Short
Why It Made To Our List
If you are an outdoors man, these shorts are ideal for you. . The Wrangler Cargo Short has 5 stars and over 30,000 reviews at this time. These shorts are one of the most popular and widely purchased denim shorts on our list.
The aspects that add to the style of these shorts are the generous side pockets and the relaxed fit. These shorts will look fantastic with any t-shirt. Six colors make these shorts even more versatile and wanted.  Not everything has to be distressed to look fly. This is a very traditional and timeless look.
These jeans can also pair up with different style tops and basically casual shoe. Get a nice  pair of white sneakers or some fisherman sandals, and you will have a great outfit that is ideal for casual get-togethers, camping and road trips.
Wrangler Denim Cargo Shorts For Men
Something Else To Consider
This pair of shorts is machine wash friendly. You don't have to worry about these shorts losing their integrity after a few wash cycles, they are built to last.
Best Stretch Denim Shorts
Why They Made To Our List
Best Bermuda shorts for women by Joes Jeans Super stretchy denim shorts for moms who have to be able to move, bend and stretch while taking care of their kids all day long! The problem with many moms regarding shorts is that they complain about the shorts rising upwards as the day passes. However, the super stretchy denim shorts by Joes Jeans are different.
They are super comfortable, Joes Jeans high waisted denim shorts and won't make you feel irritated or annoyed. Machine wash is recommended.
Something Else To Consider
There are SO many options to choose from today. You can dress up or down any pair of denim shorts
Best Denim Shorts FAQs
Denim shorts have become a staple in just about everyone's wardrobe. They are socially acceptable in most settings today. Always check for dress codes and attire recommendations for any event.
Which Denim Shorts are the best?
There are a number of factors that must be considered to pick your best denim shorts . The price, the quality, the brand, and the design. Different body types command different designs. Other customer reviews are vital in purchasing something online.
We collected all the information to curate this article to mention the best denim shorts for you. You can take a look at the denim shorts mentioned above and select the best for yourself.
There are simple shorts that are suitable for adults, and there are also casual shorts that are more appealing to teenagers. Whatever you may prefer, there are multiple options and colors to choose from.
Should denim shorts be tight or loose?
That depends on your body type. If you have thick thighs, you may opt for loose shorts to prevent too much attention towards your thighs. BUT you should wear whatever you feel good in. Confidence is the new beautiful.
There are numerous types of denim shorts. These include frayed, cut-off, high waisted, flared, mid-rise, distressed, and super short shorts.
People usually prefer cut-off jean shorts because they are so ok comfortable.
Denim shorts entered the market, and the rest is history. They are easily one of the most popular clothing items all over the world. We discussed the best denim shorts after conducting thorough research and reading a lot of reviews.
Choosing ideal denim shorts for yourself can be a daunting task. To make things easier for you, we have selected and enlisted the best denim shorts in the market. We considered every factor that plays a role in selecting the best denim shorts.
We have listed the best products, and we hope that you decorate your summer wardrobe by purchasing some stylish denim shorts this summer.
Thank you for taking the time to visit today. We hope you have found your next favorite thing here on FashionRatings.com and we look forward to you visiting again.
As Amazon Ambassadors we may earn a commission on qualifying purchases made through our site and links, at no cost to you. Happy Shopping 🛍
If you would like to learn how to make money talking about the things you love and use everyday  checkout  www.SecretCashCow.com and become a Brand Ambassador today.