What's in your bag? Do you want to carry a backpack but feel like you left that in your school days? Do you work on the go? If you answered yes to any of these questions then we have found a range of beautiful chic best backpacks for work and travel without a lot of bulk.
Women's backpacks today provide hands-free fashion chic. A number of leather carry on backpacks can even provide the functionality of a purse in a few quick actions.  We have found the best women's carry on backpack with a laptop compartment and exterior pockets that can be dressed up for any occasion with ease without changing your bag.
One of the most adaptable of bags available is the backpack; use one to carry all of your belongings while trekking across another country, visiting an amusement park, or even in place of carryon luggage. Whatever your plans, wearing a backpack over your shoulders carries all of your essentials with hands free comfort and ease.
Our list of the top backpacks for women is also worth looking at and if you had something a little bit more compact, more affordable, or more opulent in mind, we have found that too.
Why We Love It:
It is so fashionable that it can be worn with everything, including sweatpants and a sweatshirt. It will elevate your style score.
The material is buttery soft, it has a floppy feel when empty. Although this bag is exceedingly elegant and beautiful, it serves a more practical purpose. This backpack is a must for all occasions, from travel to daily commuting to doing errands around town, is durable and beats a tote bag hands down for convenience.
It has a water-resistant finish, a luggage handle pass-through strap, and seven pockets, including one for a 15-inch laptop pocket and padded hip belt.
The Cluci bag literally gives you enough space for your essentials, including a large laptop, which is why it is our top pick. While most backpacks offer one or two pockets and a sleeve for a tiny laptop, the Cluci sturdy pack does not.
You could tell it was made with traveling in mind, but because to its tough construction and functionality, it can store many items and also functions as a daily purse . Not to mention that it is really simple to clean and is constructed entirely of high quality leather and durable hardware. It is really one of the best women's backpack.
Material:
Genuine leather and high quality alloy metal hardware 17.5 x 12 x 7.25"
Reasons We Adore It:
It opens in a clam shell fashion, making it simple to locate what you need. It's foldable and packable and so chic it will go with everything, from work to date night. This is the perfect laptop backpack, voted one of the best travel backpacks for women and carry on backpacks by those who purchased one.
Sleek and elegant. The Tumi  Just In Case Voyager has more  inside pockets in the backpack itself, including a mesh pocket, great backpack straps and privacy compartment for garments, and a main compartment with padded laptop sleeve that can hold computers up to 15 inches long. The Tumi Voyager is the ideal bag to tote all of your items like keys, passport, phone, power bank, and other essentials. The perfect backpack constructed from materials that are scratch- and water-resistant.
Materials:
Nylon 15.9 x 11.4 x 6.6"
Why We Like It:
Since the leather is made to burnish with use, it just gets better-looking with time. Though a little on the pricier side, it is much less than a designer bag and will last in both style and durability the cost per year makes it a bargain. This is a great unisex backpack option.
Particularly if you're constantly on the run, every wardrobe should have this timeless beauty of women's backpacks. The bag has a fashionable drawstring top, adjustable straps and stud-closure flap for items security, and three internal and one external pocket perfectly conceal all of your essentials.
Even better, the bag earned a coveted Gold Rating from the Leather Working Group, which supports environmentally friendly procedures in the leather sector.
Material:
100% Full grain Leather
Size:
14.5 x 10.5 x 7"
Why We Like It:
This bag is one of the lightest purse alternatives available.
What to Bear in Mind:
It has a fair amount of size.
The Kavu Crossbody Bags are the lightest fashion backpacks available at just one pound. It's lightweight, and with many styles made of many different fabrics, making it the ideal choice for minimalists, travelers, and frequent gym users.
With its integrated rope strap, Ipad sleeve, and plethora of compartments, it makes the ideal carry-around for a camping trip, and  traveling. Also as a light hiking backpack, it can also be collapsed and stored simply. Can also be used as a shoulder bag by utilizing the adjustable straps.
Material:
Nylon, polyester and other man made materials.
Size:
20 x 11"
Why We Like It:
The material is so slick that leather might be mistaken for it. This company is 100% vegan and cruelty free.
Matt & Nat is a totally vegan and cruelty-free firm. The fashion backpack contains three inner pockets with enough can space for things like phones, keys, pencils, and other electronics, as well as a section for your 15-inch laptop. Although there are three other vibrant hues available, we prefer the olive shade.
Material
Vegan leather and nylon
Dimensions
16.5 x 13 x 5.75"
Why We Like It:
You may use it as a carry-on for travel one day and as a gym bag the next. It has a padded laptop compartment and weighs in as one of the best backpacks for women.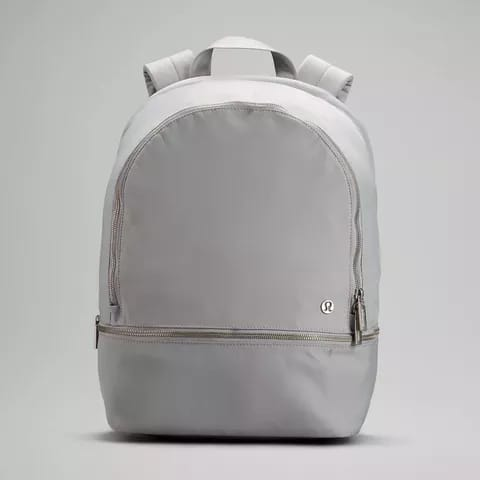 The LuluLemon Adventurer ideal commuter bag, this water-resistant fashion backpacks has plenty of room for other items in addition to a padded lap top sleeve which will hold 16-inch laptop and padded shoulder straps for comfort. This makes a perfect travel backpack.
Small things like your phone and wallet may be stored in several internal pockets, while the bottom compartment protects your soiled workout clothes from your lunch and other necessities. With the help of reinforced shoulder straps and a baggage strap, LuluLemon Adventurer allows you carry a hefty load all day without discomfort.
Product
Polyester blend
Dimension
16.1 x 11.4 x 7.1"
Why we like it:
This is just the cutest mini women's backpack perfect for quick trips to the market or lunch with the girls. It will hold all of your essentials and a mini iPad.
Herschel is known for a signature striped fabric liner and has a nice padded storage sleeve. Dual top carrying handles. Look for our review coming up on hip belt pocket bags.
Dimensions
4.75x8x11
Thank you for taking the time to visit today. We hope you have found your next favorite thing here on FashionRatings.com and we look forward to you visiting again.
As Amazon Ambassadors we may earn a commission on qualifying purchases made through our site and links, at no cost to you. Happy Shopping 🛍