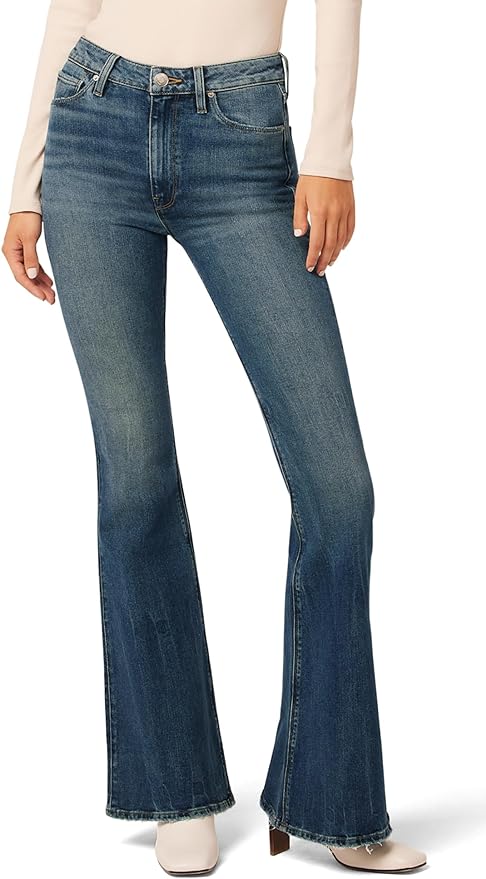 As the autumn leaves begin to dance to the ground, the fashion world prepares for a seasonal transformation. Fall brings with it a sense of coziness, warmth, and an opportunity to revamp your wardrobe. One timeless fabric that seamlessly transitions from summer to fall is denim.
This versatile material is a canvas for a plethora of styles, and each fall ushers in new denim trends to embrace. In this blog post, we'll explore the exciting denim trends for the upcoming fall, focusing on the elegance of maxi skirts, the charm of Canadian tuxedos, and much more.
Throughout the ever-changing seasons, denim remains a steadfast magnet in the realm of fashion. The evolution of designer jeans from an oxymoron to a staple in the '80s, spearheaded by visionaries like Calvin Klein and Giorgio Armani, firmly established denim's influence.
In the present day, it's not a matter of whether denim graces the runway; rather, it's the manner in which it does.
For this season, the potency of fall denim trends like baggy jeans and Canadian tuxedos has significantly surged within designer collections—exciting prospects await as we eagerly embrace these styles.
The Timeless Elegance of Maxi Skirts
Maxi skirts have long been a fall favorite, and this year is no different. Maxi skirts are the epitome of grace, providing comfort while exuding a sophisticated appeal. From classic denim to more intricate designs, maxi skirts offer a wide range of options to suit different preferences and occasions.
The length provides warmth, making it a perfect choice as the temperature begins to drop. Pair it with a chunky sweater and ankle boots for an effortlessly chic fall ensemble.
FEER Maxi
TAP TO CHECK PRICE ON AMAZON
The Canadian Tuxedo: A Denim Double Delight
The Canadian tuxedo, also known as double denim, is a trend that continues to reign supreme. This bold style features pairing denim jeans with a denim jacket or shirt, creating a cohesive, eye-catching outfit.
In the current era of embracing essential and uncomplicated fashion, the runways welcomed a refreshing sense of ease. What epitomizes ease more than pairing denim with denim? The resurgence of the Canadian tuxedo is a testament to this, exuding a newfound coolness.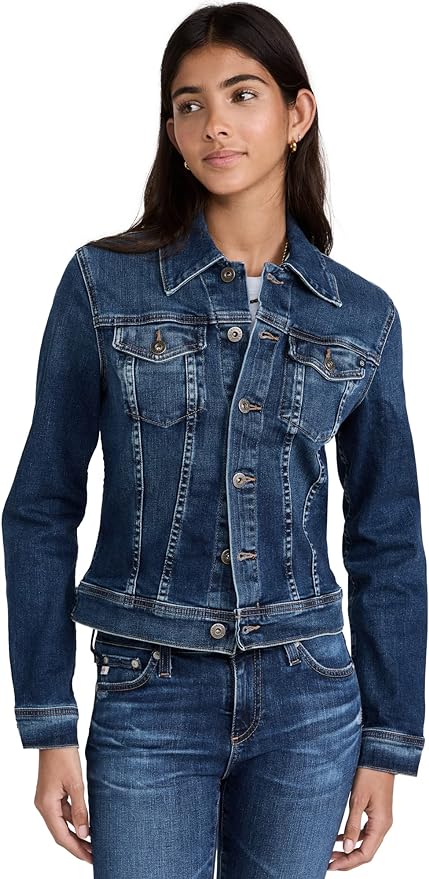 AG Adriano Goldschmeid
TAP TO CHECK PRICE ON AMAZON
An oversized denim shirt is eternally versatile, offering a multitude of styling possibilities no matter the season. Whether you choose to pair it with matching jeans, leggings, or perhaps a set of linen wide-leg trousers, the outfit variations are abundant, lasting you throughout the week.
To add a dash of definition and contrast to the ensemble, consider cinching it with a stylish belt.
The possibilities are boundless, and the combinations effortlessly fall into place—denim jackets, jean shirts, and pants seem to naturally align. If you prefer a simpler approach, a denim jumpsuit is a fantastic option to wholeheartedly embrace this trend.
The key to mastering the Canadian tuxedo is to play with contrasting shades or embrace a monochromatic look for a statement style. This fall, experiment with different washes and textures to craft a Canadian tuxedo that's uniquely yours.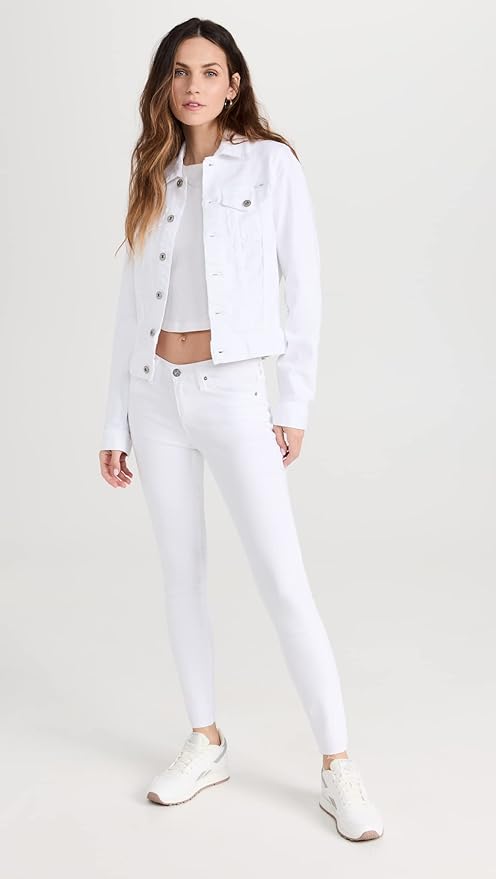 AG White Denim
TAP TO CHECK PRICE ON AMAZON
Distressed Denim: Embrace the Edgy Vibe
Distressed denim has a rebellious yet trendy allure that never seems to fade. Ripped jeans and distressed denim skirts add an edgy element to your fall wardrobe. The artful tears and frayed edges provide a lived-in, casual charm that complements the cozy aesthetic of fall.
With its rugged and rebellious allure, invites fashion enthusiasts to embrace an edgy vibe in their wardrobe. The intentional tears, frayed edges, and worn-in look give distressed denim a distinct character that resonates with those seeking a style that stands out from the crowd.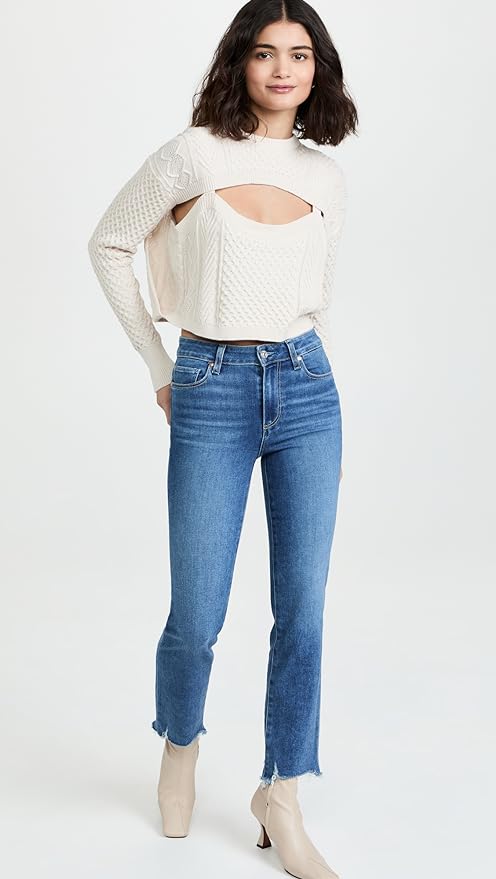 PAIGE Cindy
TAP TO CHECK PRICE ON AMAZON
It's a trend that has stood the test of time, continuing to be a go-to choice for individuals looking to infuse their outfits with an urban, lived-in aesthetic.
Whether it's distressed jeans or a denim skirt, this trend effortlessly complements various looks and can be dressed up or down, making it a staple for those who love to add a touch of boldness to their fashion repertoire.
Pair distressed denim with a simple white tee and a leather jacket for a chic, urban look that's perfect for those crisp autumn days.
The Return of Flared Jeans: A Nod to the '70s
Flared jeans are making a strong comeback this fall. The wide-leg silhouette is not only stylish but also incredibly comfortable, allowing freedom of movement.
The resurgence of flared jeans is a sartorial nod to the iconic era of the 1970s, where this wide-legged denim style first gained widespread popularity.
Fashion has a cyclical nature, often revisiting trends from the past, and the return of flared jeans is a testament to this phenomenon. The '70s were characterized by a unique blend of bohemian spirit, freedom of expression, and bold fashion choices, and flared jeans embodied that ethos perfectly.
Today, as fashion enthusiasts crave a blend of nostalgia and contemporary trends, flared jeans offer a sense of timeless elegance and a departure from the dominant skinny jean silhouette of the past decade.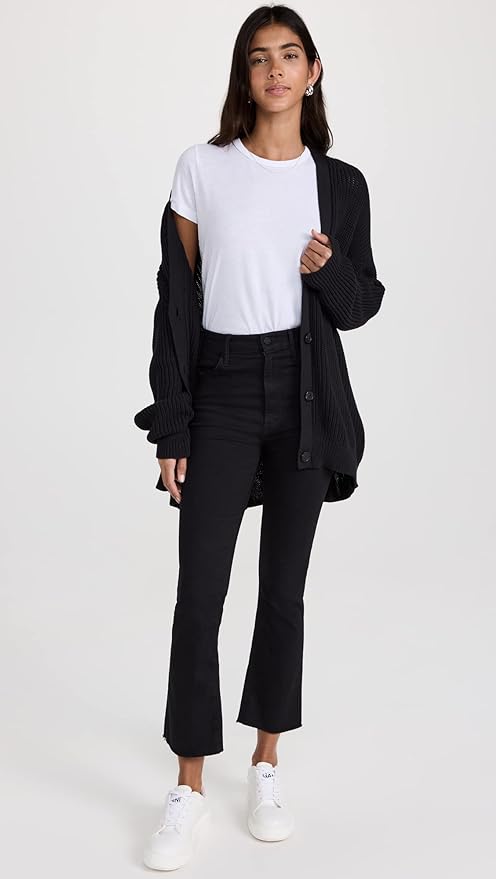 Mother
TAP TO CHECK PRICE ON AMAZON
The comfort, the flattering silhouette, and the ability to create a striking, balanced look make flared jeans a beloved choice, ensuring their return and continued prominence in modern fashion.
Whether it's a subtle flare or a dramatic bell-bottom, flared jeans can be paired with fitted tops or cozy sweaters for a fashion-forward autumn outfit. Elevate your style by adding platforms or heeled boots for a more elongated and flattering look.
The Denim Jumpsuit: Effortless Style in One Piece
Jumpsuits have been a staple in fashion, and when combined with denim, they create a timeless yet contemporary ensemble. Denim jumpsuits are versatile, offering a fashionable, one-piece solution for your fall wardrobe. Dress them up with heels and statement accessories for a night out or go casual with sneakers and a denim jacket for a relaxed daytime look.
A denim jumpsuit encapsulates the epitome of effortless style in one cohesive garment. It seamlessly marries fashion with ease, providing a complete and chic look without the hassle of coordinating multiple pieces.
The jumpsuit's all-in-one design makes it a go-to option for those seeking an outfit that effortlessly merges comfort, versatility, and fashion-forward appeal. With a denim jumpsuit, you have an entire ensemble in a single article of clothing, simplifying the process of getting dressed while exuding an air of sophistication.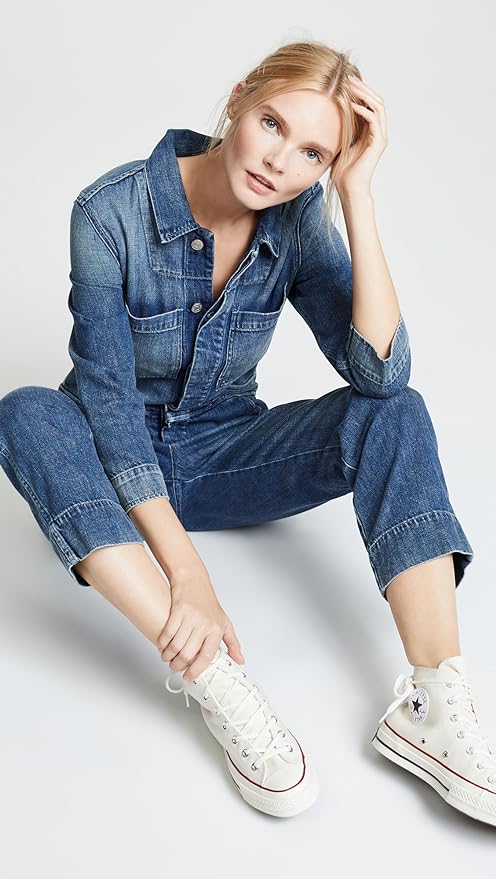 AMO
SHOP
Moreover, a denim jumpsuit offers a canvas for personalization and individual expression. Whether you opt for a classic, timeless style or experiment with varying cuts, washes, or accessories, the jumpsuit allows you to infuse your unique personality into the outfit.
Dress it up with heels and statement jewelry for a night out or keep it casual with sneakers and a denim jacket for a relaxed daytime look.
The adaptability of the denim jumpsuit makes it an ideal choice for any occasion, solidifying its status as a wardrobe staple for those who appreciate simplicity without compromising on style.
FAQs on Fall Denim Trends
Q1: Can I wear a denim maxi skirt casually and to a more formal event?
Absolutely! Denim maxi skirts are incredibly versatile. Pair them with a casual top and sneakers for a laid-back look, or dress them up with a blouse and heels for a more formal occasion.
Q2: How can I accessorize a Canadian tuxedo to make it stand out?
Accessorizing is key to elevating a Canadian tuxedo. Add statement jewelry, a vibrant scarf, or a contrasting belt to break up the denim and create a more eye-catching look.
Q3: Are there specific denim washes that are more in trend this fall?
This fall, darker denim washes like indigo and black are particularly popular. They provide a sleek, polished appearance and pair well with a variety of tops and accessories.
Q4: Can flared jeans be worn by all body types?
Yes! Flared jeans are flattering on various body types. The flare balances the silhouette and can create the illusion of longer legs, making them a great choice for both tall and petite individuals.
Q5: Are there certain shoes that complement denim jumpsuits?
Yes, indeed. For a chic look, opt for ankle boots or heels to elongate the legs. Sneakers can provide a more casual and playful vibe, making them suitable for a day out or a relaxed gathering.
As Amazon Ambassadors and Affiliates we may earn a commission on qualifying purchases made through our site and links, at no cost to you. We hope you will find your next favorite thing here on Fashion Ratings