Leggings have come a long way since their inception as exercise gear in the 1980s. Today, leggings are considered a versatile and stylish wardrobe staple for women of all ages.
And what's not to love? They're comfortable, there are beautiful leggings available for every body type. They can be dressed up or down, and they come in an endless array of styles and sassy prints.
But with so many options on the market, it can be hard to know where to start when shopping for leggings. That's why we've rounded up some of the best colorful leggings for women, so you can show your true colors with confidence.
1. Royal blue leggings with white polka dots: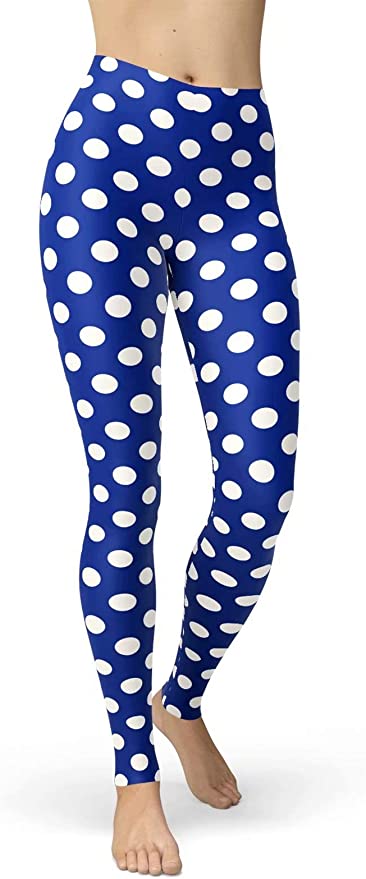 These fun and festive leggings are perfect for any holiday party or wear every day.
The royal blue hue is deeply saturated and looks great on all skin tones, while the white polka dots add a touch of whimsy.

These leggings are made of a buttery soft material that is stretchy and comfortable to wear. They are printed with blue and white polka dots, and they are sure to make you stand out in a crowd.
Whether you're wearing them to the gym or out on the town, these leggings are a great way to show off your unique style.
Match these leggings with a white T-shirt or sweater and some silver jewelry for a festive outfit that will have you looking fantastic.
So don't search any longer, order your Sissycos Women's 80s Leggings today!


2. Turquoise velvet leggings: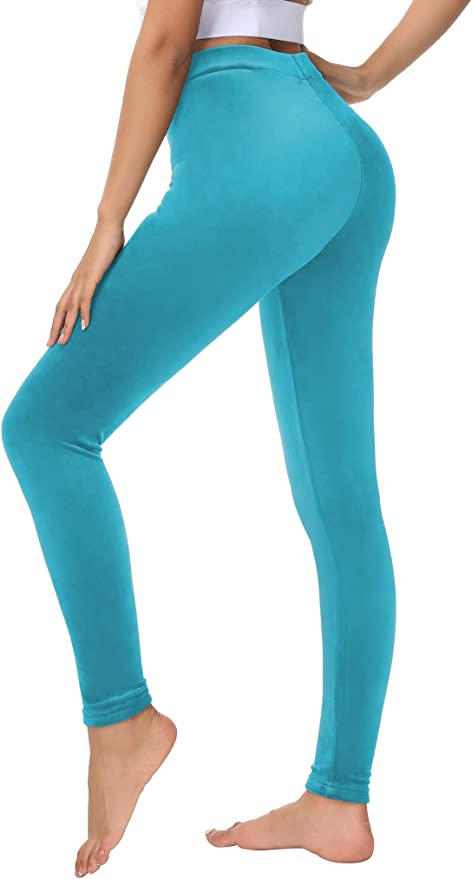 These rich and luxurious velvet leggings will make you feel like a million bucks, even if you're just lounging around at home. The vibrant turquoise color is right on trend for this season, and the velvety fabric is sure to keep you warm and cozy all winter long.
Bring the luxury of velour into your everyday wardrobe with these ultra-soft and cozy leggings from Dolcevida collection. Made from a stretchy, buttery-soft fabric, these leggings feel amazing against your skin and move with you throughout the day.
They're also perfect for chilly days, thanks to their warm velvet construction. Whether you're headed to the gym or just running errands, these leggings will keep you feeling comfortable and looking stylish all day long.
Dress these leggings up with a black blouse and heels for a night out, or keep it casual with a white tee and sneakers. Either way, you'll look fabulous.
3. Neon fuschia tie-dye leggings: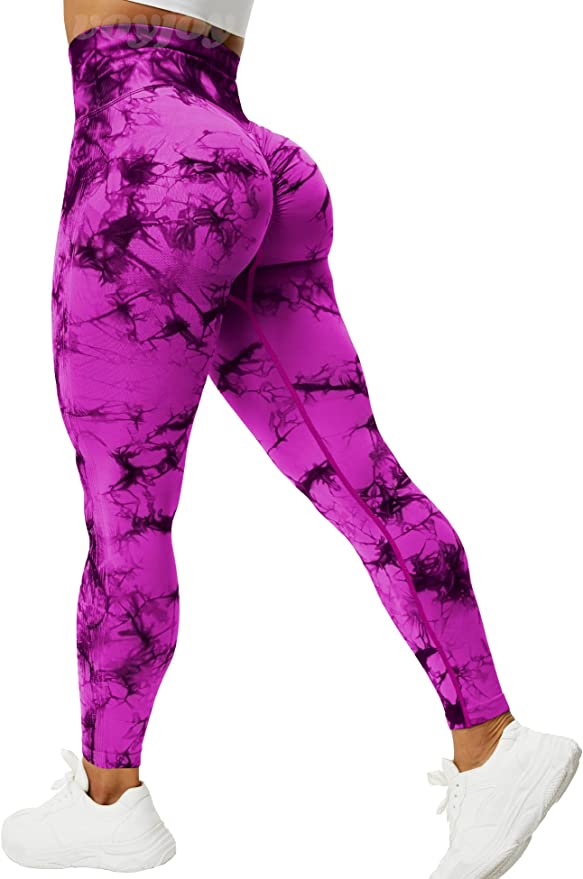 If you're looking for neon leggings that really pop and a workout pant that will make your butt look good, these VOYJOY leggings are for you.
They come in a variety of colors, so you can find the perfect one to match your personal style. The high waist design will hug your curves and the scrunch butt lifting elastic tights will give you the lift you need.
These leggings are also made from a quick-drying stretchy fabric, so you can stay comfortable even when you're sweating it out at the gym.
The bold color is eye-catching and fun, while the tie-dye print adds a hippie-chic touch. These leggings look great with a black tank top and sandals for a day of running errands or chilling at the park.
4.Fun 80's print leggings: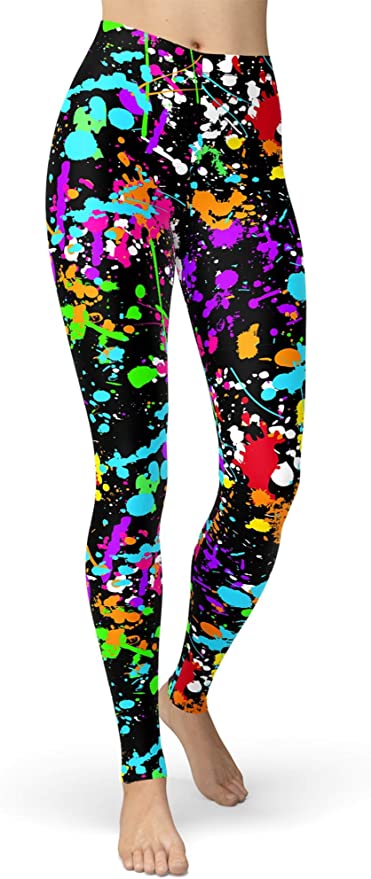 The 80s were known for outlandish style and design and its making a comeback.
No matter your personal style, there's sure to be a pair of colorful leggings out there that's perfect for you.
So ditch those boring black leggings and show your true colors with one of the picks from our roundup. You'll look amazing and feel even better.
5.Animal prints leggings: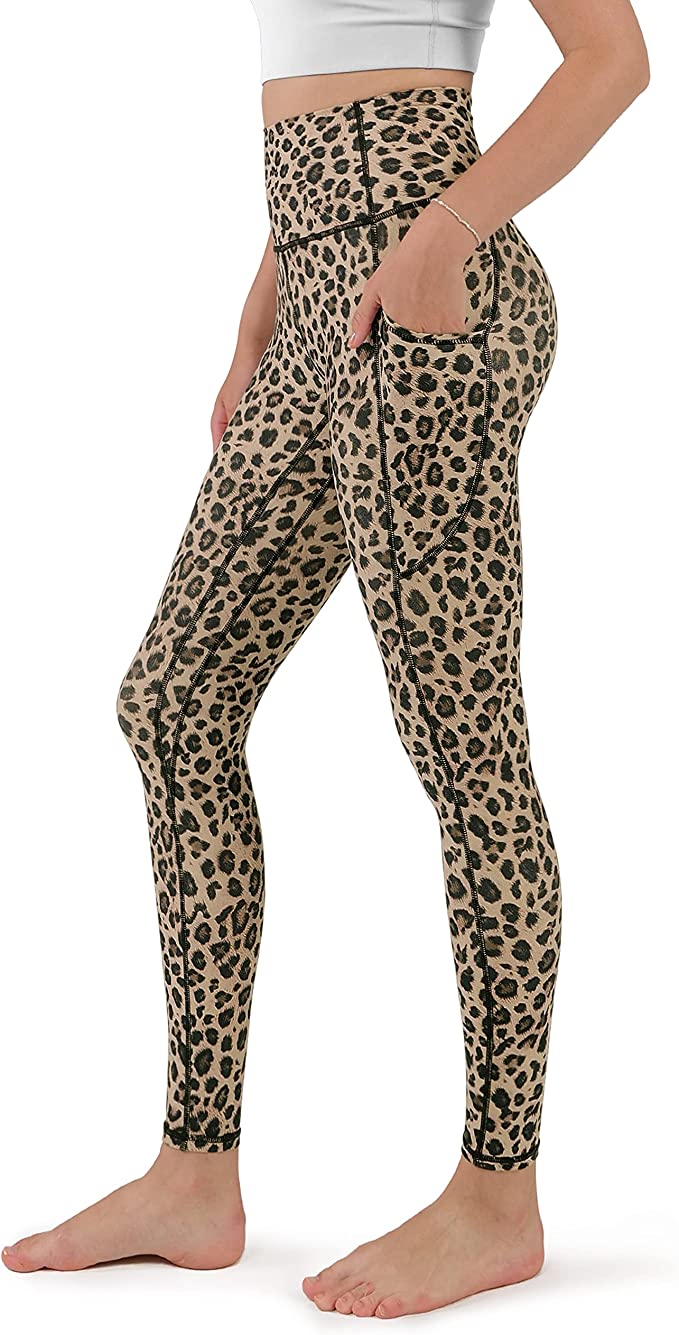 For the woman who wants to add a touch of animal magnetism to her wardrobe, there's only one choice: animal print leggings.
HeyNuts buttery soft Hawthorn leggings.
These bold and eye-catching leggings are perfect for making a statement, whether you're headed to the gym or hitting the town.

And with a variety of prints to choose from, you can find the perfect set to suit your style. From zebra to cheetah, these leggings will have you looking like the queen of the jungle in no time.
So go ahead and unleash your inner wild child - animal print leggings are a great way to do it. Check price below to find your perfect pair.
6.Solid leggings with pockets: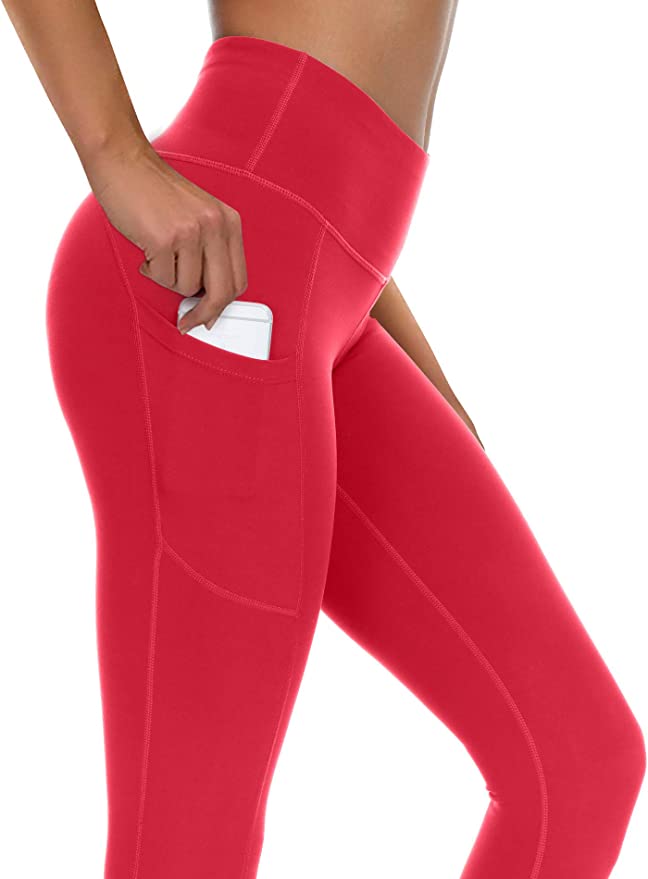 Leggings are now the ultimate wardrobe staple. They're comfortable, versatile, and easy to wear. But finding  leggings that also has pockets used to be a challenge.
That's why we're excited about this new style of leggings that comes with two deep pockets.
Introducing Syoss high waisted leggings with 2 Pockets.
Now you can carry your phone, keys, and credit card with you when you hit the gym or go for a run with the Syoss brand. No more juggling your things or stuffing them into your sports bra!
These leggings are made from a high-quality material that wicks away sweat and provides support. They're also available in a variety of colors and options to suit any taste.
So if you're looking for a new leggings, be sure to check out this new style with pockets. You'll wonder how you ever went without them!


7.Butt lifting and tummy control technical fabric:

You can lift your bum with this new butt lifting technical fabric! This special fabric is designed to hug your curves and give you a perky, lifted look.
If you're looking for an alternative to Spanx, look no further than the new crop of tummy control leggings. These suck-you-in-lift you up wonders come in a variety of colors and they're ideal for everything from working out to running errands.
But what exactly makes these leggings so special? In a word: compression. Tummy control leggings are made with thick, stretchy fabric that hugs your curves and provides support in all the right places.
Plus, they often have a high waistband that helps to smooth out any bulges.
Whether you're looking to streamline your silhouette or just get a little extra support, elasticized waist with tummy control leggings are well worth the investment.
Don't settle for saggy britches, give yourself a lift with these best seller Bum Lifting Technical Fabric!


8.Mermaid style leggings:

If you're looking for a way to stand out , then these Ayliss Women High Waisted Tight Mermaid Fish Scale Printed Leggings are the perfect choice.
These beautiful leggings feature a vibrant fish scale print that is sure to turn heads, and the high waisted design provides a flattering fit.

They're made from a stretchy fabric that will hugs your curves in all the right places, and the ankle-length cut ensures that they'll look great with any shoes.

So whether you're planning to hit the town or just stay in and lounge around, these leggings will help you do it in style.


9.Capri length leggings: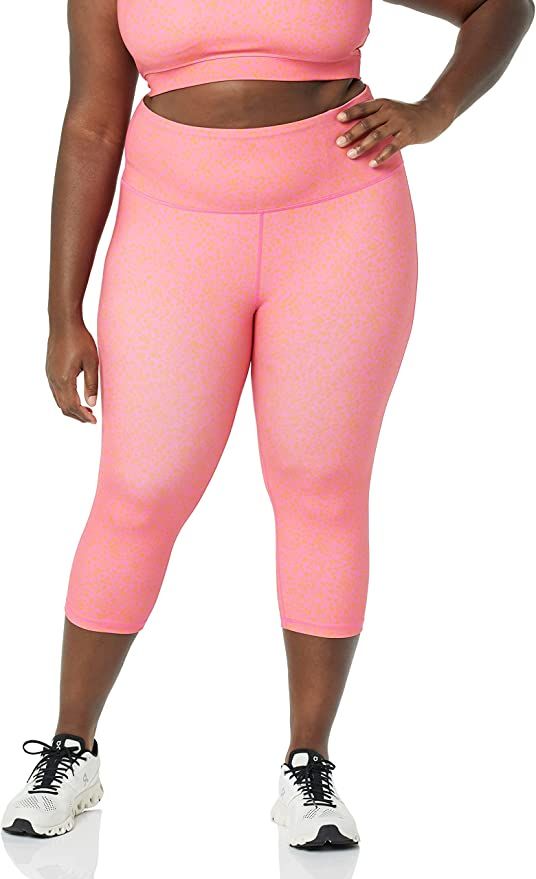 There's nothing quite like a good pair of leggings. They're comfortable, they're versatile, and they make your butt look great.
But sometimes, traditional full-length leggings just don't cut it. That's where capri length leggings come in.
These shorter leggings are perfect for warmer weather or for when you want to show off a little bit of skin. Plus, they can be dressed up or down, depending on your needs.
So whether you're hitting the gym or headed out on the town, capri length leggings are a must-have in your wardrobe.
10.Plus size leggings: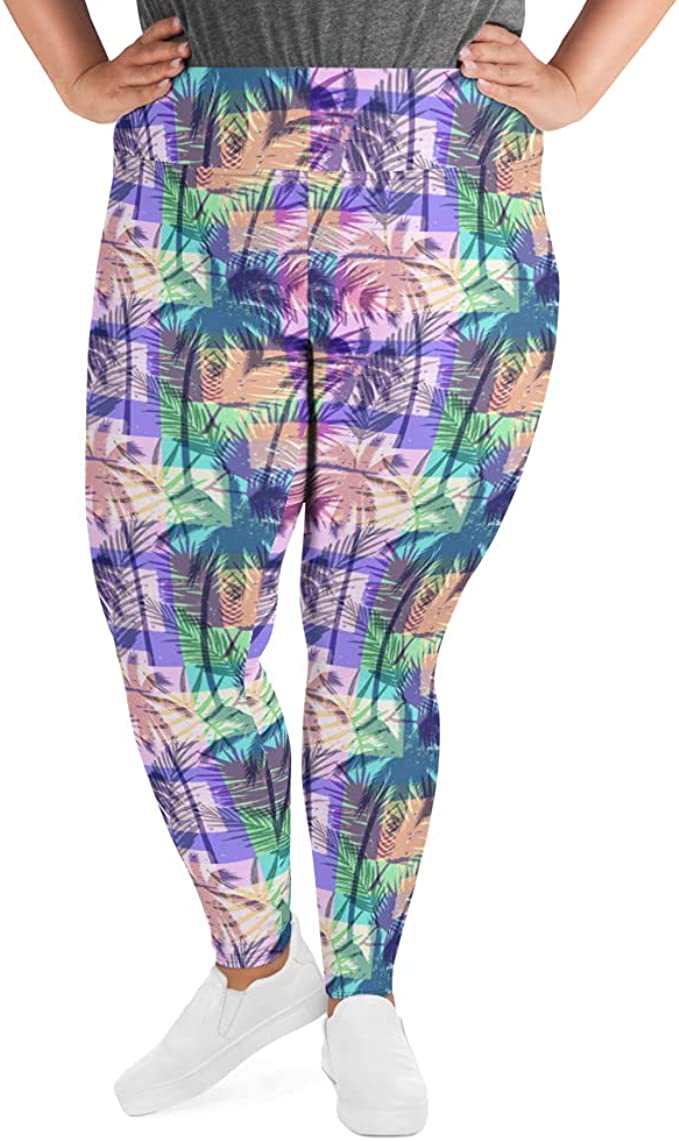 Plus size leggings have been a godsend for curvy women everywhere. Not every store carries even one size for a curvy woman.
Women's plus size leggings bright palm tree print and color block - High waisted with a 4 way stretch.
No longer do we have to suffer through the poor fit and restricted movement of ill-fitting jeans.
Leggings provide the perfect combination of comfort and style, giving us the freedom to move about our day without worrying about wardrobe malfunctions.
And with a variety of colors and styles available, there's a pair of leggings to suit every taste.
Whether you're looking for a basic black pair to wear under a tunic or a flashy printed pair to show off your curves, you're sure to find the perfect pair of plus size leggings. So go ahead and embrace your curves - they've never looked better!
Create or sign into your Amazon account and get yourself a new pair of bright color leggings today.

Thank you for taking the time to visit. We hope you have found your next favorite thing here on FashionRatings.com and we look forward to you visiting again. Please subscribe for new content today.

If you would like to learn how to become a brand ambassador and get paid to talk about things you love tap here for free information 👇🏽🌼
As Amazon Ambassadors we may earn a commission on qualifying purchases made through our site and links, at no cost to you. Happy Shopping 🛍