It can be difficult to find the best climbing pants. Womens rock climbing pants must allow full movement, keep you covered, withstand heavy use, and, let's face it, look good!
If your weekend plans include going to the crag and bouldering along the rock face, you'll need pants that can withstand the rigors!
Check out the best women's climbing pants that are both functional and fashionable!
How Do You Choose The Best Climbing Pants?
Imagine the way you approach your climbs.
Are you planning on using these pants to hike in the winter outdoors?
Is summer usually hot or cold?
Do we need more space for a body-building outfit?
This is neither a wrong or a good answer, however, knowing what you're going to wear these pants helps you decide what to wear next.
Find some helpful information about climbing clothes for women, pants and the functions they offer compared to other non climbing shirts, women's climbing shorts and pants.
We finally hand-selected the best women's climbing pants for every style and budget after months of researching, testing, analyzing, and geeking out on everything from the feel of the seams to the range of motion.
We have the pant for you whether you're planning an epic climbing trip in the back-country or working on a project at your local climbing gym.
If you're wondering if climbing pants are necessary, keep reading to learn more about these pants designed for the vertical world.
Prana's Rockland Leggings are ideal for legging fans who don't want the bulk of pants but still want to stay warm. This is a fan favorite for womens rock climbing clothes.
They're reinforced in key areas with an anti-abrasive fabric overlay, allowing you to bush wack to the crag and climb all day without sacrificing warmth.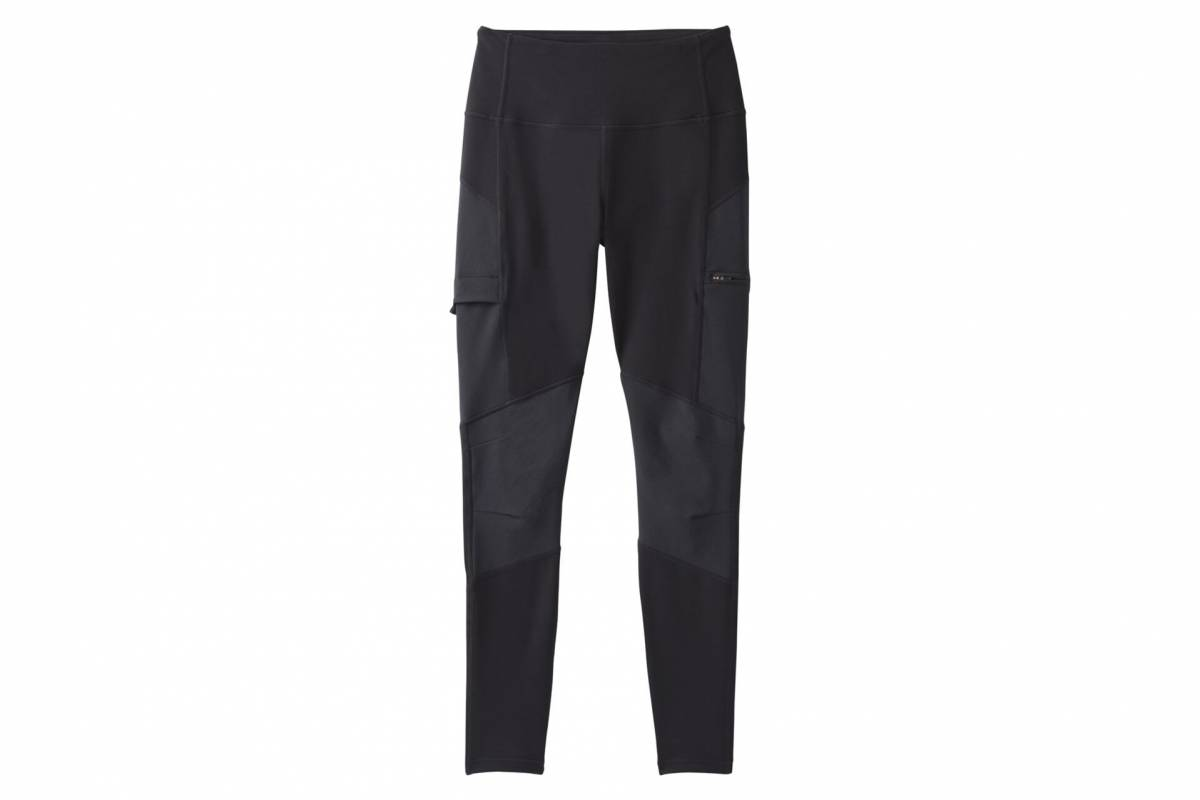 These leggings also have a wide waistband that stays in place even during big dynamic moves, and side pockets with a zip enclosure to keep essentials secure.
Despite the excellent design for pockets that actually zip, don't expect to use them for much more than chapstick — there won't be much space.
The tough fabric is a little thick for hot summer days, but it makes prAna's Rockland pants our top-pick leggings for cool weather climbing that will keep you out on the crag well into crisp fall climbing days.
SPECIFICATIONS:
11.22 oz in weight
Material: 88% Supplex nylon, 12% Lycra [body], 86% polyester, 14% spandex [overlay].
There are two pockets.
Highlights include: Overlay material that is tough and anti-abrasive
PROS:
Warm for climbing in the shoulder season
Maintain your position while moving.
Zippered pockets are available.
The Mammut Crashiano tights are ideal for anyone who enjoys the snug and secure feeling of a seamless pair of gym tights. Over the last few months, these pants have been through countless hours of gym time and maintain their shape.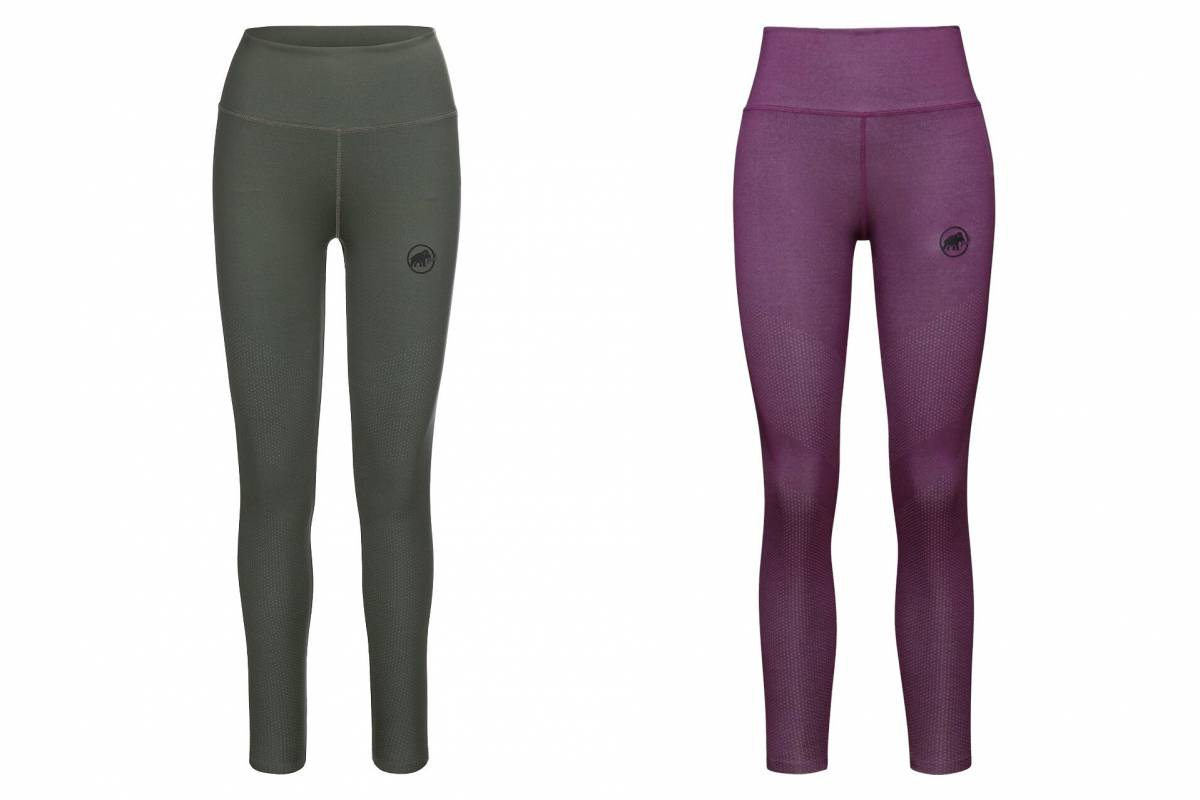 Because of the open zones and moisture-wicking finish on the polyester material, they have shown no embarrassing wet zones despite dripping sweat; all reasons why we deemed them the best gym tights.
Aside from the gym, the super-wide elastic waistband looks like Mammut was designed for a harness, and the lack of seams makes them the most comfortable and flattering pair of tights I own right now.
Despite testing these for several months inside, we are unable to comment on their durability for outdoor climbing.
They might not have the same grip as some of the more durable tights. It is also worth noting that these tights lack pockets.
The Crashinos, on the other hand, are a crush-worthy pair of tights for indoor projects.
SPECIFICATIONS:
8.11 oz. in weight
86% polyester and 14% spandex
There are no pockets.
Absorbent fabric conceals sweat zones
PROS:
Covers up sweat spots
A wide waistband is ideal for a harness.
Seams that aren't irritating
Back pocket for storing a cellphone
The Cotopaxi Baja pants were ideal for multi-pitch climbing, cragging, bouldering, and just hanging out.
These pants are extremely comfortable in a wide range of climbing conditions.
But when the temperatures began to rise, they really stood out, which is why we named them the best travel and hot-weather climbing pants.
One reviewer brought these as their only pair of pants for a weeklong climbing trip to Joshua Tree, and couldn't have been happier with them.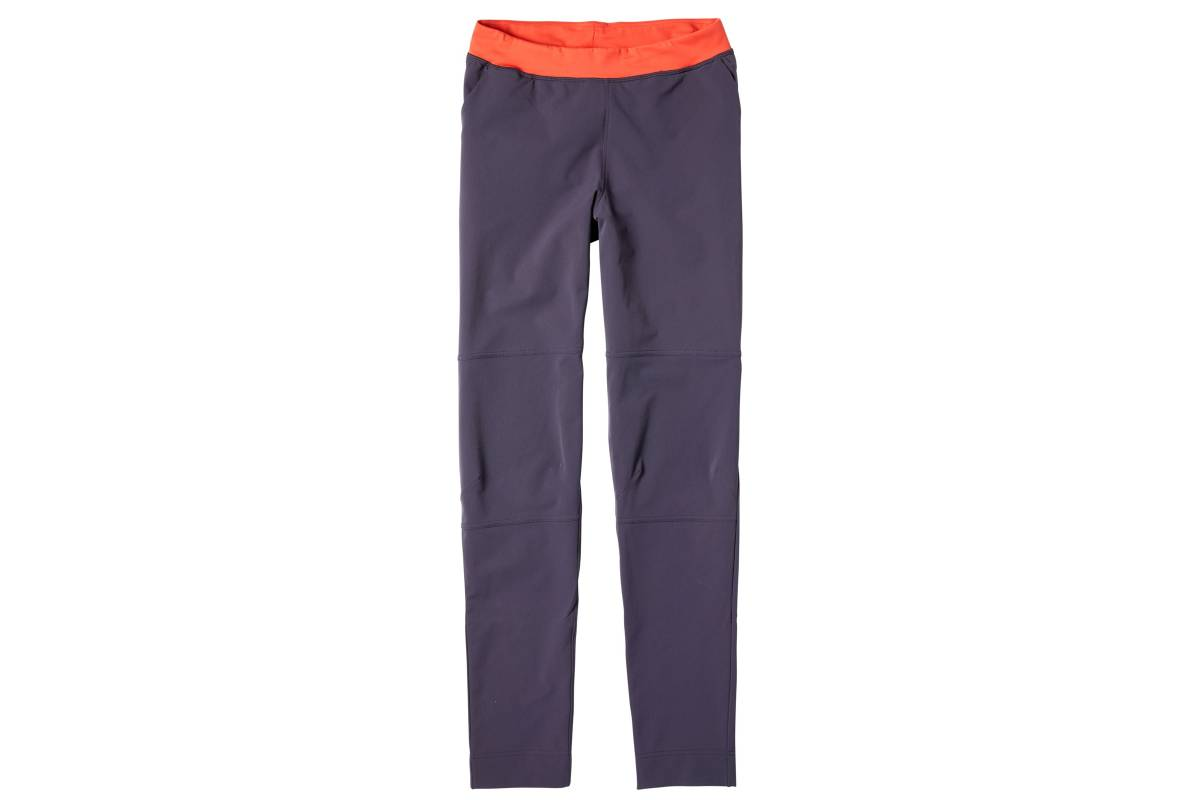 The Cotopaxi has a four-way stretch fabric with DWR coating and twill backer makes these not only extremely comfortable but also extremely durable.
The spandex waistband fits nicely under a harness, and the hidden stash pocket is ideal for money or a passport.
We would not recommend these for colder climates because the fabric is on the lighter side.
These, on the other hand, breathed well in mild and warm conditions and kept me comfortable.
The Baja climbing pants are ideal for those who are climbing, traveling, or simply socializing outside in hotter weather and require a cool pair of pants (literally and figuratively).
SPECIFICATIONS:
Weight is not available.
The fabric is 90% nylon and 10% spandex.
There are four pockets.
Special features include a hidden pocket for storing valuables while traveling.
PROS:
Incredible softness and comfort
DWR treatment
Extremely adaptable
Almost all kinds of climbing indoors and outdoors in warm to cold conditions.
The OCUN Noya Pant is the best climbing jacket for women. Using a combination of polyamide elastic, this garment is flexible, light, and drys fast. This style also has a baggy fit for a more modest look. These also make a great travel pant for comfort, breathability and washability.
The product likewise handles rock abrasion very easily and it's not sagging or pillage.
Noya Pants also feature a wide pocket (2 sides) and back pockets for washing up dirt, and a drawstring on the hood. And the best is the waistband.
Noya climbing pants are lightweight, flexible, and shape-retaining. They are simple to care for and extremely pleasant to the touch.
The elastic waistband is made of a breathable and comfortable material that is extremely flexible. Their shape allows for free movement.
They have a variety of useful climbing features such as deep pockets in the front and back, a side pocket for a brush, and roll-up legs.
SPECIFICATIONS:
Imported
These pants are lightweight, 3D fit, super flexible, breathable, quick-drying, and durable, with an elastic waist band for all-day comfort.
The 2-way stretch fabric allows for unrestricted movement while climbing. Pants are made of a 93% polyamide, 7% elastane fabric blend. Jeans are made of 65% cotton, 24% polyester, 10% viscose (rayon), and 1% elastane.
Cord-lock adjustable bottom hem, comfortable elastic waist band, brush pocket, and wrinkle-free material are all design features.
PROS:
What happens if prAna uses bestselling stretchable fabric for an attractive look? Rockland womens rock climbing pants! These are great as a climbing/outdoor pant and double as an outdoor adventure pant as well.
It has tapered sleeves and a slim waistline that can be used on the climb. The heavy duty fabric from Zion is strong enough to withstand rough rocks. It can allow for any move you require for a climb.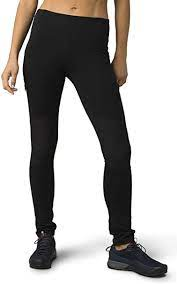 The Chakara® compression stretch jersey with a moss face finish is used to make the prAna Rockland rock climbing legging for women.
The prAna wide waistband, side patch pockets with zip closures, and triangle coolmax gusset on the high waist, fitted pant add comfort and reinforcement.
SPECIFICATIONS:
88% Nylon and 12% Elastane Lycra
Imported rock climbing pants for women
Pull-on closure
Automatic Wash
PROS:
With a high waisted, fitted pant made of Chakara compression stretch jersey and a moss face finish, the prAna Rockand legging is the best climbing legging. Any adventure needs to have a wide waistband and side patch pockets with zip closures.
The prAna Rockand legging is the best legging for climbing. It has a high waist and is made of Chakara compression stretch jersey with a moss face finish. For any adventure, a wide waistband and side patch pockets with zip closures are essential.
The leggings are constructed from a recycled polyester blend 4-way stretch woven with moisture wicking to keep you dry, as well as a triangle Coolmax gusset for added comfort and reinforcement.
What results from the marriage of prAna's best-selling stretch Zion fabric with the attractive and practical style of a traditional legging look? Of course, the Mariel Jegging.
They are excellent for both indoor and outdoor climbing, and they can also serve as an all-purpose adventure and travel pant.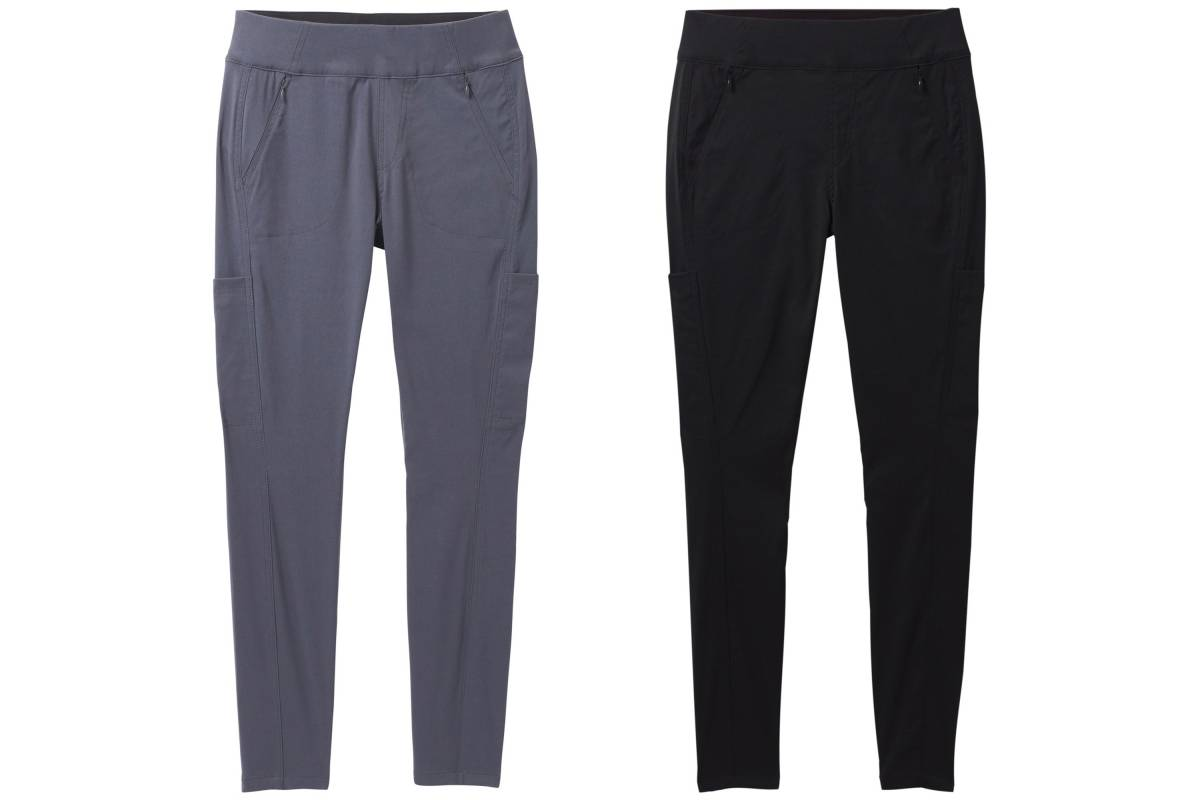 These pants are excellent for scrambling to get to the climb because of the skinny jean style and tapered cuffs.
Additionally, the Zion fabric's high stretch makes it resilient when rubbing against rocks.
Additionally, it enables all the movements required for climbing.
Last but not least, when the day is done and your muscles and fingertips have had enough, they clean right up with a wet rag before heading out to eat in town.
Also take a look at the prana kanab pants, you might just like these womens rock climbing pants a little better
They do not, however, interfere with performance, and the high flat waist makes wearing a harness comfortable.
Climbers and active explorers alike will appreciate prAna's Mariel Jeggings' charming body-hugging silhouette and functionality that will withstand all of your adventurous activities.
SPECIFICATIONS:
Weight: not specified
97 percent nylon and 3 percent elastane
There are six pockets.
Unique characteristics: Offers UPF 50+ sun protection.
PROS:
More robust than the majority of common leggings
A performance pant with a sleek appearance and lots of pockets
Love the casual feel and look of joggers but require a little more sturdiness? Mammut's Camie Pants might be the ideal choice.
When comfort and a lot of movement are required for the day, these pants are my go-to because of the gusseted crotch, pre-shaped knees, and four-way stretch material.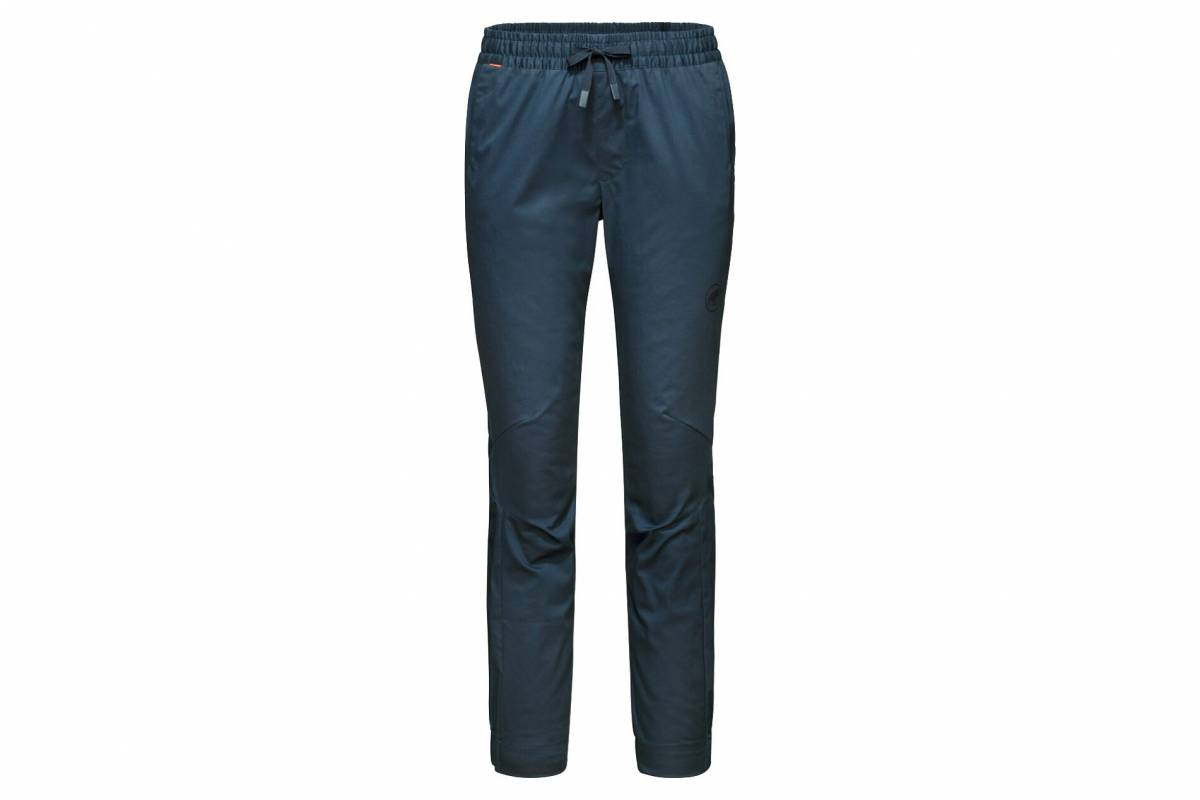 These pants have been put to a lot of constant use over the past few months, from yoga to wrestling with the kids to climbing.
Any cute tank looks great with the elastic cuffs and drawstring waistband that add some fun, practical style.
Despite the high percentage of natural fibers, the cotton in these pants causes wrinkling and does not provide the same level of water resistance as others.
However, it makes up for it by being lightweight and breathable.
Those who are constantly on the go, whether it's keeping up with their children, running errands, hiking, or sending their next climbing project, should consider the comfort and versatility of the Camie Pants.
SPECIFICATIONS:
95 percent cotton, 5 percent spandex
Three pockets are present.
Special attributes: Crotch gusset provides additional mobility
PROS:
Elastic cuffs and a drawstring waist
Fitted loosely for comfort
Daily appearance
Almost like second skin, the Cotopaxi Cerro Travel Tight pants are comfortable.
These incredibly comfy leggings weren't initially intended for climbing. They were designed as a "do-everything tight" system.
But if you're like the majority of female climbers, you do a lot of stretching, running errands, lounging, and climbing as well!
Once you put them on you wont want to take them off. They are perfect for indoor climbing gyms and for cold weather, chilly outdoor climbing.
They are the first choice for warm-weather indoor or outdoor climbing sessions and exploration days due to their five stash pockets, and flat seams.
The spandex and recycled polyester materials make them a sustainable option.
The Cerro Travel Tight is ideal for warm-weather adventures, climbs, and gym workouts. Weather resistant and durable water repellant fabric.
Those who don't like feeling constrained while relaxing (but still want to look cute) will love these.
SPECIFICATIONS:
21% spandex, 79% recycled polyester
There are five pockets climbing leggings.
Special attributes: offers Polythene as an odor-control option.
Durable pants
PROS:
This climbing pant gives unbelievable comfort
Attractive patterns and designs
Many hidden pockets
A go-to pair of pants for daily chores and activities.
We took notice of these Black Diamond Notion pants because they are awesome for single-pitch sport climbing and comfortable when belaying.
Their reinforced knees enable them to withstand difficult terrain, and the stretchy fabric allows for the mobility needed to help you ascend.
For women who dislike having their midsections hugged, the drawstring waistband has an easy fit.
They are also practical for carrying extra items to the crag thanks to the two hand pockets and two back pockets.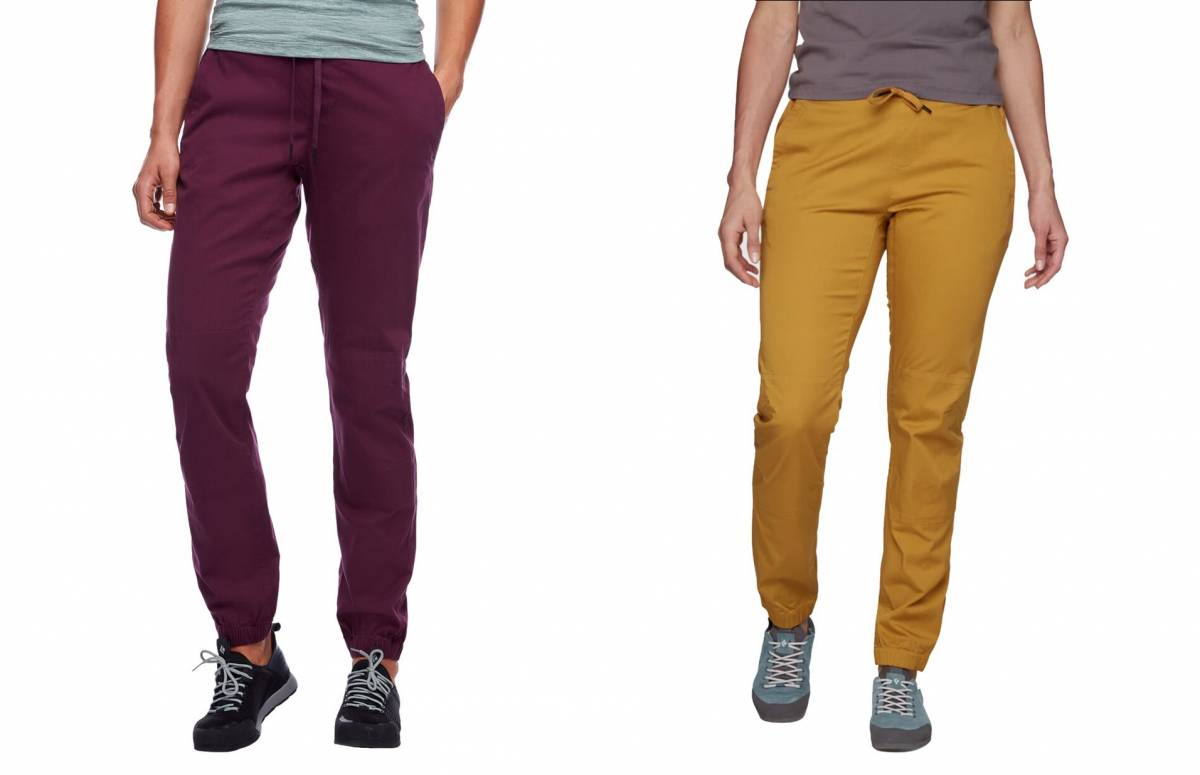 "If you're sensitive to heat and humidity and tend to sweat a lot," one tester said, "this fabric — which is mostly cotton — isn't really breathable for super long or sun-bearing days on the wall."
The Black Diamonds are, however, a go-to comfortable pant for moderate temperatures and mild weather conditions.
The Notion pant is super comfortable on the wall, but it will also keep up with you while camping, hiking, bouldering at the gym, and traveling.
SPECIFICATIONS:
98 percent organic cotton, 2 percent elastane
There are four pockets.
Special attributes: Beyond climbing, the go-to pant.
PROS:
Elasticized cuffs and a waistband
Overall comfort
Ideal for a variety of activities
The climbing pants from La Sportiva are practical and made to perform.
The comfortable nylon/spandex fabric blend offers excellent stretch and comfort, and they have articulated knees and a diamond gusset crotch to give a greater range of motion.
The drawstring at the waist prevents them from slipping down for an entire day at the cliff face and the waist lays flat under a harness.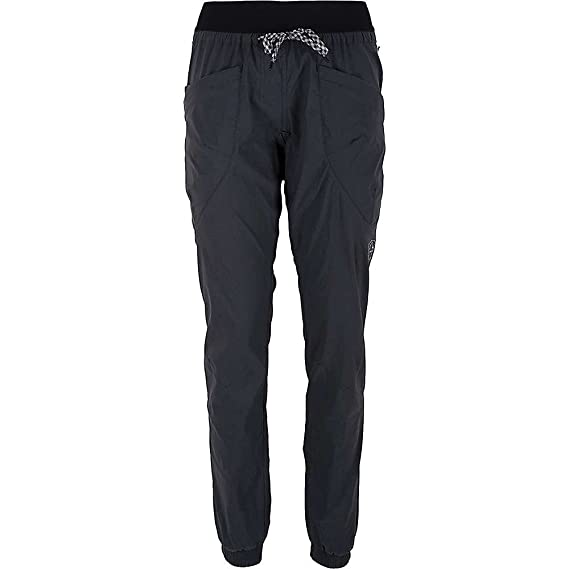 "I took these with me to the crag and they performed really well," a user writes.
Although the material feels heavy, it is actually very lightweight, which is great for hiking up steep hills.
They provide a great deal of protection from the rock and insects in the brush.
Excellent adventure pants makes your rock climbing gear complete.
PROS:
Women's climbing pants designed with performance in mind include the Mantra Pant.
The comfortable nylon/spandex fabric blend offers excellent stretch and superior comfort, while the articulated knees and diamond gusset crotch increase range of motion.
These Eddie Bauer mountain pants capris are just one example of the high-quality, long-lasting clothing that TFG is familiar with and loves from Eddie Bauer.
They are ideal for hiking and climbing because they have a two-way stretch, zip pockets, and a DWR finish.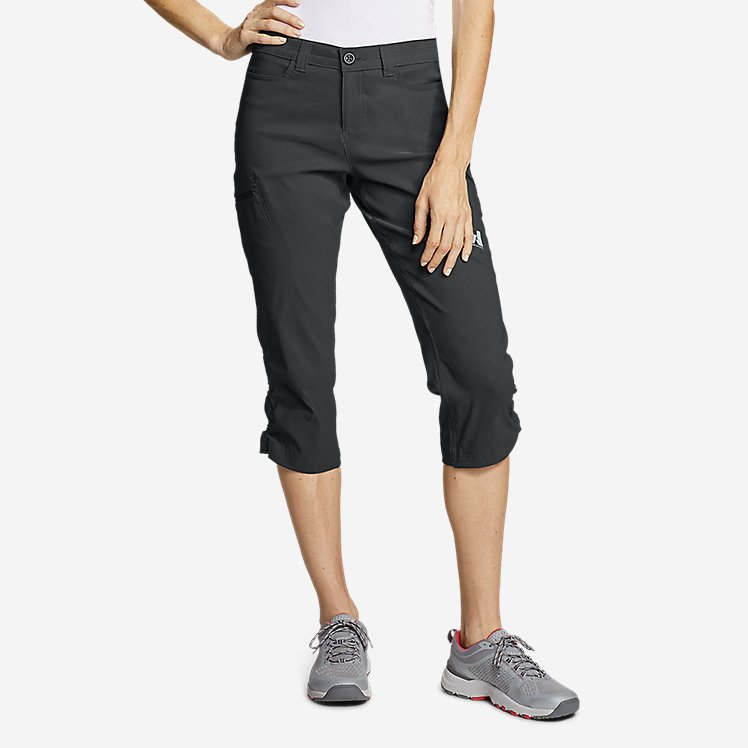 "I bought these pants for hiking trips to Utah," reads one Eddie Bauer Guide Pro capris review. They fit perfectly and were extremely comfortable.
The water was very repellent. Lightweight and simple to pack in a suitcase for a hike! bought a few pairs in various colors.
I'll wear them in the fall while walking around town.
SPECIFICATIONS:
Bluesign fabric certification ensures safe and long-term textile production
UPF 50+ FreeShade Protection from the sun, great summer climbing pant
Finish: StormRepel DWR Removes moisture
Two zippered cargo pockets: Maintain easy access to essentials.
Hems can be worn relaxed or cinched: The adjustable bungee allows you to change the look.
PROS:
Safe and sustainable
Light weight and packable
Adjustable bungee
Two secure zippered thigh pocket
These Outdoor Research climber pants are excellent for hiking and climbing in more temperate climates.
They are stretchy but durable thanks to the thin weather protection and a soft shell made of ripstop and spandex.
Additionally, they wick moisture, deflect rain, and block wind.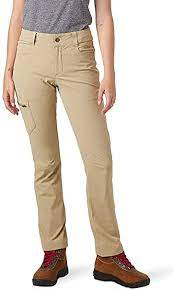 "These have been a primary summer alpine climbing pants for the past three years, so I've worn them for a total of about 100 days", according to one user.
Another reviewer says "They're a great pair of indoor climbing pants overall because they are comfortable, have a loose fit, and have a good zippered pocket on the thigh for my phone or some snacks".
SPECIFICATIONS:
Made with 100% Nylon
Imported climbing pants
Drawstring closure
boot cut pant legs
PROS:
Stylish women's rock climbing pants
Climbing pants with gusseted crotch area
Articulated knees
4 Way Stretch fabric
If you're wearing these Mountain Hardwear climbing pants, spending the day on the trails and crags won't be a problem.
These high waisted hiking climbing pants have a slim fit that is trendy and four-way stretch for active movement.
They are made to stay in place no matter what is required of them.
In order to prevent anything from falling out when you are up high, they also have a zippered thigh pocket.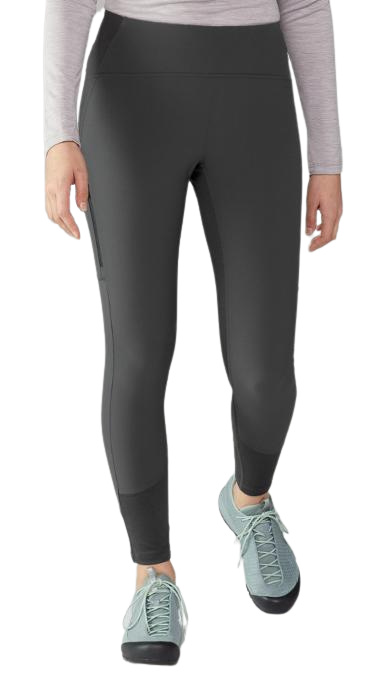 "I just love these leggings", one wearer exclaims. "I wore these when I recently finished climbing Mount St.Helens. They are very cosy and breathable. They survived the climb unharmed, holding up to rough volcanic boulders and rocks. They now appear brand new after being cleaned these are the best womens climbing pants I have owned."
SPECIFICATIONS:
88% nylon and 12% spandex
Imported Pull On closure, Machine Washable, PFC-Free, and Water-Repelling Finish
Right thigh, one zippered storage pocket
a fully gusseted climbing seat for maximum mobility
Lower right rear leg, printed with the nut logo.
PROS:
Moisture wicking
Durable pair of pants
Perfect balance
Stylish hiking pants
Suitable for indoor and outdoor climbing
Best overall climbing pants
Thank you for taking the time to visit today. We hope you have found your next favorite pair of women's climbing pants here on FashionRatings.com and we look forward to you visiting again.
As Amazon Ambassadors we may earn a commission on qualifying purchases made through our site and links, at no cost to you. Happy Shopping 🛍
If you would like to learn how to become a Brand Ambassador and get paid to talk about things you love and use everyday click here for free information www.DayDreamerJob.com