Creating a skin-care routine can be  confusing and difficult. There are thousands of different ingredients that may go into your skincare routine, ranging from cleansers and moisturizer to sunscreens and retinols. It's even more confusing to find products for sensitive skin.
Before you buy anything, you should understand your skin type as well as your specific needs and goals. Preserving and restoring your skin's natural oils are the first goal.
If you and your bestie have extremely different skin types — and occasionally even if you don't — a product that is your friend's holy grail may be a total flop for you.
Of all the skincare products there are so many choices. Do you have dry skin? Aging skin? Irritated skin? Vitamin C, hyaluronic acid, salicyclic acid, lactic acid and more ...which skincare products should you use for hydrated skin?
Fortunately, we've talked to a number of board certified dermatologist physicians and facialists over the years to figure out which chemicals and formulas work best for many different types of skin.
Sensitive skin is difficult to define because it can refer to a variety of conditions. Perhaps you have redness, rosacea, or eczema, or your skin is easily irritated by standard skin-care chemicals.
Sensitive skin types, and very sensitive skin, may be more sensitive to wind, sunlight, and pollution, as well as flakiness and itching. If your skin is sensitive in any of these ways, search for a gentle skin cleanser and cosmetics that are free of potentially irritating substances. An aloe vera and vitamin e based skincare product is a great choice for someone with any kind of skin issues.
Everything in our routine is dermatologist-approved for sensitive skin (but it's always best to patch-test any product first to ensure it works well with your skin's specific needs). Creating a skin barrier is an important part of our health regimens.
Sunscreens and exfoliators, even using the right makeup remover can be vital to having calm skin and preserve the skin's barrier function. Avoid products with synthetic fragrances and opt for products with natural oils and natural ingredients for a radiant complexion.
(Just so you know, there is no such thing as too much sunscreen.) The more straightforward the routine, the better—but everyone has to start somewhere.
Skincare packs are the answer. Testing with bite-sized amounts of retinol-infused this and BHA-formulated that simplifies rounding out your skincare lineup with what you know works for your skin.
Plus, skincare sets are usually always half the price of regular-sized products, so you get a full routine without breaking the bank.
Because there is power in numbers, we compiled a list of the 7 greatest skincare sets that truly work. There's a skin set for every skin type, from Glossier Superpack to La Mers luxurious starter pack.
Our beauty editors love Glossier. They offer a variety of skincare sets, but this is the cult favorite. After cleansing and moisturizing, use the multi functional Balm Dotcom to keep your lips smooth.
Best for...
Skin care minimalists, those with very sensitive skin and dry skin
Pros:
Hydrating, unscented
Any La Mer product will set you back a good sum on its own. It is one of the most expensive skincare products available. However, testing out the bestsellers of the luscious skincare company for around $300 is a steal. As the name implies, each item in the set works wonders on your skin by giving hydration and brightness through the use of sea elements. Their hydrating eye cream is a beauty editor favorite.
Best for:
Luxury at its best.
Pros:
Increases radiance and hydration
Hotel skincare isn't always the healthiest option for your skin. Never leave the house without a dependable skincare travel kit that includes your AM and PM procedures.
Best for:
Value for money
Pros:
Affordable, perfect for all inclusive travel kit
Including retinol in your skincare routine is not as simple as it appears. However, this Sunday Riley pair, which includes the holy grail Good Genes treatment, is gentle yet potent enough to provide significant benefits.
Best for:
Exploring a new product line
Pros:
Effective at exfoliating, brightening and plumping
This is the collection that aided in the removal of years of contaminants in a couple of months. Dermologica  products are organized by skin type to ensure that they address your individual needs.
Best for:
All Skin types
Pros:
Effective, Relieves Inflammation
If you have excess oils, acne, or uneven skin texture, this low-cost Ordinary kit contains everything you need for smooth, even skin. You're prepared with a squalane cleanser, salicylic acid mask, niacinamide serum, and lightweight moisturizer.
Best for:
Oily Skin
Pros:
Brightens, Hydrates And Reduces Skin Blemishes and affordable.
Tatcha Starter Ritual Set
Dehydrated skin requires extra attention, and this Tatcha skincare kit is exactly what it need. You'll be on your way to hydrated, smooth skin in no time with two moisturizers, their Essence, Cleansing Oil, and light exfoliant.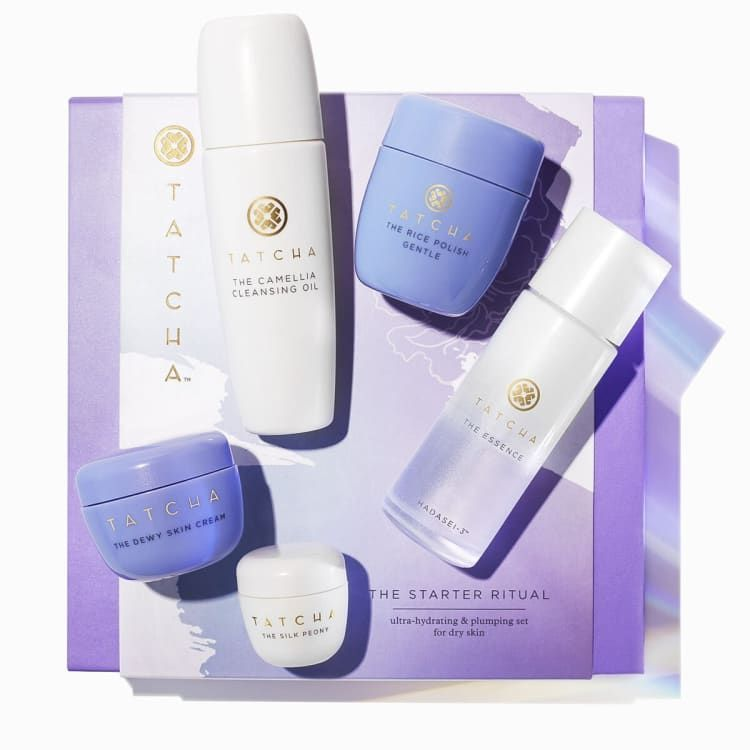 Best for:
Affordable all inclusive regimen for most skin types.
Pros:
Adds glow, ultra hydrating and has a nice mix of everything to do a full regimen
Thank you for visiting our site today. There are so many choices we are going to make this a two part series.
NOTE: Please consult with your Doctor if you have allergies or are being treated for any skin condition. ****
As Amazon Ambassadors we may earn a commission on qualifying purchases made through our site and links, at no cost to you. Happy Shopping 🛍