If you have sensitive skin, or need to reduce redness, you know the struggle of finding skin care products that don't make your face break out in a rash or leave it feeling dry and irritated.
It can be tough to find the right balance of ingredients that won't irritate and are soothing to your skin without causing problems.
You need something that will soothe sensitive skin, very sensitive skin and even super sensitive skin. We have found it for you. Read on to see.
In this blog post, we will discuss the best skin care to soothe sensitive skin, irritated skin and aging skin and how to preserve your skin's natural oils to keep your complexion flawless!
1.La Roche-Posay Effaclar Dermatological 3 Step Acne Treatment System
This French drugstore business has devised a three-step method for finally getting rid of acne. This kit contains a gentle cleanser, toner, and spot treatment with salicylic acid and benzoyl peroxide to quickly eliminate even the most obstinate outbreaks.
Dermatologist recommended, with no fragrances, designed to moisturize and protect the skin. Best skincare for sensitive skin.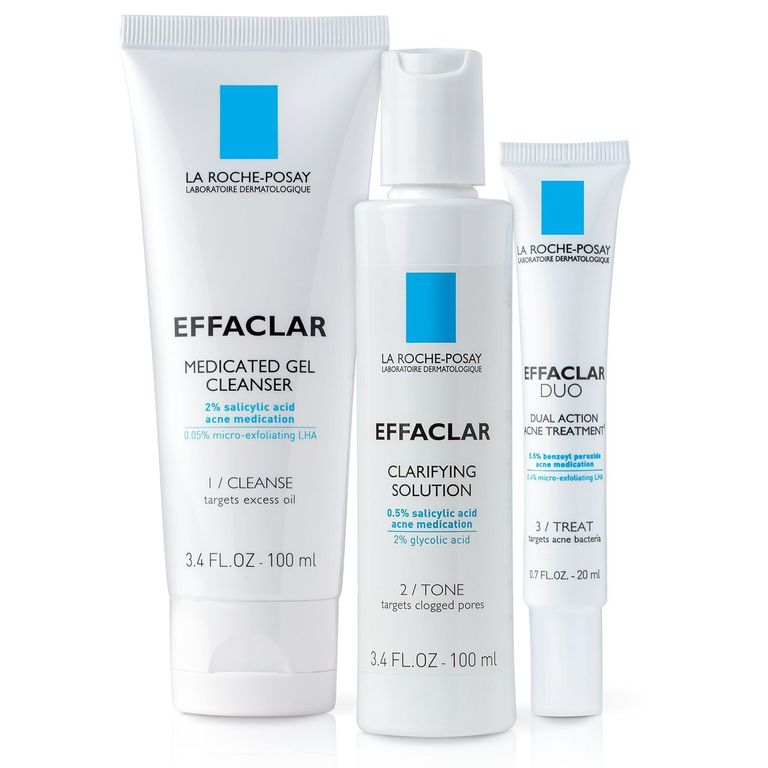 Best for:
Acne and Inflamed Skin
Pros:
Treats acne very well

2.Drunk Elephant Littles Night Out
This is the routine to get you started if you've always wanted to try Drunk Elephant. It includes four of the company's best-selling items: a jelly cleanser, a nocturnal resurfacing serum, a moisturizing serum, and their trademark moisturizer.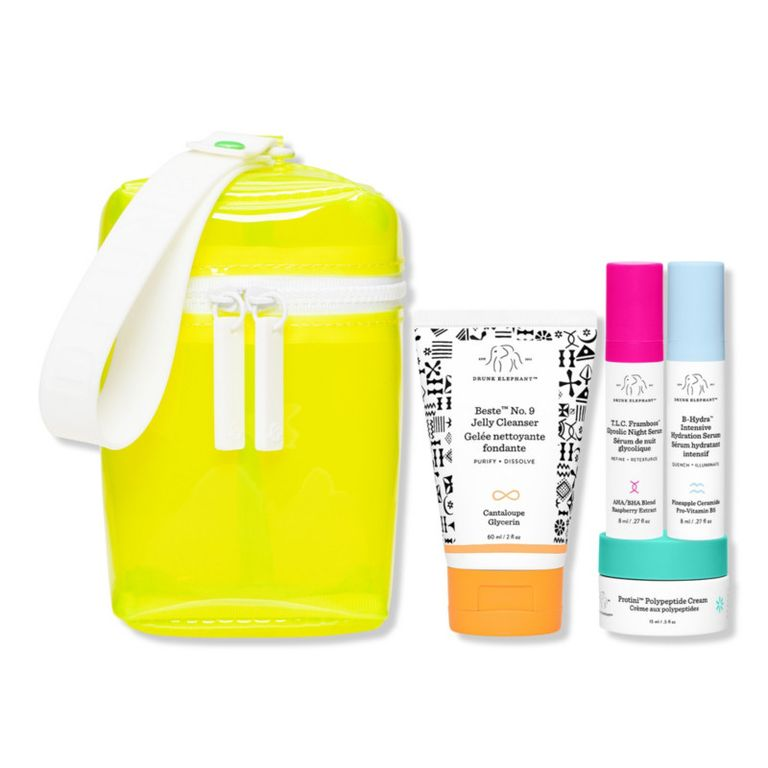 Best for:
Mini skin care routine
Pros:
Effective at hydration
3.Clinique 3-Step Introduction Kit For Oilier Skin
We want our skincare to be lightweight and breathable, especially during the warmer months. As a result, this bundle includes products designed exclusively for oily skin. It comes with a cleanser, exfoliator, makeup remover and a lightweight gel moisturizer.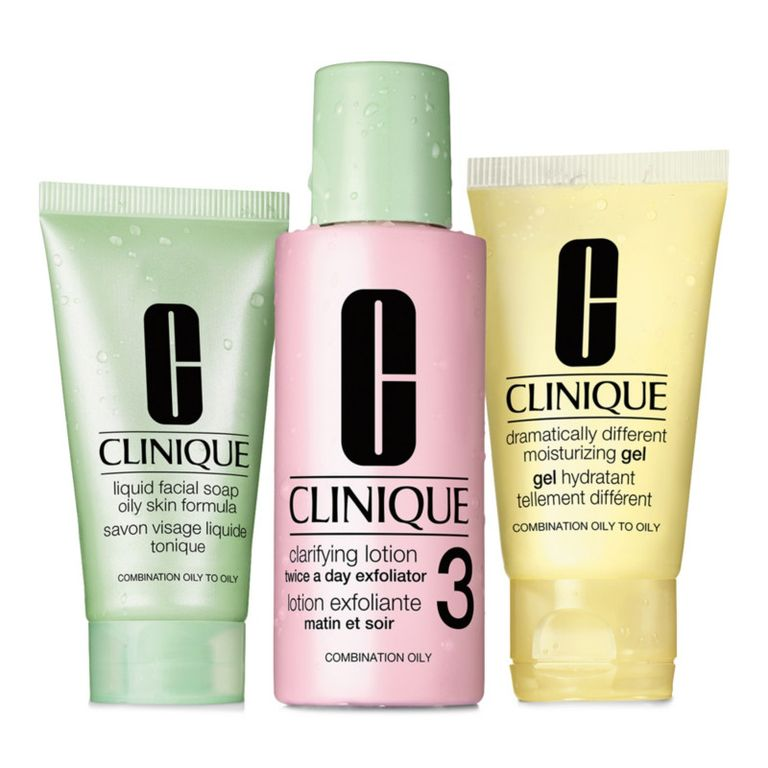 Best for:
Light weight skin care gift sets
Pros:
Light weight wear


4.Youth To The People The Youth System™
Look no further than Youth to the People for enthusiasts of clean skincare that produces amazing results. This skincare kit includes their best-selling cleanser, vitamin C serum, moisturizer, face oil, eye cream, and a face mask. This is truly effective skincare for sensitive skin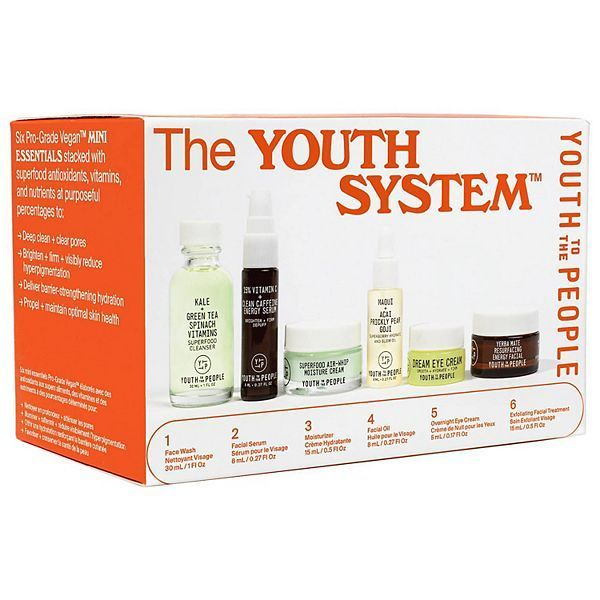 Best for:
Using as Cleansing balms and hyaluronic acid
Pros:
Clean beauty


5.Skinceuticals Best Sellers Gift Sets
Skinceuticals' Best Sellers package will help you reverse dull, dry skin. The trio combats ageing skin while minimizing the appearance of black marks over time, and includes the C E Ferulic Acid therapy, as well as hyaluronic acid and anti-aging cream.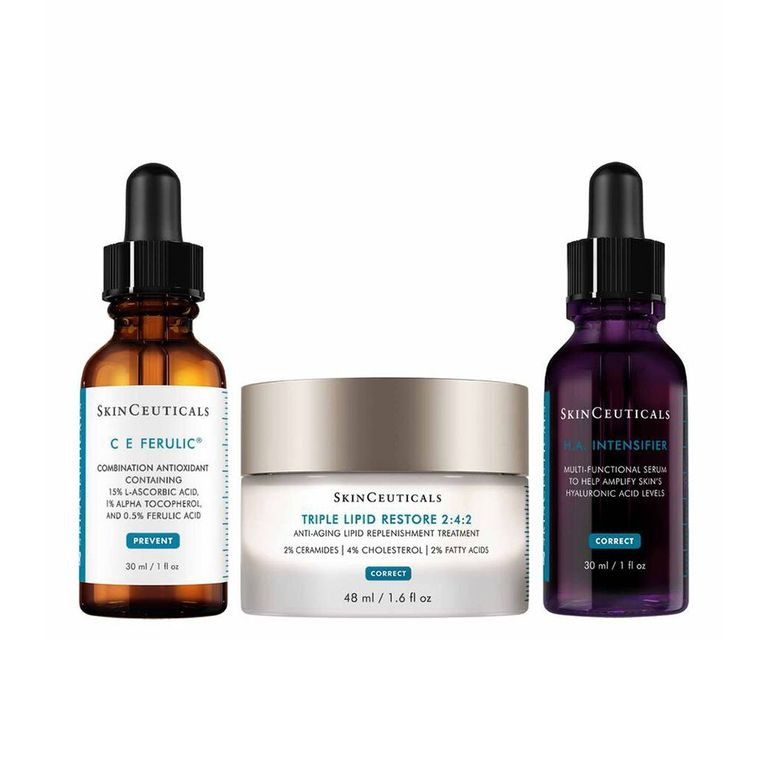 Best for:
Skin brightening
Pros:
Effective


6.Glow Recipe Fruit Babies Skincare Kit
Everyone on the internet is hooked with Glow Recipe, and now you can test five of their best-selling products in a beautifully selected bundle with a make up remover  These products will give your skin a plumped, luminous, moisturizing, and dewy appearance—basically, everything you could want.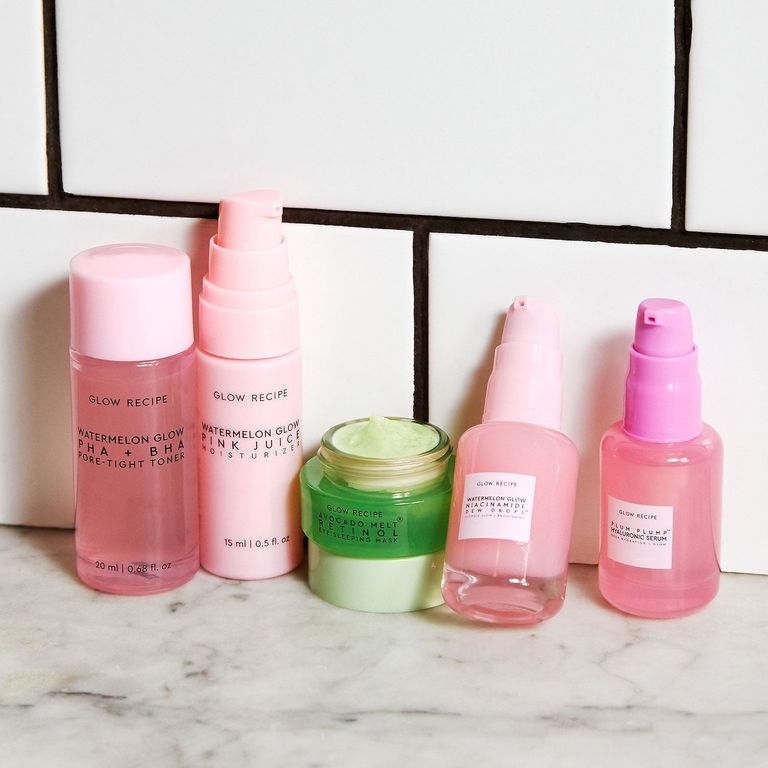 Best for:
Amazing value & beauty sleep
Pros:
Improves skin tone and adds glow


7.Supergoop! SPF Yeah! Sunscreen Kit
This Supergoop! package lets you to test the brand's most popular sunscreens to discover one that is right for you. With their best-selling glow screen, an SPF-packed setting powder, and two hydrating sunscreen formulas, you'll want to bring this with you on all of your beach excursions.
Look for any product that has national eczema association seal.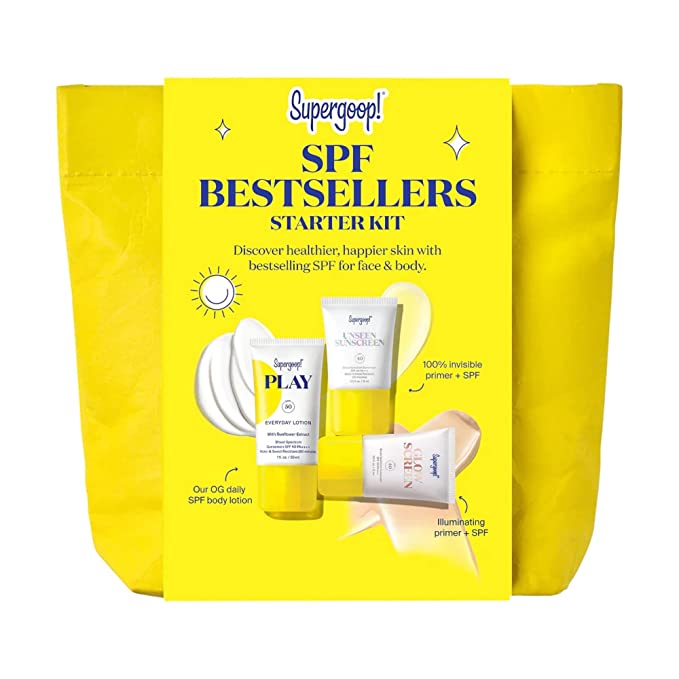 Best for:
Sun protection, eczema
Pros:
Serious results


8.Good Molecules Blemish Scar & Discoloration Duo
Don't be discouraged by discoloration. This skincare combination is suitable for all skin types and addresses dark spots, blemishes, and hyper pigmentation, resulting in a more even skin tone.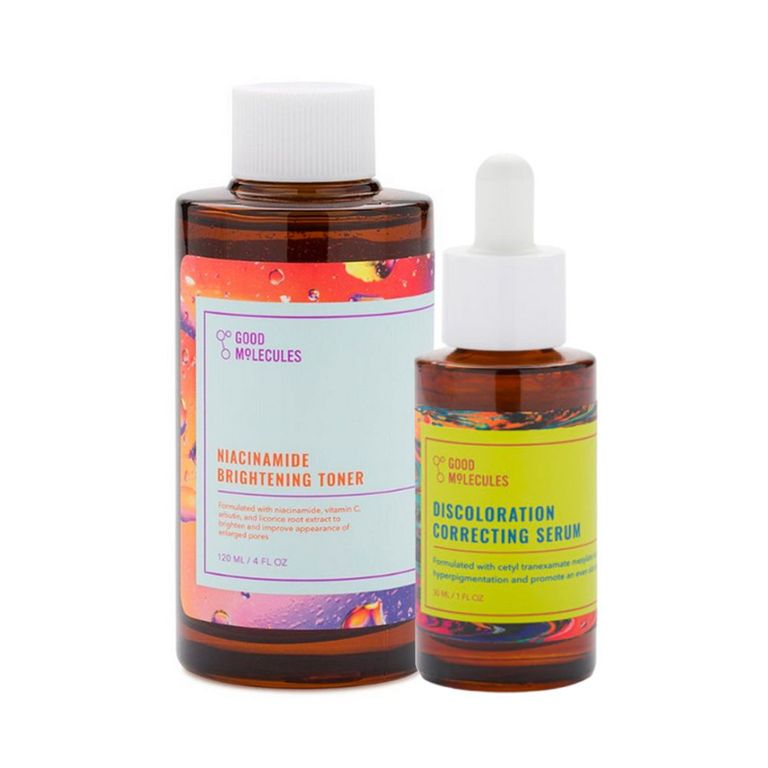 Best for:
Stubborn scars & dark circles
Pros:
Effective beauty product, fragrance free


9.Estée Lauder Nighttime Necessities Repair + Lift + Hydrate Set includes
Anyone who tells you that you're too old to see fine lines or wrinkles is incorrect. The earlier you begin to care for your skin, the longer you will be able to keep your youthful shine.
Estee Lauder's Nighttime Necessities kit works hard while you sleep to give you rejuvenated and plumped skin.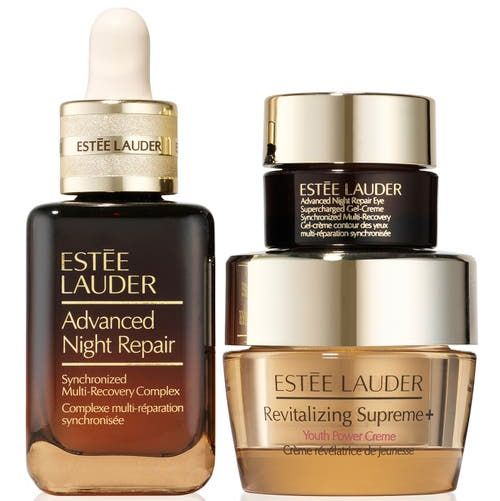 Best for:
Anti aging & skin care gift sets
Pros:
Hydrating skin care products, helps restore your natural oils


10.Buttah Skin Skin Transforming Cocoshea 3 Piece Kit
Buttah's skincare kit has everything you need to brighten, nourish, and rejuvenate dull, dry skin and creates a skin barrier and facilitates the skin's barrier function with a natural antioxidant . Cruelty free formula.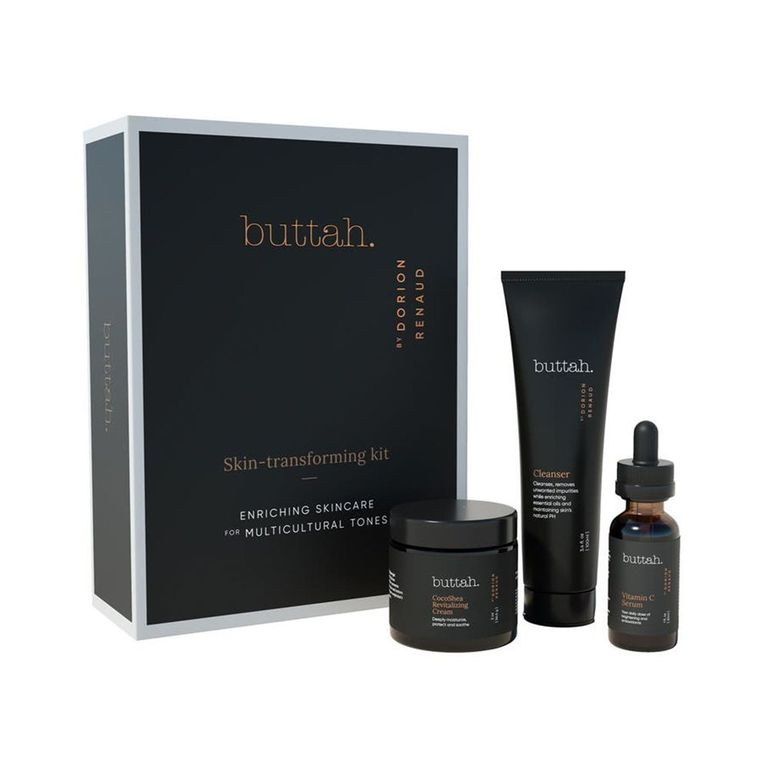 Best for:
Balance for melanin rich skin
Pros:
Hydrating skin care products
11.Kate Somerville Glow In A Wink ExfoliKate® Bestsellers Set
Kate Somerville's pack is the ideal travel companion and will keep your skincare routine for your skin type on track while you are traveling.
If you have breakouts or reactive skin, these essential oils without clogging pores skincare products  skin, sensitive skin or  uneven skin texture, these three items will quickly smooth them out and add a skin's moisture barrier with a gentle skin cleanser and products for sensitive skin and hydrated skin.
Glow IN A WINK is a top contender for skincare products for sensitive skin and calm skin. This will give you a radiant complexion.
Witch hazel is always a good toner with any other nourishing skincare ingredients regimen.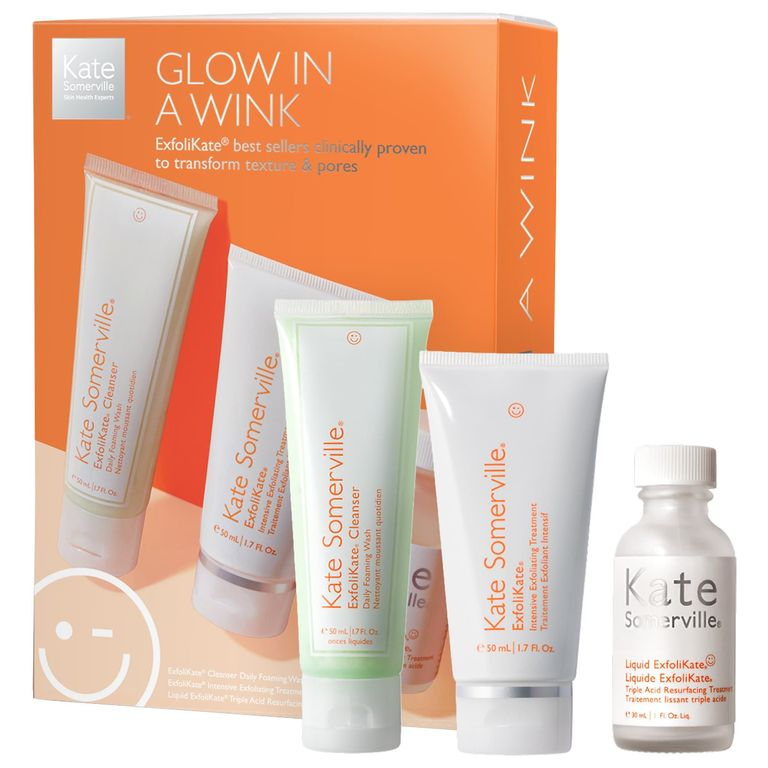 Best for:
Exfoliation
Pros:
Allergy tested beauty products and skincare ingredients.
All in all, caring for sensitive skin can be daunting. With a little bit of research and experimentation, however, you should be able to find an effective skincare routine that works for you.
If you have any questions or concerns, don't hesitate to reach out to a dermatologist or knowledgeable skincare professional. A tailored regimen can work wonders on your complexion and keep your skin healthy, radiant and beautiful!
FAQS
What is the best skincare for sensitive skin?
For sensitive skin, it is important to choose gentle cleansers and moisturizers with natural ingredients. Avoid chemical-based products as they may irritate the skin. To ensure that you are selecting the right products for your skin type, it is recommended to consult with a dermatologist or skincare professional.
What products should I use for sensitive skin?
Look for cleansers and moisturizers labeled as "gentle", "hypoallergenic" or "for sensitive skin". Natural ingredients such as aloe vera, chamomile extract, jojoba oil and green tea are known to soothe and hydrate delicate skin. Additionally, avoid harsh abrasives like sodium lauryl sulfate (SLS) and artificial fragrances in skincare products.
How often should I use skincare for sensitive skin?
It all depends on your individual needs and what kind of product you are using – some treatments may be suitable only once a day while others can be used more frequently, such as twice a day. If it's your first time introducing a new product into your routine, start by using it every other day to determine how your skin reacts.
Can I get sunburned even when using skincare products designed for sensitive skin?
Yes! Even if you're using the best skincare products available, you still need to wear sunscreen whenever you will be outside in order to protect yourself from UV rays that damage the skin. If possible, select a sunscreen formulated specifically for those with sensitive skin or opt for physical sunscreens containing zinc oxide or titanium dioxide instead of chemical versions.
Is there anything else that I should consider when choosing skincare products for sensitive skin?
Yes! Keep an eye out for labels like noncomedogenic or nonacnegenic which indicate that the product won't clog pores or cause breakouts–sensitive skins tend to be more prone to acne-like eruptions due to its unique structure and composition.
Q: Are there any natural methods I can use to soothe my sensitive skin?
Absolutely! Some popular home remedies include applying cool compresses with oatmeal stirring in honey; massaging your face with plain yogurt; applying freshly cut cucumbers over closed eyes; making masks made of avocado mashed together with olive oil; adding oats into bath water; applying raw potato slices over irritated areas; steaming face with boiled chamomile tea; and dabbing some witch hazel onto affected areas several times per day.

Thank you for taking the time to visit today. We hope you have found your next favorite thing here on FashionRatings.com and we look forward to you visiting again.
As Amazon Ambassadors we may earn a commission on qualifying purchases made through our site and links, at no cost to you. Happy Shopping 🛍