Luxury Travel Accessories and Your Favorite Products
Going on vacation is always exciting.  Whether you are checking bags or only bringing a carry on you will need to plan ahead.
Thankfully there is a mini version of just about every essential and makeup product out there, so you won't need to interrupt your skin care routine. Fill up your travel makeup kits with samples and you'll be fine.
One great thing to keep in mind is samples. Whenever you can, ask for samples. They make great options for packing all the essentials in mini form.
By now, everyone knows that the TSA has guidelines for the liquids you can bring aboard the plane. So just keep that in mind when you are loading up your carry on. There is nothing worse than throwing away a full jar of your favorite lip gloss or your most expensive body butter ugh. You'll only do that once.
The Best Travel Accessories According to Someone Who Travels All The Time, The Beauty Editor
Our Favorite Pre Made Mini Product Kits For Travel:
A travel makeup kit can include, but are not limited to: Body wash, deodorant, razor, shampoo & conditioner, dry shampoo, sunscreen, hair spray, sewing kits with safety pins, comb, makeup brushes , toothpaste, tooth brush.
Almost all of your favorite products for your travel makeup bag can be found in travel friendly sizes.
You can also pack full sizes in your makeup bag or carry on just make sure they are securely capped or secured with a leak proof cap.
Lip shades, lip colors, and eye makeup such as eyebrow pencil, and an eyeshadow palette, your entire makeup collection can be miniaturized to make great travel beauty kits.
There are also great, high quality travel size makeup brush kits to help reduce your packing load.
Favorite Hanging Travel MakeUp Bags: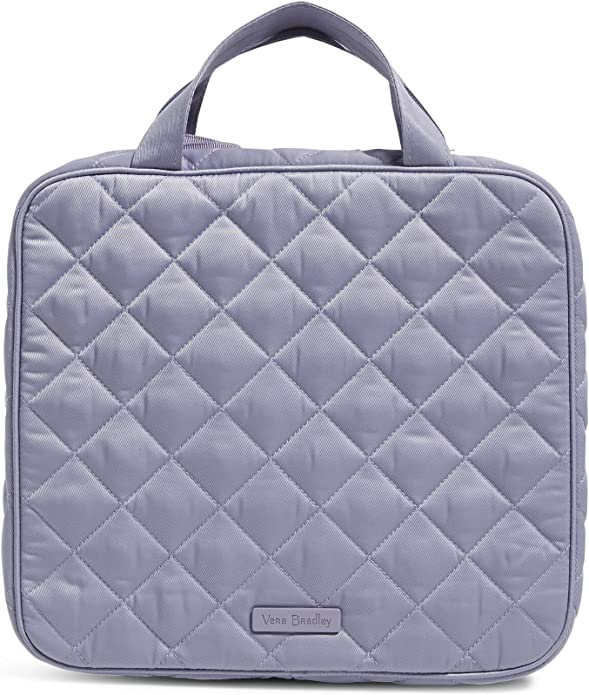 These bags are great for all makeup products, concealer, setting powder, foundation, face creams, serums and all of your makeup brushes, lip color and eye shadow palette. Best seller for on the go make up kits.
Pack Lightly With The Best Travel Size Beauty Products–And Bon Voyage!
FAQs
What are the acceptable travel sizes for cosmetics or a complete makeup kit?
The liquids must not exceed 3.4 ounces. It can be any liquid, hair sprays, liquid foundations, mascaras and anything gel-like.
Can you bring full size beauty products on a plane? What are the recommended travel size toiletries?
All passengers carrying on liquids are limited to  3.4 ounces or less. This includes aerosols and gels. So it is recommended that you buy smaller bottles and fill them up with your regular products. With the right containers you can bring your complete makeup kit with you.
If you are checking a bag you can bring any size beauty products, however make sure they are tightly capped and consider putting your travel makeup kit in zip lock or waterproof/leakproof bags.
What is the TSA.gov 3-1-1 liquids rule?
Each passenger may carry liquids, gels and aerosols in travel-size containers that are 3.4 ounces or 100 milliliters. Each passenger is limited to one quart-size bag of liquids, gels and aerosols.
Common travel items that must comply with the 3-1-1 liquids rule include toothpaste, shampoo, conditioner, mouthwash and lotion. Usually a travel size pre-made kit contains a combination of these things.
Does Sephora have sample sizes?
It's possible to have samples of almost everything. We typically receive three samples with every purchase from Sephora stores. Get free samples online or offline at Sephora.
Standard travel size beauty kits. I am the travel-size skincare product recommendation from The Ordinary. It is called The Balance Set and has four products perfect for anyone of all skin types.
What is the recommended travel-size toiletries?
Generally, each passenger can carry the liquid in 3.4 ounces or jars that will fit in a 1 quart bag. These jars may be enough to hold your entire makeup collection.
How do you travel with beauty products?
The liquids are cream paste and serum and aerosols. Before traveling to your destination, place liquids and beverages in small, travel-sized bottles labeled the containers and ensuring they are packed in transparent containers.
How long does travel-size makeup last?
Eyeshadows: 12 weeks. Eyeliner: three months pencil liner, twelve months liquid liner. Funding: a year. Coverage: Up to 17 months.
What is the travel-size for creams?
You may carry a bag in your luggage that has quart-sized containers of liquid, aerosol, gel, lotion, powder and paste. They will be available only in travel-size containers up to 3.4 ounces
The fun time is in the checkout lines at Sephora or Nordstrom where all the miniature size beauty products, personal care products are positioned to the delight of customers waiting for the checkout at the stores.
As great as these options are be mindful that these impulse buys can add a hefty sum to your total bill.
What makeup should I bring on a trip?
There are always some basic things that every woman uses. Whether you wear a lot or a little makeup it will be annoying if you forget something or worse yet you have to throw it away in the security line.
Try and bring items that will be useful both for night and day.You probably don't need to bring multiple lip shades or eyeshadows. A bronzer is always nice way to get that vacation glow look and often helps to achieve that more au natural look.
What Constitutes Trial Size ?
A trial size item relates to units that are sampling vehicles with a fill capacity of less than 30% of the normal business product and which is provided free of charge to customers in the form of a test-sample based product with the aim of creating trial size.
What Toiletries Should I Pack In A Carry On ?
Think of everything you use on a daily basis when you get ready for the day and for bed. Cleaning agents for your face, make-up, serums, moisturizers, sunscreens. Shaving gels, toothpaste, tooth brush.
How long do travel sizes last?
Ideally the smallest bottle will last about a week, depending on usage. Aside from the unforeseen challenges which are normal when traveling, such as delayed flights and carrying hefty luggage.
Some trip mishaps can nevertheless be completely mitigated with careful planning. If you have a bag of toiletries containing more than 3.4 oz and have it confiscated, what will you do? You may have had to throw away something essential.
You can buy an entire kit from the market with all the things you need. You won't be stressed when packing the Aesops Arrival Kit.
It ensures a clean shower no matter where you're located.
The à la Carte
Some of the best travel-size beauty products and cosmetics that can be purchased separately. This product is packaged in a pouch in the case of a traveler so it can be easily carried whenever needed.
The hair care for everywhere
The favorite type of any "mini" category is probably makeup, but now there are mini shampoos and creme rinse, body oil and lotions and everything in between.
Thank you for stopping by and reading our reviews. We hope you have found it helpful and found the next thing for you to love.
If you would like to know how to make money talking about the things you love and use everyday subscribe to our newsletter and we will let you in on the secret 🤫
As Amazon Ambassadors we may earn a commission on qualifying purchases made through our site and links, at no cost to you. Happy Shopping 🛍