Red has always been associated with passion, courage, sexuality, heat, life, love, etc., so imagine how a red sweater dress with different designs and color combinations would elevate your winter wardrobe?
With the holidays coming up a red dress is the number one choice by most women.
Wearing this color will add spark to any room you walk into. Every head will surely turn, especially with the right shoes and accessories.

It might look simple to opt for a red sweater dress, but with plenty of options and so much variety available, it becomes challenging to choose one dress, but keeping a few things in mind, we have chosen the best  for you.
Whether going to dinner, a party, or out on a date, you can style one dress in multiple ways, and wear it over and over again. The best thing about sweater dresses is that they fit your body and keep you warm on a chilly night.
Keep scrolling to find the ideal fit for yourself!
Did you know that wearing red can help you get ahead in business? That's right - data shows that people who wear red are more likely to be successful in negotiations and are also more likely to be chosen for a job interview.
So if you're looking to give yourself a competitive edge, be sure to pick up a red sweater dress the next time you're out shopping. And if you're not a fan of red, don't worry - you can also try wearing coral, burnt orange or even yellow.
We already know dresses come in all shapes, sizes, and colors. But there's one type of dress that always stands out: the red sweater dress.
So what are you waiting for? Join the trend and learn how to wear a red sweater dress.
Just click any of the links below to get started. And when you wear this for the holidays don't forget to put out the cookies!
Red and Black Sweater Dress
This Anne Klein dress comes in different shades, including deep maroon, making it perfect wear for a date night styled with some elegant pendant. Furthermore, keeping this turtleneck sweater dress simple, you can wear it to church.

The dress is made of  Polyester and Viscose and has a beautiful silhouette. This short red and black turtleneck dress, comes with long sleeves and fits beautifully.
It is a perfect choice regardless if you are a petite or a plus size, it looks absolutely stunning on everyone.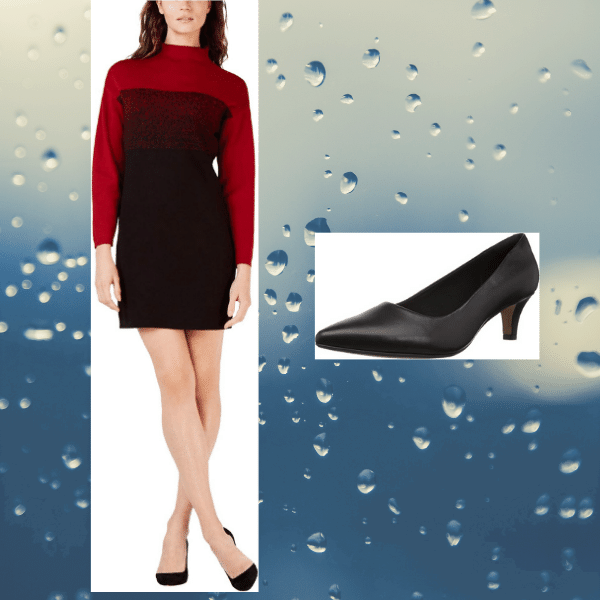 Red Long Sleeve Sweater Dress
Are you looking for a perfect red long-sleeve with a cold shoulder? This BCBG Max Azaria is a stunning designer dress.
This midi dress that is a rayon blend, making it durable yet delicate at the same time. Pairing the dress with some black heels and a clutch would complete the look.
The gorgeous berry red color of this dress will attract everyone's attention and the high-end material of this dress drapes beautifully. It is designed to let you feel comfortable and sexy at the same time.
Long Red Maxi Dress
This Generic brand mohair dress is all you need to get noticed and slay on any occasion; it might be a bachelorette party, birthday party or a holiday party; it's an all in one dress.
Knitted with excellent quality yarn and made of warm, soft mohair. This red dress is an elegant floor length but is also super comfortable.

The best thing about this gorgeous dress is that it is handmade. It looks stunning and also keeps your body cozy.
This red turtleneck sweater with long sleeves is fluffy and is braided from the front to give it a stylish look.
It is oversized and can fit any body shape, so go ahead and light the party up with this sweater dress.
You can certainly wear heels with this gorgeous dress but you can also opt for sneakers for a more casual look.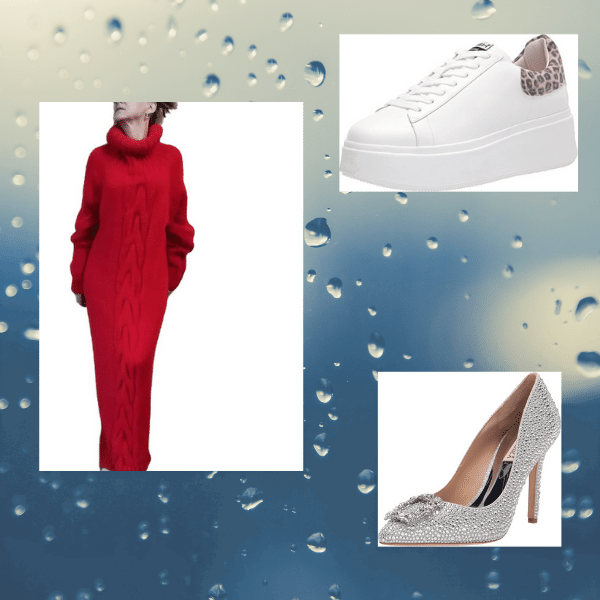 Red Knit Sweater Dress
This Generic Brand dress features a belt to make a bow on the front. The belt helps to define your figure and to give you a more tailored look.
It is a full sleeve midi dress with a turtleneck and a slit. This sweater dress is 100% cotton, which means it is ideal for winter and autumn. It is perfect to wear on a night out with your girlfriends, a date with your boyfriend, or even to work.
You can pair this dress during the winter season with knee high boots to complete the look or early fall with a perfect pair of nude heels.

This dress is super soft and would find an ideal place in your cozy wardrobe.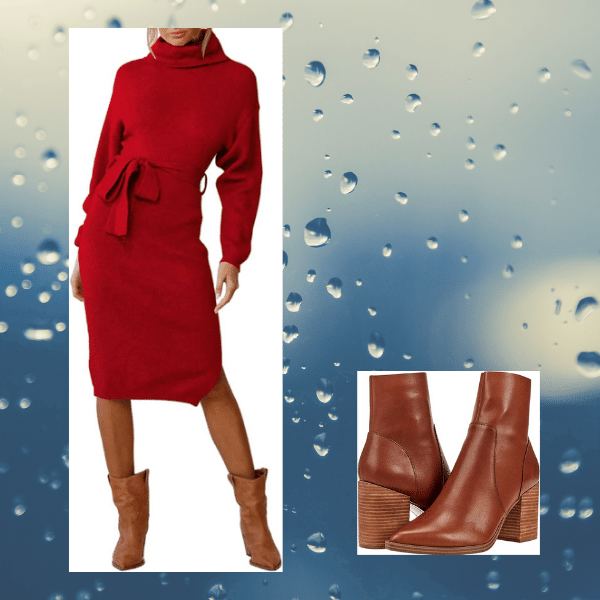 Dark Red Sweater Dress
This Maggy London dark red dress  is a must have in your wardrobe. The color of this midi sweater dress is drop-dead gorgeous and would leave everyone in awe.
It is a nylon blend, durable yet comfortable to wear. You can wear it to brunch, the office or date night.
Adding a few accessories, such as a delicate piece of jewelry, a fancy clutch, and high heels, would elevate the look.
It has long bubble sleeves and a turtleneck, and the flounce hem details at the end make it different and elegant.
You will surely fall in love with the dress once you wear it.
Red Wrap Sweater Dress
Are you planning to wear a red wrap dress for that special night out? Why not try this gorgeous Generic Brand wrap dress?

It is a long sleeve, midi dress with a clinching belt to define your body. It has bead detailing on the shoulders and a plunging v neck for a sexy look.

Because of the versatile fabric and style, this dress can be worn all year long.
You can also wear it when you go shopping or style it with a shimmery purse and high heels for a party look.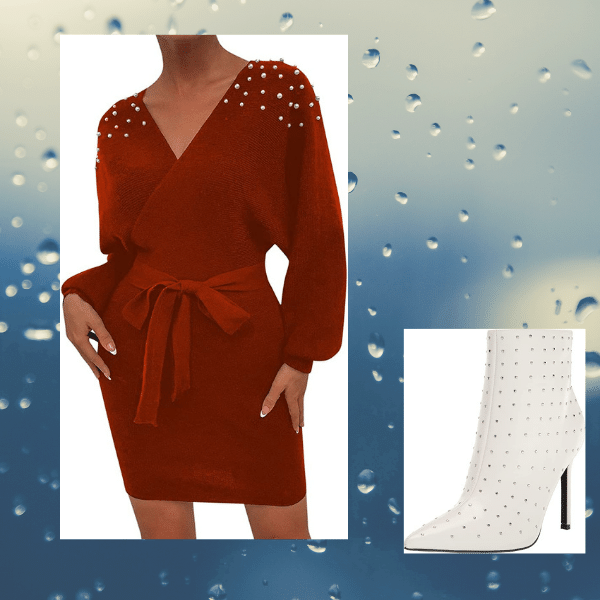 FAQS: What to Look For When Shopping for a  Red Sweater Dress
If you are you still unsure about what to shop for and what not to buy?
There are a few essential tips that you should keep in mind before buying:
Make every Amazon store your friend. Because there is always a picture of the dress that you have created in your mind you can look for the dresses on your internet browser and get a good idea of what you are looking for.
The size and fit of each dress is unique, so check to make sure the measurements fit your specific needs.
Shoes and accessories can change up the look entirely, so keep in mind that you can get a lot of mileage out of one dress.
Always make sure to check the labels to see if the cleaning requirements fit your lifestyle.
We hope this information was helpful but remember one thing: not only is the dress that makes you pretty, but your confidence comes from within and makes you feel beautiful in your eyes and other people's eyes.
Thank you for taking the time to visit our site today. We hope you have found your next favorite thing here on FashionRatings.com and we look forward to you visiting again.
As Amazon Ambassadors we may earn a commission on qualifying purchases made through our site and links, at no cost to you. Happy Shopping 🛍