Men have long been the pioneers of fashion trends, and that includes wearing pearls.
While it may have only just emerged as a popular trend in 2020, men have actually been wearing these lustrous gems for centuries.
Harry Styles, Joe Jonas and Usher are just a few of the modern men rocking pearls today.

In fact, you may have seen high-ranking members of a royal court or some rich old merchant adorned with multiple necklaces of pearl during the Renaissance period!
Sure, today's guys usually go for more subtle and toned down combinations to coordinate with their casual look – but in the past, they had no shame showing off grandiose looks fit for a king.
It just goes to show that pearl jewelry isn't just made for ladies – er... gentlemen, after all!
So if you are looking for a unique gift for the man in your life? How about a pearl necklace?
YES, we said pearl necklace, specifically a mens pearl necklace.
More men are wearing jewelry and accessories, whether it be a chain or a pearl necklace men are opting in for these delicate strand of beads more than ever.
Pearl necklaces are not just for the ladies!
The mens pearl necklace trend is gaining traction and it's easy to see why; it gives menswear an effortlessly chic edge that helps to bring classic menswear clothes into the 21st century.
Not to mention, a mens pearl necklace adds a little bit of flash and flair in a subtle way that never feels tacky or overdone.
With putting on one simple accessory, men can easily elevate their style in an elegant and timeless way. Ladies, don't be jealous - pearls really do look good on everyone!
Men are increasingly opting in for pearl necklaces, and it makes sense. Why should women have all the fun when it comes to accessorizing?
Men's pearl necklaces offer an effortless sophistication—a perfect combination of elegance and machismo.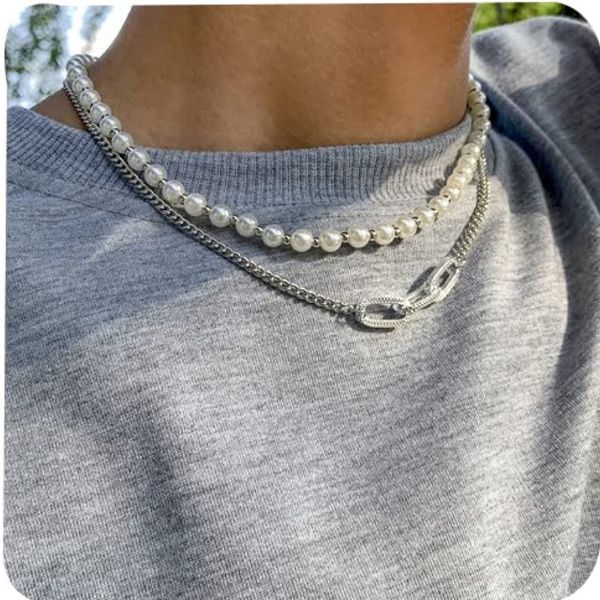 These pieces allow men to express themselves without having to sacrifice their own unique style.
Pearl necklaces are also a great way to add a touch of class to any outfit; no matter how dressed-down you go, the pearls will always amp up the look.
Whether it be for work or play, mens pearl necklaces are the perfect accessory to make your mark.
We have found a great selection of different styles and colors to choose from.
A pearl necklace is the perfect way to show how on trend you are. Maybe even pair with a matching bracelet? The modern man wants to elevate his outfit

Mikimoto is one of the world famous, top formal brands but you can find casual at a lower price. If you have't already, create an account on Amazon to search for the right size and color combo. You don't have to break the bank to look a million dollars.
The Pearl Pendant
The pearl pendant is the true symbol of sophistication and class.
A mens pearl necklace is a necessary accessory for any modern dandy or fashionable trendsetter – an easy way to add a touch of class without going over the top.
Whether worn in a classic tie knot or paired with an attendant chain, a mens pearl necklace adds sophistication and charm to any ensemble.
So, if you're looking to upscale your formal wardrobe and impress your date, don't forget to pick up your very own pearl pendant!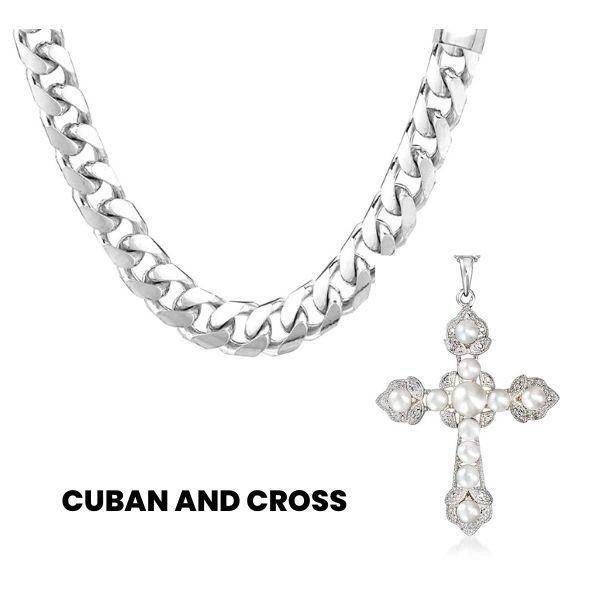 Imitation pearls
For those looking for mens pearl necklaces without breaking the bank, imitation pearls are a great choice!
Not only are they much more affordable than their genuine counterparts, but they come with all the classic beauty and charm that has made mens pearl necklaces ever so popular.
Plus, you don't have to worry about ruining them with scratches or incorrect storage.
Enjoy the brilliance of mens pearl necklaces without fretting over costly upkeep - imitation pearl jewelry is certainly worth considering!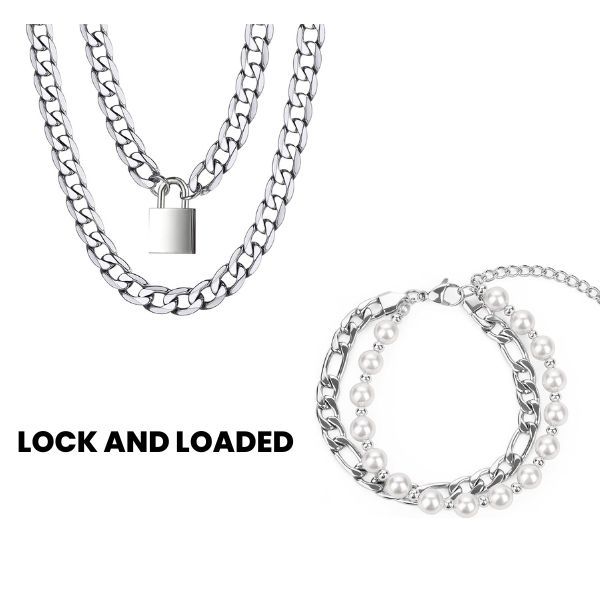 Baroque Pearls


Mens pearl necklaces get a bad rap for being too traditional or outdated, but baroque pearls add the perfect edge to modernize your jewelry look.
If you want to make an old-school style new again, baroque pearls are where it's at. These unique yet timeless fashion pieces will guarantee you turn heads wherever you go.
With statement making sophistication and charm, mens pearl necklaces with baroque pearls can effortlessly become your signature accessory.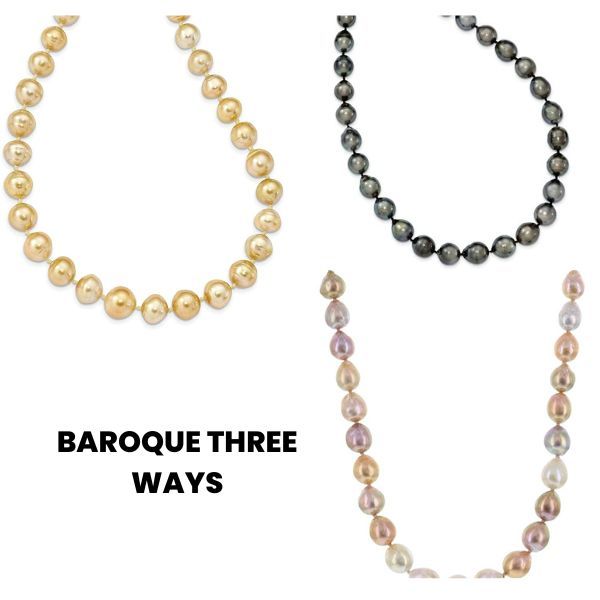 Cultured Pearls
Cultured pearls are a luxurious mollusk secret, crafted from the depths of the ocean.
Whether you're looking for mens pearl necklaces or a jewelry set, natural vibes don't get more glamorous than these beauties.
The attention to detail the mollusks put in creates perfect colors and iridescent surfaces that always capture people's hearts.
Cultured pearls are a timeless classic; so irresistible most people say they can't help but buy!
It's a classic gift that will never go out of style. And best of all, it's something you can borrow if he will let you and he can wear every day to feel fashionable.
It's official, men can now wear pearls and look good doing it. No longer is this accessory relegated to the likes of grandmas and special occasion formalwear.
Men everywhere are donning pearls with their everyday looks, adding a touch of sophistication and je ne sais quoi. With such a wide range of prices, there's no excuse not to start shopping for pearl accessories right away.

Amazon has a great selection at all price points, so click through and find the perfect piece for you. Who knows, maybe you'll be the next trendsetter in men's fashion?
BONUS BUYERS GUIDE:
So lick through now and order a pearl necklace today and they'll ship it right to your door!
Thank you for taking the time to visit today. We hope you have found your next favorite thing here on FashionRatings.com and we look forward to you visiting again.
As Amazon Ambassadors we may earn a commission on qualifying purchases made through our site and links, at no cost to you. Happy Shopping 🛍