Does the man in your life take care of himself? Chances are he does but if he could use a little extra self care, we are here to help with personalized recommendations.
Of course, you can't just give him a gift certificate to a day spa, that would be too easy. You need to get him something that will make him feel good and pampered without making him feel like he's being "pampered".
The holidays are a hectic time for everyone. From parties and gatherings to shopping and cooking, it's easy to get caught up in the hustle and bustle and forget to take care of yourself.
If you forget your self care imagine what it will takes to get your man feeling good and healthy. So we have looked at self-care gifts for him.
This year, give the men in your life the gift of self-care with one of these thoughtful and unique presents.
Studies show that men really do prefer sensible, everyday items: Socks, underwear, new jeans etc ...most men hate shopping so bringing the full regimen shop to them is a great relief.
Now, that doesn't mean you can't give him some extras and some more luxurious versions of what he already has.
So let's take a look at our Fashion Editors personalized wellness recommendations for this season.

Here are a few ideas to get you started.
Shower Steamers:
Aromatherapy Shower steamers are the perfect gift for the man in your life who is living life and seems to have everything.
Whether he's a self-proclaimed "metrosexual" who spends hours in the bathroom primping and preening, or a rugged outdoorsman who could use a little aromatherapy or a deep kneading massage to unwind after a long day hike, shower steamers are sure to please.

Made with essential oils and other natural ingredients, these little discs belong on every bathroom shelf. They dissolve in the shower to release a refreshing, invigorating scent and one of the best gifts to end a stressful day.
Plus, they make a great stocking stuffer or Secret Santa gift.
Some of the best gifts for your favorite guy are listed here and some are not, like a weighted blanket or a spa day gift certificate. But read on because we have found the fan favorites.

So go ahead and treat the special man in your life to a little luxury this holiday season - he deserves it!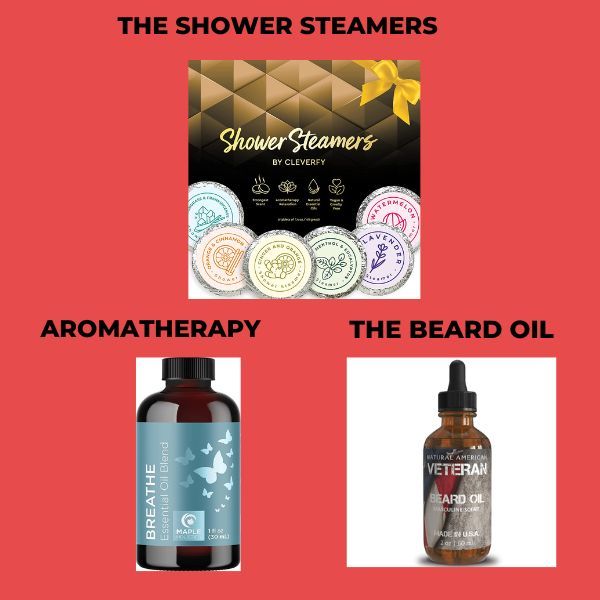 Best Men's Underwear:
There's no question that underwear is one of the most important articles of clothing a man can own. After all, it's the only thing standing between your nether regions and the rest of the world.
But with so many different styles on the market, it can be tough to know which pair is right for you.
Here's a quick overview of the three most common types of men's underwear: boxer briefs, briefs and bikinis.
Boxer briefs offer the best of both worlds, combining the coverage of boxers with the support of briefs. They're ideal for guys who want a bit more coverage than briefs provide, but don't want the extra bulk of boxers.
Briefs are the traditional go-to style for many men. They offer great support and are perfect for guys who prefer a snug fit.
Bikinis offer less coverage than both boxer briefs and briefs, making them a good choice for guys who prefer a more compact fit.
No matter which style they prefer, make sure to choose a pair that's comfortable and made from quality materials.
Pajamas Fit for a Billionaire:
When it comes to nightwear, there's no need to sacrifice style for comfort. That's why we've found the Billionaire Pajama Collections: ultra-luxurious pajamas that are as chic as they are cozy.

Made from the finest silk and cashmere, these pajamas are soothing but will also make him feel like a billionaire every time he puts them on. The collection includes a variety of different styles, from classic button-downs to playful printed shorts.
So whether you're lounging around the house or spending a night in with your significant other, you'll always look and feel your best.
And because we believe that true luxury should be accessible to everyone, we've made sure to price these pajamas fairly.
So go ahead and indulge he deserves it.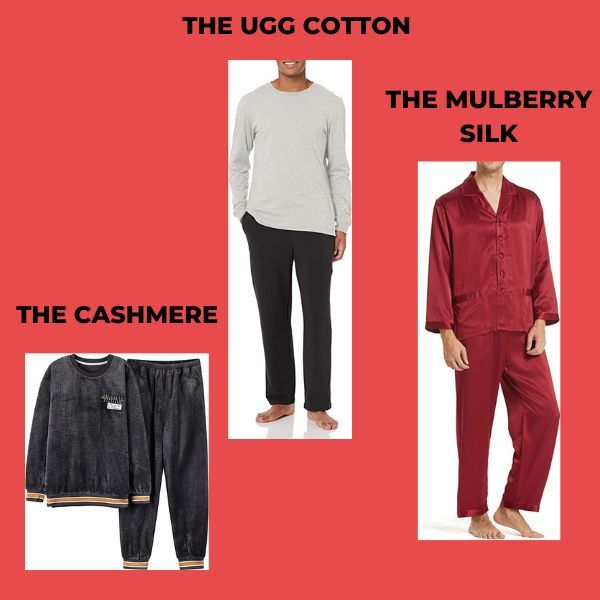 A Good razor:
When it comes to self-care, nothing is more important than a good shave.
Most men are using the same razor they've had since college. Upgrading to a quality razor will make shaving a much more pleasant experience.
Be sure to include a good shaving cream, or gel, and after shave as well! the man in your life get the closest, smoothest shave possible with a high-quality razor.
He'll thank you for it every time he uses it!
Fancy Soap:
Most guys just grab whatever soap is on sale at the grocery store. But why settle for mediocrity when you can spoil him with a luxurious, manly soap that smells amazing and makes his skin feel great?
Even men need to exfoliate and moisturize, if only to prevent cracked dry skin.
Trust us, he'll be hooked after just one use!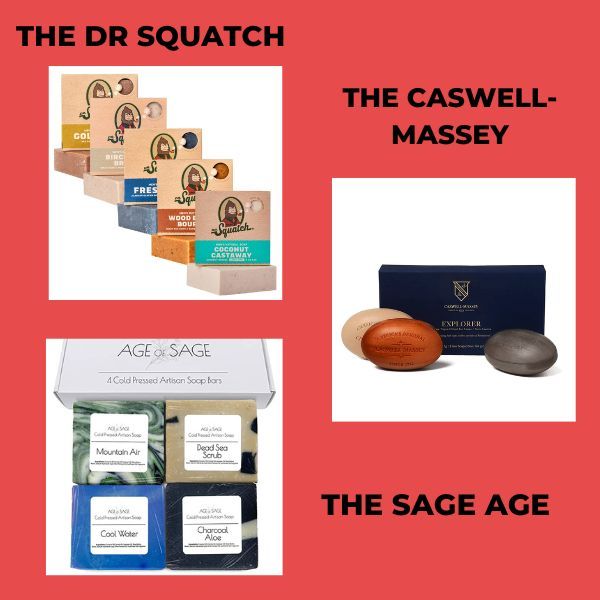 Candles:
If you're looking for a way to boost your productivity and feel more grounded, try out a masculine scented candle.
From the woody scent of cedar to the refreshing smell of citrus, there's bound to be a manly candle out there that will fit your fancy. And trust me, once you find one you like, you'll never go back to those candles with floral or fruity scents.
So what are you waiting for? Click through to check all prices on Amazon.
A Relaxing Massage:
Everyone could use a relaxing massage now and then.
If the guy in your life is always stressed out and can use a relaxing night, this gun style massager with essential oils is a great gift and a fan favorite for you to help break up those stress knots and ensure a good night's sleep .
He'll be thanking you for days afterwards and he may be so grateful he will give you a massage too!
A Dopp Kit :
Has he been meaning to get a pedicure but just hasn't gotten around to it?
A lot of guys just throw their toiletries into a gym bag or backpack.
But if he's going to take pride in his appearance, he needs a proper place to store his grooming essentials.
A stylish toiletry bag, also called a Dopp Kit, will do the trick nicely!
Help him out and find one with an at-home pedicure set!
It's the perfect way to show him that you care about his appearance without making him feel like he's being vain.
You can also offer to give him a pedicure at home, followed by a foot massage. Both of you will love him having nice feet for once!
A Luxurious Bath Robe:
Help him relax after a long day with a cozy bath robe. It's the perfect addition to any home spa set-up.
A luxurious bath robe is the height of indulgence. After a long day, there's nothing better than slipping into a soft, velvety robe and relaxing in your own private oasis.
A bath robe is the perfect way to unwind and escape the stresses of the day. And when it comes to luxury, there's nothing quite like a robes made of the finest materials.
From silky satins to rich velvets, these robes are sure to make you feel pampered and spoiled.
So if you're looking for a little bit of luxury to give the men in your life, treat them to a bath robe that will make them  feel like a King.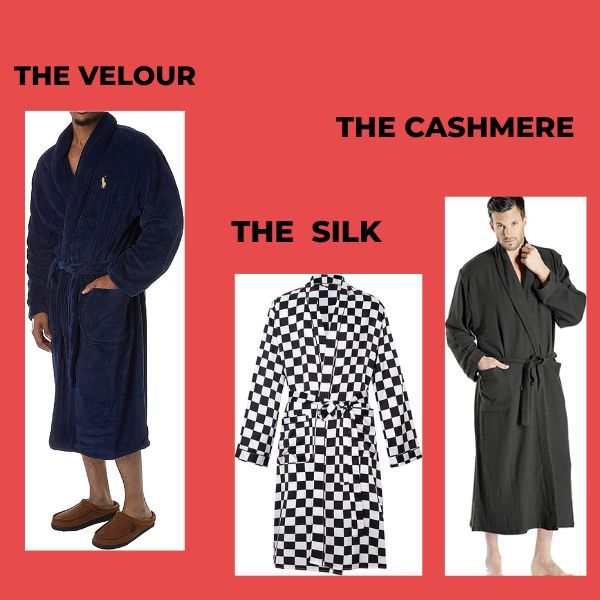 A Personalized Gym Bag:
If he's resolution is to get in shape this year, help him out with a new gym bag that's personalized with his initials or favorite sports team logo.
He'll be motivated to hit the gym when he has a stylish bag to carry his gear in!
A Subscription to Audible and a Great Pair of Earbud Headphones:
Nothing can transport you away from the hustle and bustle of the holiday season like getting lost in a good book.
Listening to one while laying on the couch or in a hammock is even better. Beats by Dr Dre or Bose Professional headphones are comfortable and have excellent noise cancelling ability so barking dogs and excited kids running around wont interrupt him.
Whether your man is into thrillers, history, or biographies, there's sure to be a book on Audible that he'll love. Wrap up a new release or an old favorite and watch him disappear into its pages.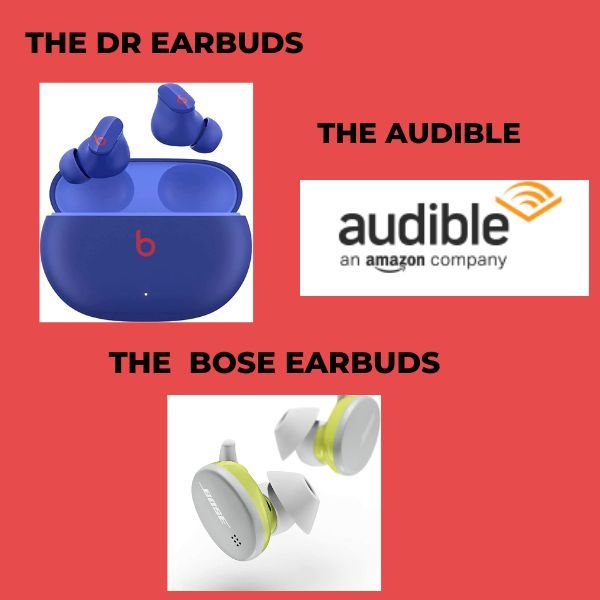 Best Jeans for Men:
There's no one-size-fits-all when it comes to jeans, but there are certain styles that look better on certain body types.
For example, skinny jeans are a great option for guys with slim builds, while straight-leg or relaxed-fit jeans are a better choice for guys with muscular legs.
If you're on the shorter side, you'll want to avoid anything too baggy or long, as it will just make you look shorter. And if you're tall, you can pretty much get away with any style of jean.
When shopping for the perfect pair. First, consider the fit. Jeans should be snug but not too tight, and they should hit at the narrowest part of your waist.
Second, think about the style. If you're looking for a casual pair of jeans to wear on the weekends, look for a relaxed fit or straight leg style.

 If you need something a bit more polished, opt for a slim fit or tailored pair. And finally, don't forget about the wash. Dark denim is always versatile, but lighter washes can be stylish, too
Just make sure they fit well in the waist and rise. As for washes, darker washes are generally more versatile and formal, while lighter washes are more casual.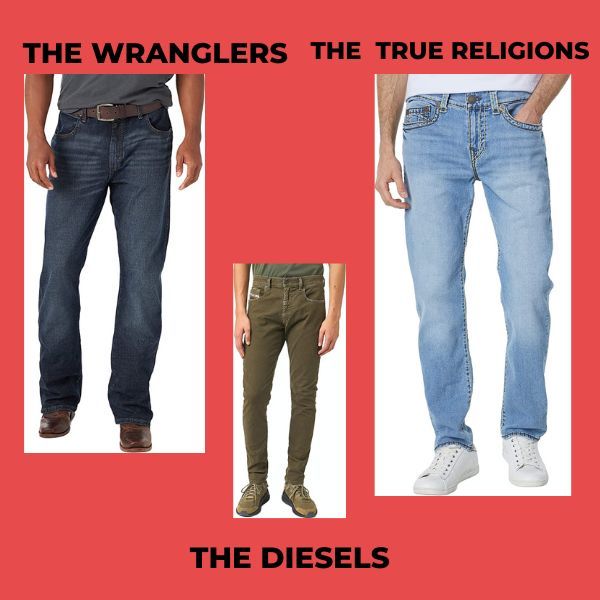 Best T Shirts for Men:
There are few fashion choices more essential than the humble t-shirt.
After all, what other garment can be equally at home on a construction site or a catwalk? And yet, for such a versatile piece of clothing, there is a surprisingly wide range of options to choose from.
So, to help you find the perfect t-shirt for any occasion, we've put together a quick guide to the best t-shirts for men.
Whether you're looking for a relaxed summertime look or something smart and stylish for the office, our guide has you covered.

For a laid-back weekend look, try a well made designer tee or a graphic print tee. If you need to find something a little more formal, opt for a solid color tee in navy or black.
And if you're looking to make a statement, why not try a vintage-inspired tee with retro patterns or bold prints? Whichever style you choose, we hope our guide will help you find the perfect t-shirt for any occasion.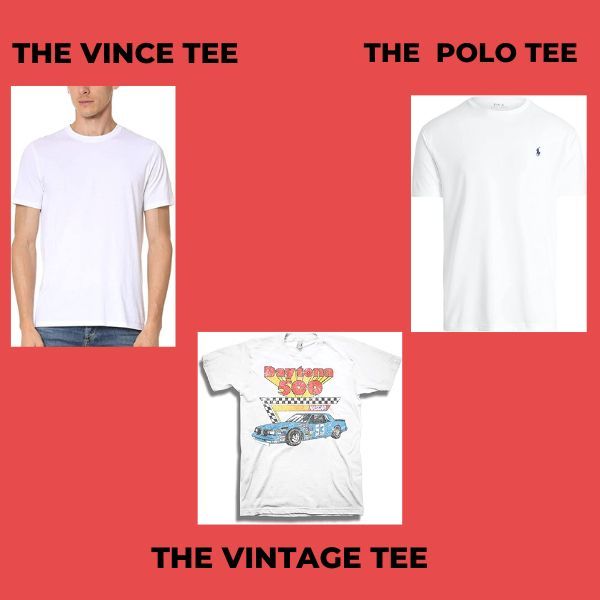 Socks: Wool, Cotton and Cashmere
As any fashion-savvy person knows, socks are a must have and not just for keeping your feet warm. They can also be a stylish accessory, and there is a wide range of materials to choose from.
Wool socks are a classic option, and they are great for cold weather.
Cotton socks are lighter and more comfortable in warm weather.
Cashmere socks are the most luxurious option, and they are perfect for special occasions.
No matter what material you choose, make sure to pair your socks with the right shoes.
After all, there is nothing worse than mismatched socks peeking out from underneath your pants!
This holiday season, give the men in your life the gift of self-care with one of these thoughtful and unique presents. From a luxurious bathrobe to a subscription to Audible, he'll be sure to appreciate one of these unique gifts!
Clothes, cozy pajamas to luxurious bathrobes, there's something on this list for everyone. And what could be better than giving someone the gift of relaxation? We can't think of anything!
No matter what you get him, the important thing is that you show him that you care about his well-being and want him to take care of himself. These gifts will do just that!

So there you have it, the best self care gifts for men this season!

Don't forget the men in your life! Pick up one of these self care gifts and let him know you appreciate all that he does.

He'll be sure to thank you when he feels relaxed, refreshed, and rejuvenated. hope this comprehensive list has given you some ideas for the best self care gifts for men.
Be sure to click through and check all prices on Amazon - and Happy Shopping!
Thank you for taking the time to visit today. We hope you have found your next favorite thing here on FashionRatings.com and we look forward to you visiting again.
As Amazon Ambassadors we may earn a commission on qualifying purchases made through our site and links, at no cost to you. Happy Shopping 🛍